Welcome to Oslo, the mesmerizing capital of Norway. Surrounded by lush landscapes and nature's bounty, Oslo is a truly enchanting place with no shortage of attractions. In addition to its breathtaking scenery, Oslo has myriad cultural offerings – from the captivating Viking Ship Museum and the unrivaled National Gallery to the Vigeland Sculpture Park and Kon-Tiki Museum, this city brims with incomparable cultural experiences. Moreover, Oslo provides easy access to nearby cities and regions packed with their marvels for visitors to discover. So don't delay – make your way to this magical destination and witness it first-hand!
In the meantime, if you're looking for tips on what to do in Oslo, we list our favorite things below…
Oslo Cathedral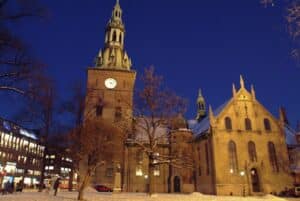 Oslo Cathedral is Norway's main church and a popular tourist attraction. The cathedral was built in 1070, making it one of the oldest cathedrals in Scandinavia. It's located right in the center of Oslo, so you can visit it without needing public transportation or a taxi.
The cathedral is open every day except for Sundays and some holidays throughout the year—check out their website to see what days are included in your visit!
Oslo City Hall
If you're looking for a beautiful panoramic view of Oslo, the top of Oslo City Hall is the place to go. The City Hall is centrally located in the city, and its observation deck offers stunning views of the city skyline, the fjord, and the surrounding countryside. The top of the City Hall is easily accessible by elevator, and the view is well worth the trip. On a clear day, you can see for miles in every direction. It's a great spot for taking photos and admiring the city's beauty. So if you're looking for a unique way to experience Oslo, head to the top of the City Hall for a panoramic view of the city!
Vigeland Park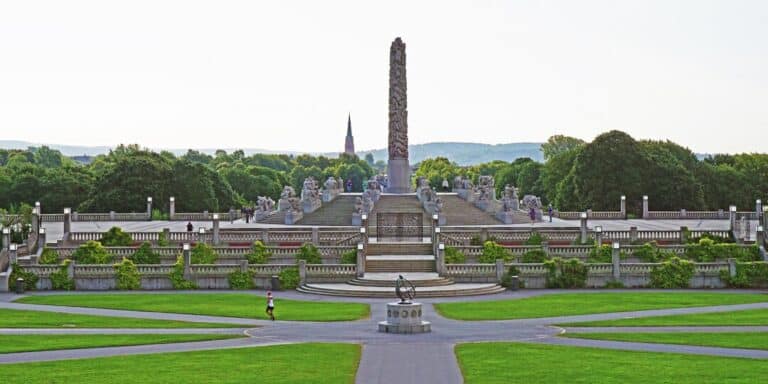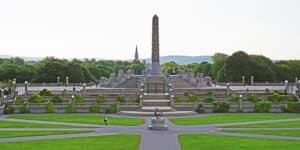 Vigeland Park is a sculpture park in Oslo, Norway. It is the world's largest sculpture park made by a single artist and houses 200 sculptures by Gustav Vigeland. The park covers an area of just under 2,000 acres on the peninsula between Lake Akerselva and the freshwater lake Lutvannet in downtown Oslo. It attracts over one million visitors annually from all over the world.
The sculptures are made from granite, with some bronze figures added later in Vigeland's career and several painted wooden figures. The inscriptions are written in Norwegian or English depending on age; many were written for children or families before World War II but have become popular with tourists of all ages who visit during summer when there's never-ending daylight!
Oslo Opera House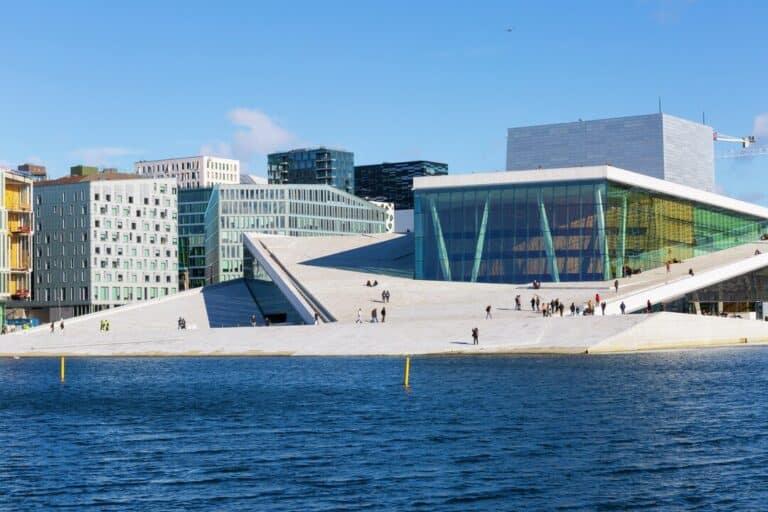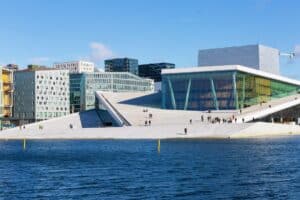 The Oslo Opera House is a modern architectural masterpiece located in the heart of Oslo, Norway. Built in 2008, the building is constructed of Italian marble and angular glass and is designed to look like an iceberg floating in the Oslo fjord, and it is one of the most ambitious buildings in Norway. It was designed by Italian architect Renzo Piano, who also designed the Centre Pompidou in Paris and The Shard tower in London. Inside, visitors can see a stunning lobby, complete with a grand staircase and a hanging chandelier. A spacious auditorium also hosts world-class performances of opera, ballet, and musicals. On the roof is a large plaza with a stunning view of the city and the surrounding harbor. Whether you're a fan of the arts or want to experience some unique architecture, the Oslo Opera House is worth a visit!
The Royal Palace
The Royal Palace in Oslo is a must-visit for anyone interested in Norway's rich history and culture. The palace is a grand building with a beautiful facade and lush gardens. Inside, there are many rooms to explore, including the grand hall, the royal chapel, and the royal apartments. Visitors can also explore the palace grounds, where they will find statues, fountains, and a variety of other attractions.
Guided tours are available for those interested in learning more about the palace and its history. Visitors will learn about the palace's construction and the Norwegian monarchy's history during the tour. They will also get to see some of the palace's most impressive features, such as the spectacularly decorated interior and the stunning views from its balconies. With its beautiful architecture, lush gardens, and fascinating stories, it's an experience you will remember!
Aker Brygge
Aker Brygge is a popular place for people to hang out and enjoy food, shopping, and entertainment. It's a great place to get a feel for Oslo.
It's also where you'll find one of the city's most famous landmarks: Akershus Fortress was built in response to a series of devastating fires that destroyed much of Oslo in 1624 and 1694, including almost all its buildings made from wood. The fortress has been home to Norwegian royalty since 1814, but today it serves as a museum open to tourists year-round.
The Munch Museum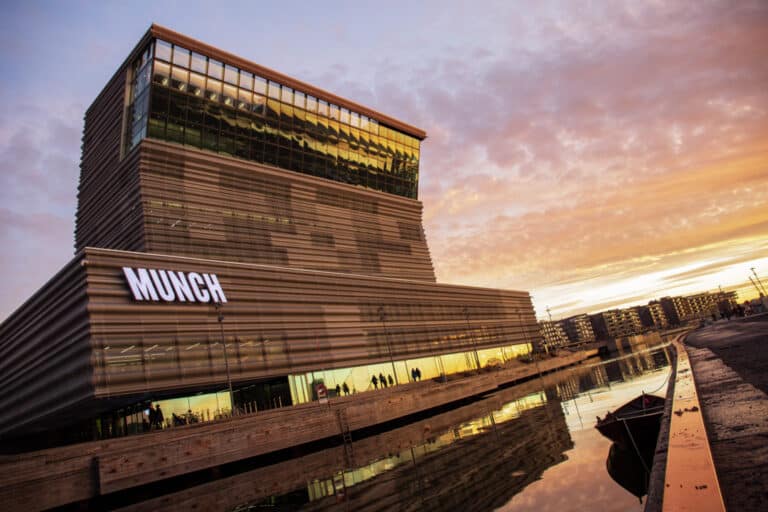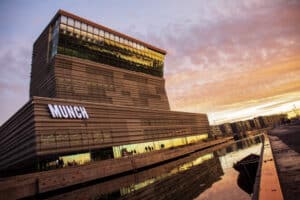 The Munch Museum in Oslo is a must-see for art lovers. Located in the same neighborhood where Edvard Munch once lived, the museum offers visitors the opportunity to experience over 1,200 of his works in one place. From iconic paintings like "The Scream" to lesser-known sketches and prints, the museum has something for everyone. Visitors can explore the artist's personal belongings and learn about his life and work through interactive displays and audio tours. There is also a shop where you can buy books, posters, prints, and other Munch-related items. The museum offers a unique way to connect with the artist's life and work, making it a truly unforgettable experience.
Holmenkollen Ski Jump and Museum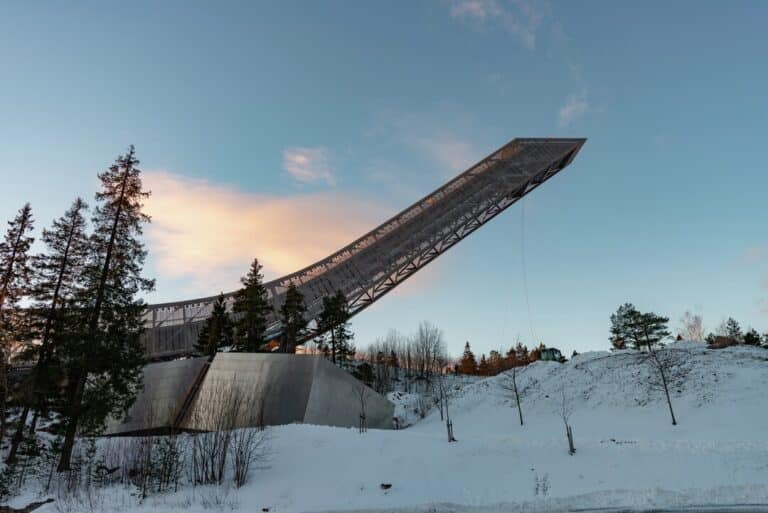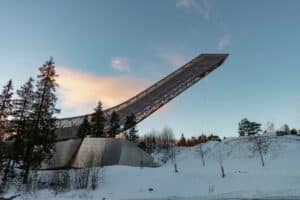 If you're interested in skiing and Norwegian culture, you'll want to visit the Holmenkollen Ski Jump. This is a ski jump, not a ski slope like many people think it is: instead of gently dragging your skis across the snow as you would on most slopes, Holmenkollen's steepness requires that you launch yourself into the air using specially designed skis (called "split boards") that allow for quick take-offs. The first competition was held in 1892 and was won by Sigmund Ruud―a member of the Norwegian Ski Team who went on to win three gold medals at the 1908 Olympics!
The museum also has exhibits on other famous athletes who've competed there throughout its history, including Stein Eriksen, who set a world record for distance flown during one jump back in the 1950s, and Oddvar Brå, who already had three World Cup wins under his belt but broke another record when he flew over 250 meters.
The Kon-Tiki Museum & Fram Museum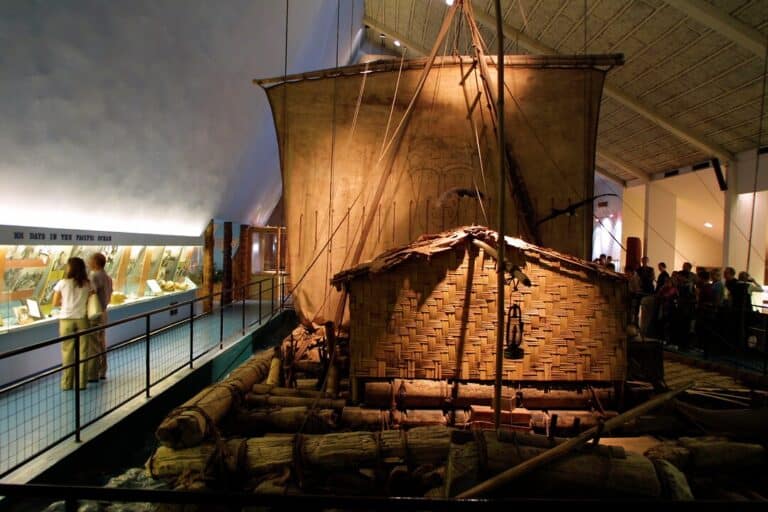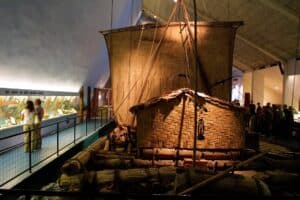 The Kon-Tiki Museum and Fram Museum are in Oslo and are must-sees for anyone visiting the city. The Kon-Tiki Museum is home to Thor Heyerdahl's expedition, a journey across the Pacific Ocean using a balsa wood raft inspired by pre-Columbian Peruvian people. The museum also has exhibits on other expeditions, including those that Fridtjof Nansen or Otto Sverdrup led.
The Fram Museum houses exhibits related to Arctic exploration, especially those led by Roald Amundsen and Otto Sverdrup. It also features an impressive collection of ship models and artifacts related to Antarctic expeditions, such as Scott's Terra Nova Expedition.
Conclusion
So, there you have it. These are just some things to do in Oslo, but they're all great places to visit if you're planning on visiting Norway. Most people only need one day to see all Oslo has to offer; however, if you want to experience the best parts of this beautiful Nordic city, we recommend at least three days, so you have time for everything!
Each of our tours that pass through Oslo includes an Oslo Pass. This allows unlimited travel on Oslo's trams and buses for 48 hours and entrance to many of Oslo's most popular attractions.
Let us know when you're ready to visit Oslo!