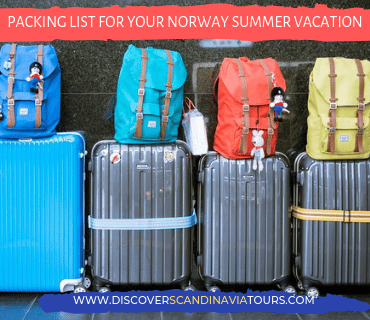 Your Norway vacation is booked, and you are starting to plan for your exciting adventure. Knowing what to pack and bring can be a little overwhelming, so we put together a list for you with items we think are helpful to bring on your Norway trip.
Some of these items might not apply to you depending on what you have planned on your vacation. If you are spending a week in Oslo or hiking the mountains, different activities will require different apparel and items.
Here are a few of the things we think are worth bringing on your Norway vacation.
Packing List for Your Norway Summer Vacation
Comfortable shoes – it doesn't matter if you go on a city sightseeing tour or are hiking the pulpit rock bring comfortable shoes. Whether it be hiking boots for mountain tours or sneakers for city walking, a pair of comfortable shoes is a must.
If you plan on hiking, bring a pair of waterproofed hiking boots that you have used some. Don't bring a brand-new pair and get blisters on your hike.
Suggested shoes to bring: Sneakers or comfortable walking shoes, hiking boots if hiking, casual dress shoes if you plan on going out for dinner.
Layer up tops – summers in Norway can get a little chilly. A great way to travel light and to tackle both warm days and cooler days is to layer up. If you layer up and you are out for a full day tour, you can easily take a light jacket or sweater off if you get warm. If you are hiking, you might start with a t-shirt, a long sleeve top, and a light fleece jacket. When you get warm you can easily take a layer off and continue to enjoy your hike.
Suggested tops to bring: t-shirts, light long sleeve tops, a light fleece jacket if you go hiking. I would also suggest bringing something warmer like a hoodie or knitted shirt for cooler evenings. For dinner bring a few tops, shirts, and/or blouses.
Pants – depending on the activities you are doing you want to bring long sleeve pants and maybe a pair of jeans. If you go hiking the lighter hiking pants are great. Hopefully, the weather will be warm enough for you to be able to wear shorts as well.
Suggested pants to bring: long sleeve pants like casual pants, hiking pants and/or jeans. Also, bring shorts for warm days. For dinner pants, skirt or dress is useful.
Rain jacket – having a light rain jacket stuffed away in your bag can come in very handy in Norway in the summer. Especially if you are out hiking where there is nowhere to get inside, having a rain jacket for unexpected rain can keep you dry.
Light hat – if you are doing early morning hikes you might want to bring a light thin hat.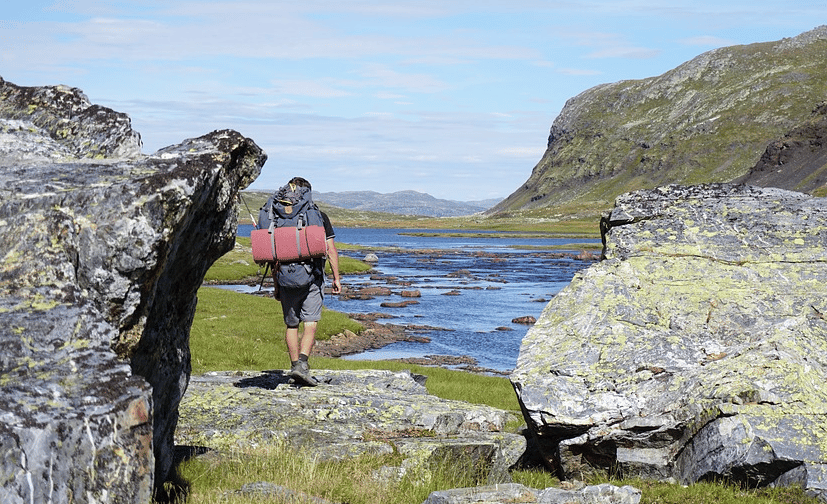 Hat and Sunglasses – bring a cap or sunhat along with sunglasses to protect you from the sun. Also, make sure to bring sunscreen. It comes in handy especially on the full day tours when you are out and about.
Swimsuit – bring a swimsuit for the nice days when you can swim in the oceans or lakes. Maybe your hotel has a spa or pool as well.
Backpack – if you are doing city sightseeing or full day hikes, either way bringing a small day backpack can be useful. Put your stuff along with a rain jacket, sunscreen and water bottle and you are prepared for a fun day.
Water bottle – a reusable water bottle can help you stay hydrated through hikes, tours, and other fun activities.
Mosquito repellant – at certain times and certain places mosquitos can be an issue in Scandinavia. Having a mosquito repellant spray is a good idea. I would buy that locally, not sure if it is true, but I was told that using the local mosquito spray helps with the local mosquitos. That goes for Norway or Florida.
Electric Adapter – if you have electronics that need to be charged bringing an electric adapter is helpful. Norway uses 220-volt electricity and a type C and F plug. These are the plugs with two round pins.
Portable Charger – not sure if this is a must, maybe you visit Norway to get away from the electronics. But, if you rely on GPS in your phone, for example, it is a good idea to bring a portable charger.
Something to capture your memories with – it might be your phone, or you might want to bring your camera. Bring something to help you capture your Norway adventure. Don't forget to breathe, enjoy and take in the stunning scenery though. Make memories that can be cherished for a long time to come, with the people you love.
I hope you found this Packing List for Your Norway Summer Vacation helpful and that you are getting excited about your Norway adventure. If you are still doing research and have not yet booked your vacation, please see our tours here. We would be honored to help you tailor your Norway vacation.
If you have any questions, please leave a comment below or contact us directly and we will be happy to help.