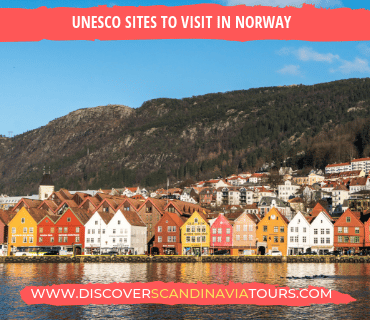 Norway is a beautiful country filled with natural beauty, maybe best known for its fjords and mountains.
Norway also has a lot of cultural and historical value to it. UNESCO, United Nations Educational, Scientific and Cultural Organization, has eight sites in Norway on their World Heritage list. Interesting places to visit and explore.
The eight sites in Norway on the UNESCO World Heritage list are:
Cultural:
Bryggen (1979)
Urnes Stave Church (1980)
Mining Town (1980)
Rock Art of Alta (1985)
Vegaøyan – The Vega Archipelago (2004)
Struve Geodetic Arc (2005)
Rjukan–Notodden Industrial Heritage Site (2015)
Natural:
West Norwegian Fjords – Geirangerfjord and Nærøyfjord (2005)
Let's look a little closer at these Norwegian UNESCO sites.
Bryggen
This is the old wharf of Bergen, a former Hanseatic League's trading empire from the 14th to the mid 16th century. The colorful wooden houses of Bryggen has become a landmark of Bergen. Explore Bergen and Bryggen with our Scenic Norway Summer Tour.
Urnes Stave Church
The wooden stave church of Urnes in Sogn and Fjordane was built in the 12th and 13th centuries. Scandinavian wooden architecture at its best with traces of Viking and Celtic art.
Røros Mining Town
Copper and Sulphur pyrite were extracted for 333 years, between 1644 and 1977 in Røros. The town was completely rebuilt after its destruction by Swedish troops in 1679. The city now has some 80 wooden houses.
Rock Art of Alta
This group of petroglyphs in the Alta Fjord, near the Arctic Circle, bears traces of a settlement dating from c. 4200 to 500 B.C. There are thousands of paintings and engravings allowing us to understand the environment and human activities on the fringes of the Far North in prehistoric times.
Vegaøyan – The Vega Archipelago
These Islands south of the Arctic circle forms a cultural landscape. Fishing villages, warehouses eider houses, lighthouses, and beacons are some sites that can be seen. Settlements from the Stone age and onwards.
Struve Geodetic Arc
The Struve Arc is a chain of survey triangulations, from Hammerfest in Norway stretching all the way to the Black Sea, through 10 countries. These helped with establishing the size and shape of the planet.
Rjukan–Notodden Industrial Heritage Site
Rjukan and Notodden in Telemark, are industrial towns, great examples of industrial development and social transformation that took place at the beginning of the 20th century. Explore Rjukan, ride the Gaustabanen and Krossobanen, visit the Norwegian Industrial Workers Museum and walk the Saboteur's trail.
West Norwegian Fjords – Geirangerfjord and Nærøyfjord (2005)
Part of the west Norwegian fjord landscape, Geirangerfjord and Naeroyfjord, among the world's longest and deepest fjords, are considered scenically outstanding.
Norway also has a few sites on the tentative list of UNESCO. The tentative list is properties that each State Party consider for nomination.
Norway Tentative UNESCO nominations:
The Laponian Area – Tysfjord, the fjord of Hellemobotn and Rago
The Lofoten islands
Svalbard Archipelago
Islands of Jan Mayen and Bouvet as parts of a serial transnational nomination of the Mid-Atlantic Ridge system
VIKING MONUMENTS AND SITES / Vestfold Ship Burials and Hyllestad Quernstone Quarries
Are you interested in visiting some of these UNESCO sites in Norway? Please contact us, and we will be happy to help you with your Scandinavian tour.