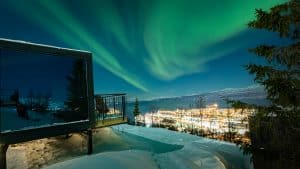 1. Choose your season carefully
Visitors to Norway can have different travel experiences depending on their travel season. Winter provides the opportunity for many fun snow activities, such as snowmobiling, sledding, snowshoeing, and ice fishing. Winter is also the best time to view the Northern Lights (read our guide here). If you decide to travel in the winter, remember that there is very little daylight from November to January.
Summer and Fall are great times to travel to make the most of the outdoors (in daylight hours); try hiking, boating, or even a Fjord cruise. If you want to travel during the less crowded months, try Spring.
2. The weather is unpredictable
Similarly to Iceland, the weather in Norway is unpredictable. The key here is to be prepared for any weather and not fully trust the forecast. Even if the skies look clear and blue, it's best to have a rain jacket or umbrella on hand for unexpected precipitation. You can prepare for temperature fluctuations by packing and wearing layers; this makes adjusting to the conditions throughout the day easier.
3. Norway is larger than you think
Don't underestimate the amount of time you need to spend in Norway. Even though only 5 million people live there, Norway is a large country with an area of almost 149,000 square miles. It would take 38 hours of non-stop driving to travel from the southern city of Kristiansand to Nordkapp in the north.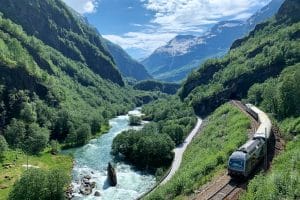 Our Scenic Norway Summer tours seamlessly take you from east to west while exploring the southern half of the country. For a taste of the north, our Winter Luxe itinerary travels up to Tromso and Kirkenes, and maybe you'll even experience the spectacular Northern Lights.
Despite its size, it is relatively easy to get around in Norway, with many different types of transportation easily accessible. With Discover Scandinavia Tours, you'll travel by car, train, boat, and plane to see all that Norway offers.
Since Norway is such a long country, the differences between each region are pretty significant. From the arctic landscapes in the north to the south coast beaches and fjords in the west.
4. Do not skip the Norway in a Nutshell tour
Most of our Norway tours include either the Norway in a Nutshell ® tour or its smaller version Sognefjord in a Nutshell ®. The tours have been meticulously put together by Fjord Tours and allow our Norway travelers to enjoy the best of what the country offers with a quintessential fjord experience.
Learn more about the "in a Nutshell" tours offered by our partner at Fjord Tours here.
5. Be prepared to store your bag when visiting museums
When visiting one of Norway's many museums, be ready to put any bag larger than a small purse in a storage locker.
Most museums provide a secure storage option for those who need it. Be sure that anything you need while exploring the museums can fit in your pockets.