If you're traveling thousands of miles to visit one of the Nordic countries, you understandably want to see the very best of what they have to offer.
At Discover Scandinavia Tours, we know the Nordic countries. They're our area of expertise, so we don't focus our attention on any other part of the world.
As US-based leaders in luxury tours of Scandinavia, we're perfectly placed to share our picks for must-see attractions—and in this blog, we're looking at Finland!
At the time of writing in 2023, this remarkable country has ranked first in the World Happiness Report six years in a row! What better excuse to browse our luxury Finland tours?
For now, though, let us share our picks for the must-see attractions in Finland. If any questions come to mind as you read, please don't hesitate to contact us.
Explore Helsinki's Many Sights
Helsinki: Where Tradition Meets Innovation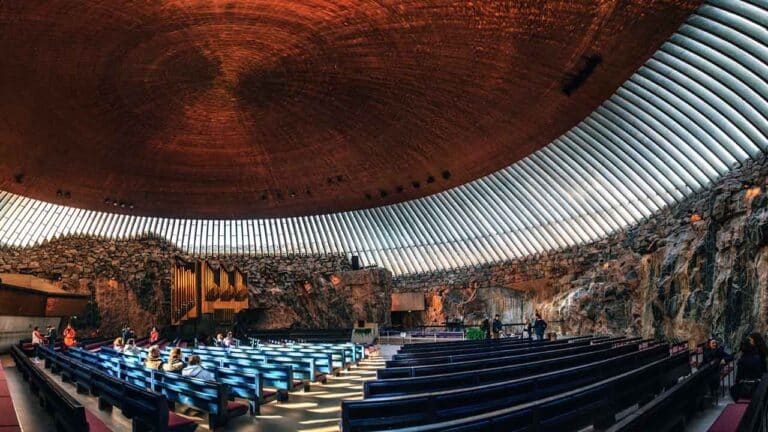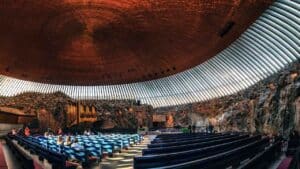 Our journey begins in the vibrant heart of Finland, Helsinki. This cosmopolitan capital is a captivating blend of old-world charm and cutting-edge design.
We could write an entire blog about Helsinki's must-visit attractions, so let's look at a handful of our favorites for now.
Some of the sights worthy of any itinerary in Finland's capital city include:
Temppeliaukion Church (Rock Church):

Carved into solid rock, this architectural marvel is as breathtaking inside as it is outside. The acoustics make it a truly unique venue for concerts and events.

Senate Square:

Home to iconic landmarks like Helsinki Cathedral, the Government Palace, the University of Helsinki, and the National Library of Finland, this square is a testament to the city's history and neoclassical architecture.

Design District:

Helsinki boasts a thriving design scene. Stroll through this district to discover trendy boutiques, galleries, vintage stores, museums, and the famous Marimekko store.

Oodi Library (Helsinki Central Library):

This futuristic library represents Finnish innovation and a love for literature. The rooftop views here are remarkable. In the Kluuvi district, it's close to the Helsinki Music Centre and the Kiasma Museum of Contemporary Art. 

Amos Rex Museum:

A fusion of art and architecture, this small museum's unique underground design is a joy to explore. Keep an eye on their rotating exhibitions that prioritize exposure for young artists.

Löyly Sauna:

Experience authentic Finnish relaxation in a modern, wood-lined sauna with sweeping views, a beautiful terrace, and a glass-walled restaurant. Afterward, you can cool off with a dip in the Baltic Sea!

Suomenlinna Fortress:

A UNESCO World Heritage site, this sea fortress offers a glimpse into Finland's fascinating past. It's only a short ferry ride from Helsinki, so it won't be long before you're exploring its tunnels, museums, and picturesque views.
And that's just the tip of the iceberg in Helsinki. With its bustling market squares, eclectic neighborhoods, and spectacular architecture, you'll find something to stimulate your senses at every turn. 
Is your upcoming trip your first to the Nordic countries? Read our Guide to Scandinavia for First-Time Travelers. It's filled with useful tips and information that will help you in the planning process.
Soak Up the Medieval Charms of Old Porvoo
Porvoo: A Journey Through Time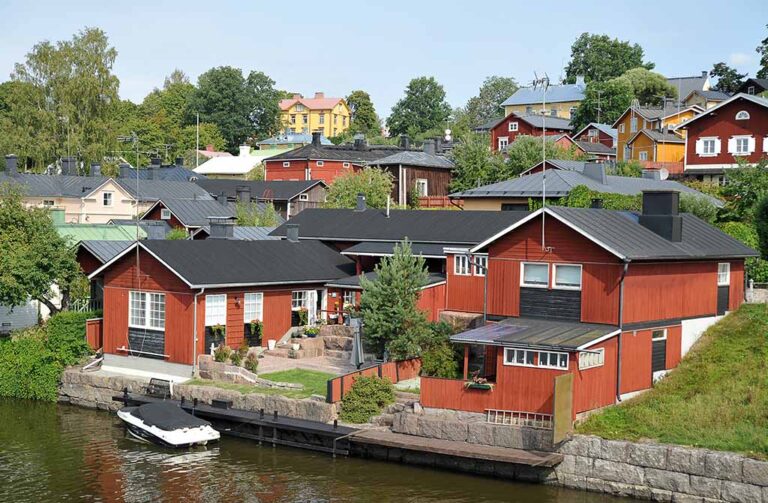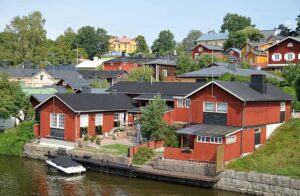 A short drive east of Helsinki, you'll find Porvoo, a town that seems plucked from a fairytale. It doesn't take long to realize why this is one of the most photographed places in Finland!
The cobbled streets, charming wooden houses painted in vibrant hues, the Red Riverside Warehouses, the Market Square, and the medieval Porvoo Cathedral make this a must-see destination on a trip to Finland.
Enjoy a leisurely walk along the Porvoo River, savor a meal at a quaint café or an award-winning restaurant, and then head to the Jokikatu and Välikatu shopping streets
Do you know what to expect from restaurants and cafés in Finland and the other Nordic countries? Find out more about food in Scandinavia.
Visit Turku, a Historical Gem Dating Back to the 13th Century
Turku: A Cultural Hub with a Maritime Soul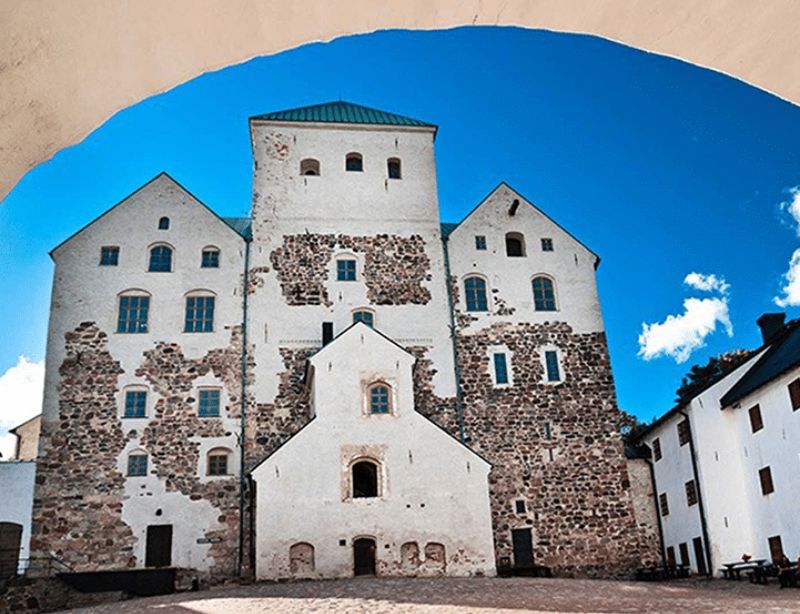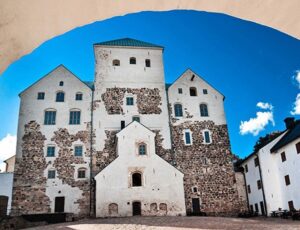 Located on the southwest coast, Turku is the oldest city in Finland. Unsurprisingly, it has a rich and intriguing history, but it also has a vibrant cultural scene.
While here, be sure to visit the iconic Turku Castle, a medieval marvel overlooking the mouth of the Aura River. 
The Aboa Vetus Ars Nova Museum provides a fascinating look at Turku's past and its contemporary art scene. It's housed in a former palace with archaeological ruins underground!
The cobbled streets along the riverside are lined with tempting restaurants and the Old Great Square is a former trading hub surrounded by impressive buildings.
If you want to get out and explore the nearby pristine nature, especially in summer, the Archipelago Trail beckons you for a road trip or cycling adventure. 
Are you favoring a summer vacation? Find out if this is the right fit for you by reading about summer in Scandinavia.
Head to Tampere, the Sauna Capital of the World!
Tampere: Where Lakes and Culture Converge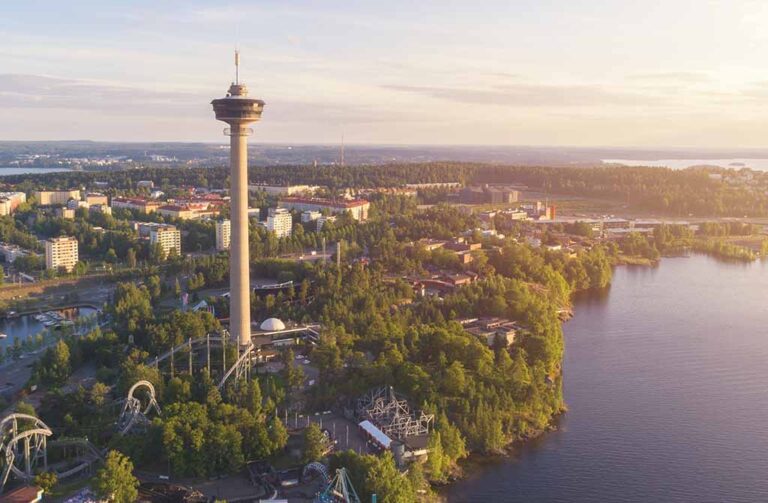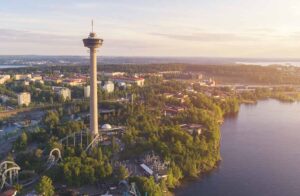 Venturing inland, Tampere is a city in the Lakeland region that seamlessly marries nature with urban life.
The city sits between Näsijärvi Lake and Pyhäjärvi Lake and is surrounded by lush forests, making it an ideal destination for outdoor enthusiasts. 
Must-see attractions in Tampere include the striking Tampere Cathedral, the Moomin Museum for a taste of Finnish pop culture, and the vibrant Tammerkoski Rapids.
One of Tampere's unique features is its extensive network of old industrial buildings, which have been repurposed into trendy cafes, boutiques, and cultural spaces. 
The best endorsement for Tampere is that Finns love it! This is the most popular travel destination for Finnish people within their own country.
And as the sauna capital of the world, the region is home to more than 50 public saunas!
See the Midnight Sun in Finland!
Finland's Magical Summer Phenomenon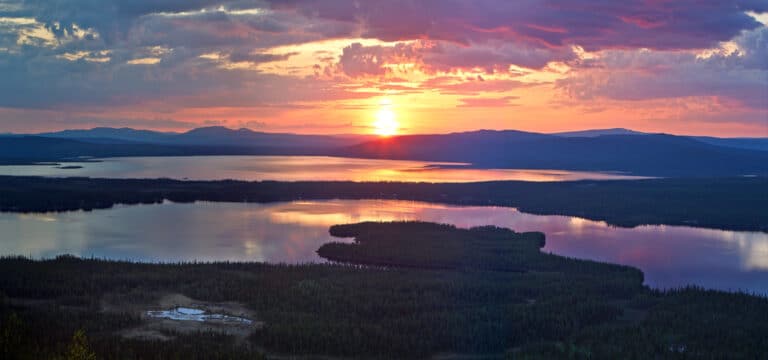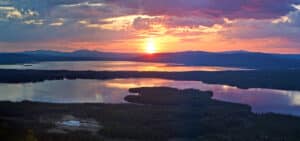 The Midnight Sun is a phenomenon that enchants visitors to Finland during the summer months. 
From late May to mid-July, daylight never fully disappears, casting an ethereal glow over the landscape. 
It's an excellent time for hiking, fishing, and simply reveling in the surreal beauty of the Arctic wilderness.
This mesmerizing time of year is best experienced in Finnish Lapland, as it's almost entirely inside the Arctic Circle. For two to four months, it simply doesn't get dark!
Does this sound like your kind of adventure? Read our blog Planning Your Trip to Scandinavia During the Midnight Sun to discover even more about visiting the region at this time of year.
Visit the Winter Wonderland of Rovaniemi, Finnish Lapland
Rovaniemi: The Official Hometown of Santa Claus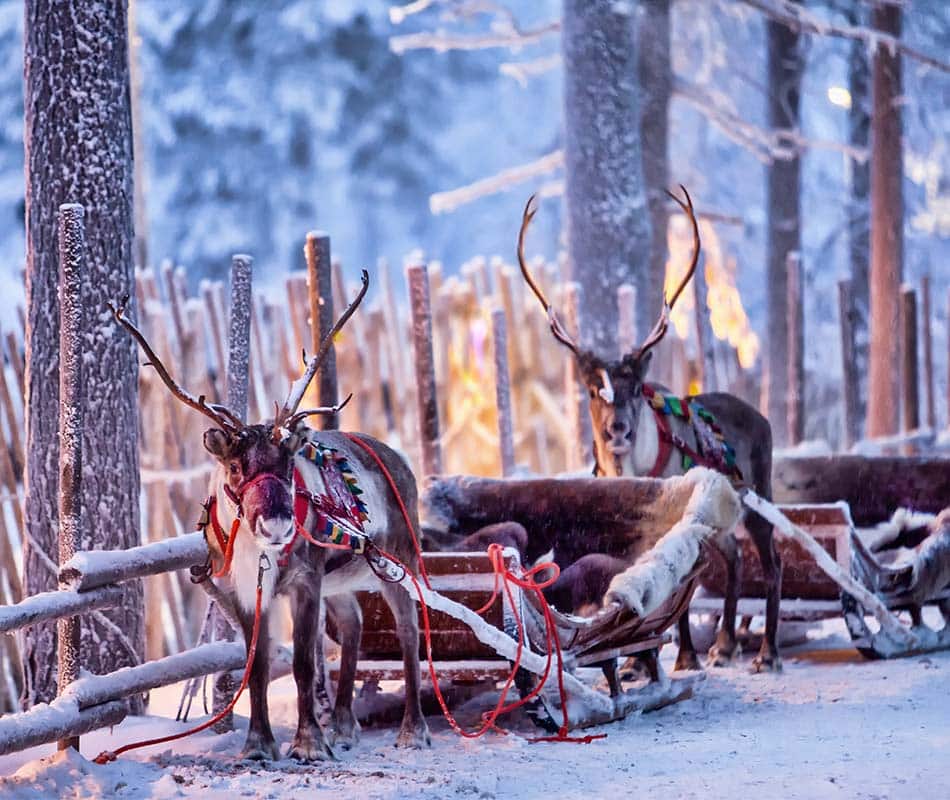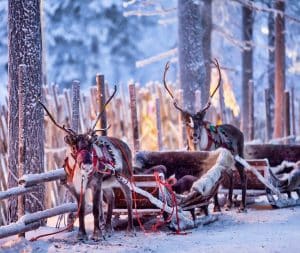 If you're craving a more traditional taste of the Arctic, Rovaniemi is the place to be. This Lapland gem is the official hometown of Santa Claus!
Meet Santa himself at the Santa Claus Village, cross the Arctic Circle, and embark on a thrilling reindeer or husky safari through the snowy landscapes.
Winter in Rovaniemi also provides an excellent opportunity to witness the Northern Lights, but more on that below!
If Christmas magic is on your wish list, we think you'll love reading our blog about Christmas in Scandinavia.
Explore More of Finnish Lapland with a Trip to Kemi
Kemi: The Frozen North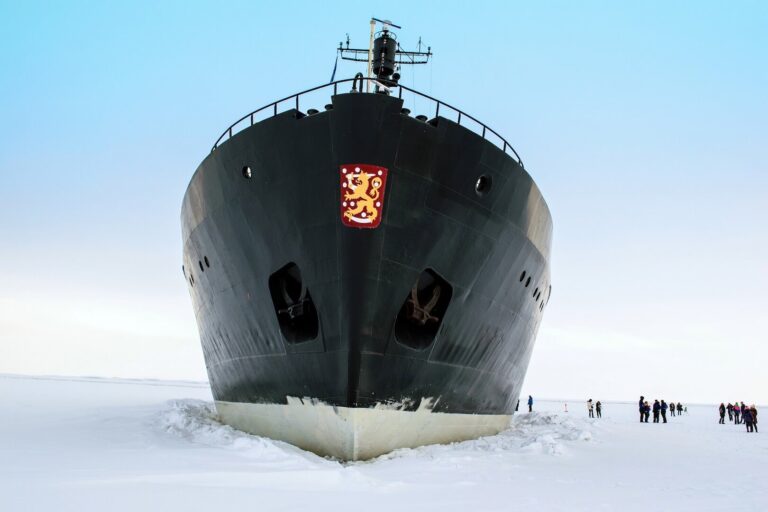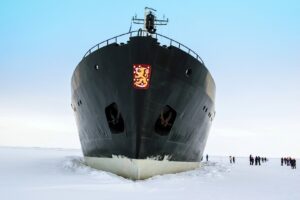 Near the border with Sweden, Kemi is another must-see destination in Finnish Lapland. Among its unique experiences is the famous SnowCastle. 
This massive snow fortress is rebuilt annually with intricate ice sculptures and a snow restaurant. 
And for the ultimate thrill, don a drysuit and embark on a Sampo icebreaker cruise on the frozen Gulf of Bothnia. 
Witness the immense power of this huge ship as it plows through thick ice, creating a spectacle you won't soon forget.
Does Finnish Lapland sound like your kind of place? Head over to our blog Want a Fantastic Winter Vacation? Visit Lapland! to find out more about this one-of-a-kind place.
The Northern Lights (If You're Lucky!)
The Dazzling Dance of the Aurora Borealis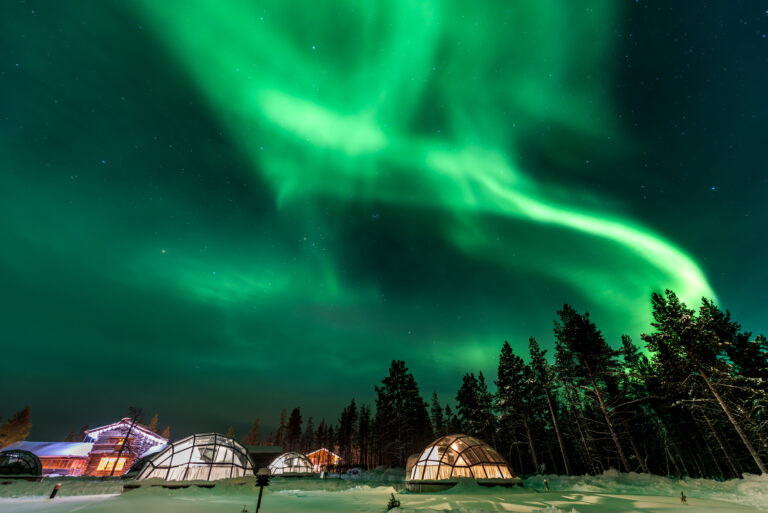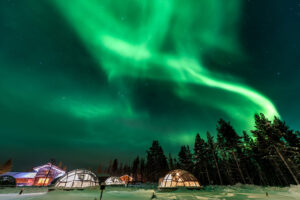 Saving a true bucket-list experience for last, the Northern Lights, or Aurora Borealis, are one of nature's most awe-inspiring phenomena and a must-see attraction in Finland.
While they can be visible in northern Finland from late September to early April, they are most vibrant during the winter months. 
The best chance of witnessing this celestial spectacle is in Finnish Lapland, away from light pollution.
However, the Northern Lights are a natural wonder, so sightings are never guaranteed. 
Be patient and enjoy the beauty of the Arctic night sky, and if you're lucky, you'll be treated to a breathtaking display of dancing colors.
With so much to see and do in Finland throughout the year, it can be tough to decide when to visit. For more expert insight into this topic, check out our blog Best Times to Travel to Scandinavia.
We Specialize in Unforgettable Tours of Finland
So, what are some must-see attractions in Finland? We hope that you'll be able to tell us your answer soon!
Our luxury Finland tours are a gateway to this incredible country, so why not browse our itineraries and find out more about the adventures waiting for you?
In the warmer months (April to September), you can hit the road on our Finland in a Week Tour, part of our Must-See Series.
And our Finnish Lapland Luxe Winter Tour runs from November to March, allowing you to explore Finland's winter wonderland. 
Do you have any questions for the DST team? Please get in touch for all the answers you need.