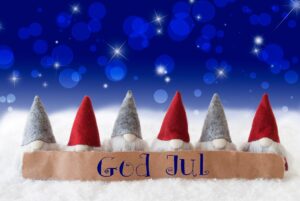 Christmas and Scandinavia go together like snatched kisses and sprigs of mistletoe, with frequent snowfalls ensuring a wondrous wintry backdrop. But don't worry, because the region's traditions and seasonal events will keep you feeling all warm and festive. Add to this the real-life home of Santa Claus in Finnish Lapland and the chance to soak up the otherworldliness of the Northern Lights, and you're all set for an unforgettable Christmas in Scandinavia.
Scandinavian Christmas Traditions
Although the Christmas trees of towns across Scandinavia tend to appear by the end of November, the starting gun on Christmas differs from country to country. The Danes, for instance, light candles daily from the first day of advent, the four-week period of preparation in the Christian church. Households in the country don't tend to decorate their own trees until 'Little Christmas Eve' on December 23. But in the lead up to this date it's traditional to decorate festive cards and letters with postage stamp-like seals sold for charity since 1904. No Swedish Christmas begins before Saint Lucia Day on December 13, when the eldest daughter in a family dresses up as the third-century martyr to serve the family with cakes, coffee and mulled wine. The Christmas period extends to Twelfth Night (Epiphany) on January 6. Traditionally on this day tjärngossar (star boys) went from house to house representing the star of Bethlehem. Singing carols, they would usually be awarded with a shot of schnapps or other Christmas foods. Having also begun celebrating on Saint Lucia's Day, Christmas Eve in Finland takes a more unusual turn, with families visiting cemeteries to remember lost loved ones. Norwegian Christmas traditions go right back to the pre-Christian era, as demonstrated by the making of the julebukk (Yule Goat) out of straw. Stemming from the mythology of the goats that led Thor across the night sky, today the decorations provide good luck during the festive season. The whole of Scandinavia has different versions of Santa Claus, but Icelandic children are lucky enough to await no less than 13 of them – the Yuletide Lads (jolasveinar). This fact alone is a fantastic reason to join our
Deluxe Winter Iceland tour
, before we even mention the country's astounding list of attractions, from gushing geysers to glinting glaciers. Rather than sacks or stockings, the children of Iceland put their shoes outside or on a window sill from Saint Lucia's Day until Christmas Eve. If they've been good, they'll find a present there one morning, while if they've been bad, they'll find a potato instead. Shops in Iceland remain open until 11.30pm on December 24, meaning many Icelanders go straight from the shops to midnight mass.
Things to do in Scandinavia at Christmas
The ideal place for that extra dose of Christmas magic is Finland's Santa Claus Village in Rovaniemi. Located on the line of the Arctic Circle in Finnish Lapland, attractions include the chance to chat with the great man and experiences the wonder of the Northern Lights.
These swirling ribbons of light appear on an average of 150 nights between mid-August and mid-April. To get to Rovaniemi, look no further than the Santa Claus Express, which departs from Helsinki several nights a week.
The Northern Lights can be seen over the winter months right across the northern regions of Scandinavia, as well as in Iceland. But this spectacular natural phenomenon is generally considered to be best the further north you travel.
The town of Kirkenes in the far northeast of Norway close to the country's border with Russia is an ideal location, and why we lead travelers here on our
Deluxe Norway Winter Tour
. The tour also includes a night at the town's famous Snow Hotel, a snowmobile ride, and a trip by huskie into the stunning landscapes of snow and ice.
But you don't have to travel far from Scandinavia's big cities to remain in the Christmas spirit, with most major population centers having their own Christmas markets and festive concert seasons in beautiful cathedrals and churches.
For instance Bergen, nestled among the fjords of Norway, hosts the world's largest gingerbread town from mid-November until the end of December each year. The miniature houses, trains and Ferris wheel that form
Pepperkakebyen
(or Gingerbread Town) is made from fully edible gingerbread, so we suggest you visit after you've eaten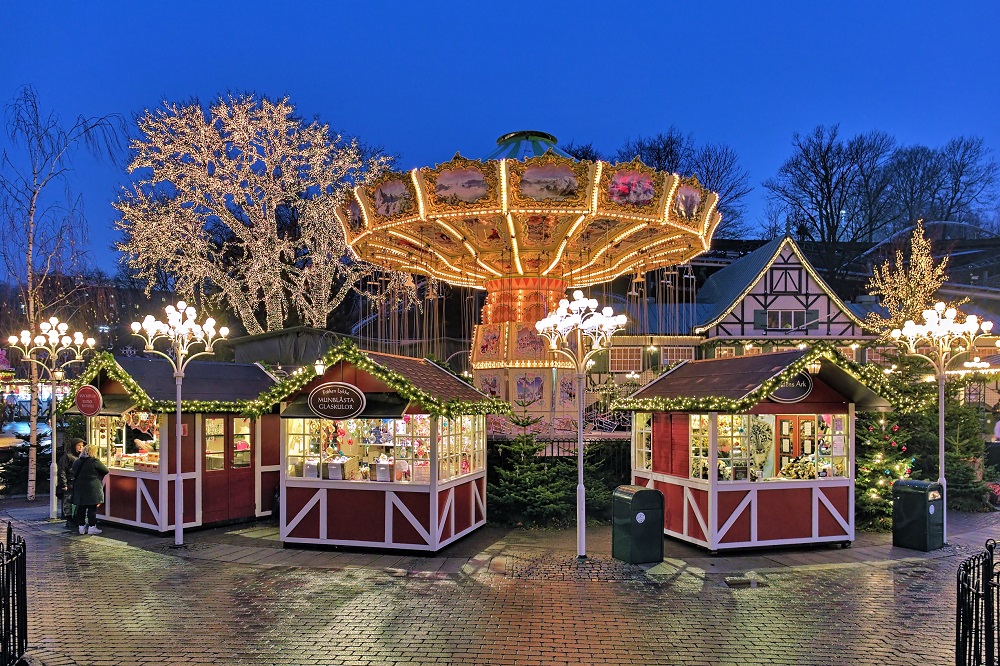 Scandinavia Specialty Christmas Foods
As we've seen, each nation in Scandinavia has its own Christmas traditions. These include many of the specialty foods enjoyed during the festive season. In Norway, Christmas Eve on December 24 is the big day, with families gathering around tables heaving with foodstuffs. Rather than a roasted turkey, the main meats you're likely to find served are dry-cured lamb ribs (pinnekjøtt), pork belly (ribbe) and the country's famed lutefisk, or cod cured in lye. Lovers of sweets should keep a little space for what's to follow – risengrynsgrøt, or rice pudding flavored with the most Christmassy of spices, cinnamon. Find the almond hidden in one portion and you become the 'winner' of the day. The drink of choice has to be mulled wine (glogg), sometimes enhanced by the additional of richly-spiced gingerbread cookies. Risengrynsgrøt and glogg are also popular at Swedish Christmas tables, alongside sausages, glazed hams and pickled herring. Many still leave a bowl of porridge out for the elf-like 'brownies', in a similar way to children leaving a carrot for Rudolph. Denmark's Christmas Eve feast is focused around a duck stuffed with apples and prunes, which is served with sweet potatoes and cranberry sauce. In Finland, pork takes centerstage, with the table weighed down by other dishes including fish and hearty casseroles. Icelandic Christmas specialties aren't all that different, with grouse replacing the duck. Sides include spiced red cabbage, blueberries and Laufabrauð (leaf bread). The latter is a thin, deep-fried bread so beautifully decorated anyone would be pleased to have it hang from their Christmas tree.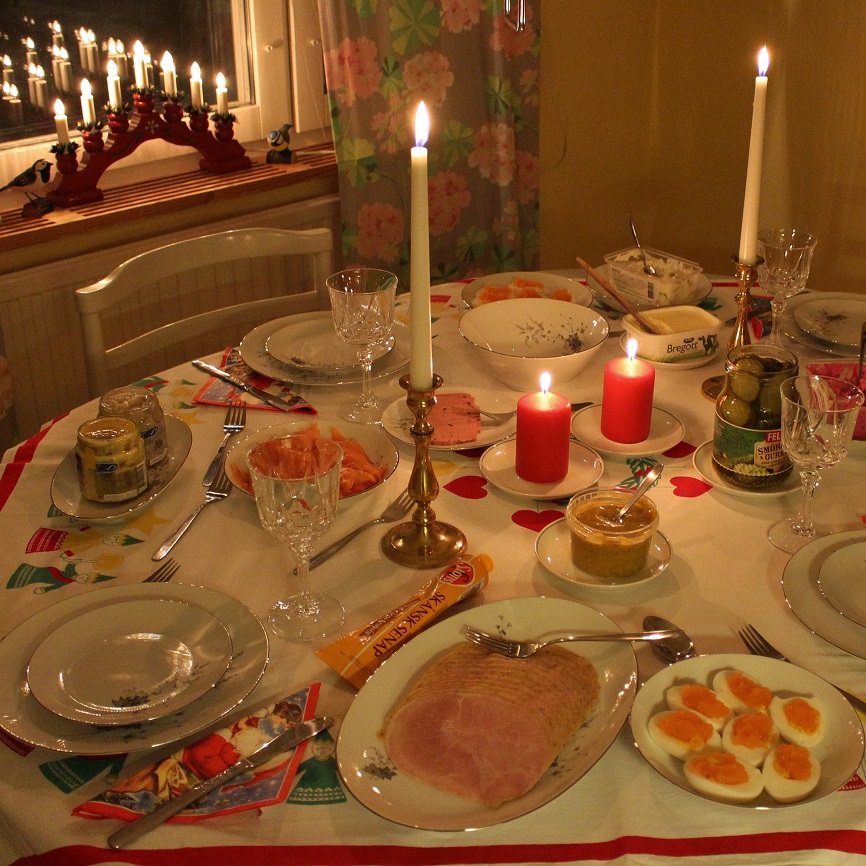 Discovering the majesty of Christmas in Scandinavia
Scandinavian Christmases aren't limited to snowy landscapes. The region has some charming Christmas traditions and tasty festive treats to add to destinations as diverse as the fjords of Norway and dark skies over Lapland lit by the Northern Lights.