When developing a new tour itinerary, balancing travel days, group activities, and free time is essential. That thought process was no different when we created our fully escorted Stories of Norway itinerary for 2023. After traveling from Molde to Trondheim near the end of your time in Norway, Day 10 allows you to explore the city of Trondheim on your own. Let's talk about some things you can do while relaxing and discovering at your own pace!
Things to do in Trondheim: Great Views & Photo Ops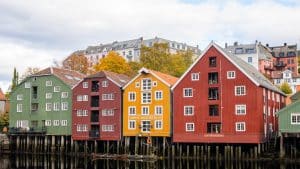 The most iconic photos of Trondheim feature the old wharf buildings that line both sides of the Nidelva river. Visit the Bakklandet neighborhood to recreate these for yourself. Soak in the history of the buildings, which have been well preserved and many dating back to the 18th century.
For a great vantage point of the city, consider riding on the World's northernmost tram, which happens to be in Trondheim. Line 1 of the Gråkallbanen runs 8.8 kilometers from St. Olavs Gate to the Lian recreation area, the gateway to the Bymarka forests, which has many hiking trails. The trails range from those suitable for families with strollers to ones suitable for the most experienced hikers. Depending on how strenuous a walk you are looking for, you will find something for everyone at Bymarka.
Two landmarks closer to the center of Trondheim offering views of the city include Kristiansten Fortress and Tyholt Tower. The fortress was built east of the city after the great fire of 1681 to protect it from further disasters. It successfully did its job in 1718 when Sweden tried to invade Trondheim. A visit today will ensure astounding views over the city, the fjord, and the mountains.
Tyholt Tower is the tallest building in Trondheim and features an observation deck for visitors to enjoy the city from new heights and a revolving restaurant!
Things to do in Trondheim: Museums and interesting buildings
In the picturesque surroundings of Norway's oldest medieval castle, King Sverre's Castle, you can find Sverresborg Trøndelag Folk Museum. The folk museum, consisting of more than 80 buildings dating back as far as the 12th century, is an open-air cultural heritage museum. Combining live storytelling and theatrical performances, Sverresborg is a place where everyone can deepen their understanding of Trondheim's history.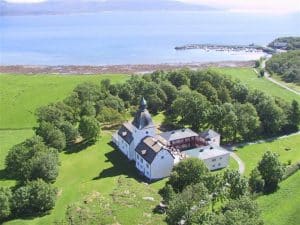 Ringve is Norway's national music museum, with a collection of over 2,000 instruments. Enjoy a guided tour of the museum, where your guide plays historical instruments along the way.
Take the ferry from Trondheim to Brekstad and visit Austrått Manor, one of Norway's oldest manors and a cultural treasure. The courtyard, café, and museum shop are open every day during summer, with guided tours available for visitors to see inside the halls and chapel.
Thamspaviljongen, also called the Norway Building, deserves a visit, if not just for its fascinating history. Located on the Bårdshaug Plateau at Bårdshaug Herregård, it was designed as a stave church and used as Norway's pavilion at the World Exhibition in Chicago in 1893. The Norway Building remained in the United States for the next 123 years, becoming the main attraction at Wisconsin's Little Norway until 2012. In 2017, the building was dismantled, brought back to Orkanger, and restored and rebuilt by local residents. Today it is often used as a venue for weddings and concerts.
Things to do in Trondheim: Relaxation
If a day of relaxation is more your style, you won't need to go far from your base in Trondheim to discover an elegant oasis of tranquility. The new Britannia Spa is located inside its namesake hotel, The Brittania Hotel, and boasts six treatment rooms, a heated lap pool, sauna, steam room, ice bath, mineral pool, gym, infrared cabin, and much more.
Things to do in Trondheim: Places to eat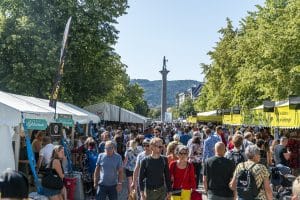 Let's not forget the food! After all, Trondheim is emerging as one of Europe's top culinary destinations, even earning the distinction of European Region of Gastronomy 2022.
With not one, not two, but THREE Michelin Star restaurants in the city, great food is never far away. You might opt to enjoy a 22-course meal at the World's most northern Michelin Star restaurant – Credo – with a menu built around sustainability and local produce.
Trondheim is also home to many breweries (try ØX Tap Room), coffee shops, seafood restaurants, and burger joints. Specialties of the region include big and small game, lamb, seafood, and berries.
If you're visiting in early August, you can taste your way around the food festival, Trøndersk matfestival.
Discover Trondheim and Central Norway in the most worry-free way possible by joining our Stories of Norway™, summer edition. Immerse yourself in 12 days of fjords, mountains, waterfalls, culture, food, and beauty that define Norway in the company of a local Tour Director and as part of a group of no more than 12 travelers—forming new friendships and creating long-lasting memories along the way.