The hotels we use at Discover Scandinavia Tours are hand-selected to provide an authentic Scandinavian experience while maintaining the luxuries you desire on an upscale vacation. Whether you seek a one-of-a-kind adventure or simply an escape to spend more time with loved ones in Scandinavia, our curated selection of hotels will enhance your trip as you make memories to last a lifetime. But what can you expect from the Hotels in Iceland, Norway, Denmark, Finland, and Sweden?
What to Expect from Scandinavian Hotels
Throughout Scandinavia, you will see a clean, modern, and functional style, from the interior design of each hotel to the efficiency of the property management. Like many other European countries, most Scandinavians speak English, and a hotel's front desk is no exception, helping to provide a seamless travel experience.
Like hotels in the United States, check-in takes place in the afternoon, and check-out is by noon. It is often possible to request an early check-in or late departure, though not guaranteed. Other amenities include Wi-Fi, fitness centers, and laundry service. Some unique amenities commonly offered in Scandinavia include bike rentals and babysitting services.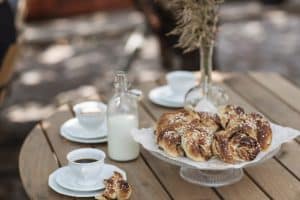 Many travelers are eager to discover the local cuisine when they travel. Hotels in Scandinavia will not leave you disappointed. Discover Scandinavia Tours ensures that each hotel we work with includes breakfast for our guests.
Many hotels also offer a restaurant or bar in the lobby, though some smaller properties might not have space. If that is the case, the concierge
will direct you to local offerings. Some hotels will offer a global selection of food. In contrast, others will have Scandinavian cuisine, such as the Brasserie du Sud restaurant in the Continental du Sud hotel (Ystad, Sweden), offering traditional Swedish dishes.
​What to Expect from the Rooms
Rooms in Scandinavian hotels are typically smaller than those in the United States, though larger rooms may be available as an upgrade. Bed sizes are also different in Europe, with a double (equivalent to a full) the standard size. It is common to adjunct two single (or twin) beds to make a double. Rather than Queen or King rooms, you can usually book single, double, triple, or family rooms at Scandinavian hotels. When traveling with a friend, remember to request twin beds in a double room since double usually refers to the size of the bed rather than two separate beds. A family room is usually a larger double room with an extra single bed or a sleeper sofa, suitable for children.
Room Features – After navigating the single, double, or triple room sizes at Scandinavian hotels, you will find that most room features are similar to hotels elsewhere. Rooms typically have hairdryers, irons, and a minibar. Some will have a shower or bath, but it is less common to have both.
Air-Conditioning – Depending on the time of year you travel, you might want to consider whether the hotel has air conditioning. Since many of the hotels and buildings are older, some hotels will not have an air conditioner, while others might have installed one in recent years.
Blackout Curtains – If you are traveling in the summer, you will notice that the days are long, and if you are north of the Arctic Circle, the sun won't set. If you have trouble sleeping without complete darkness, you might want to bring a sleeping mask since blackout curtains are not always available.
Discover Scandinavia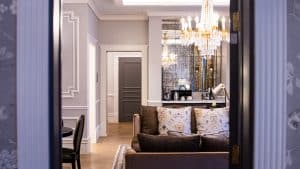 Regardless of where or when you travel, Discover Scandinavia Tours will be ready to accommodate you in the best hotels to fit your adventure. The hotels we partner with are in central locations, near major attractions and dining, with modern conveniences that provide a tranquil escape after a day of sightseeing.
Some of the hotels are historical, giving you a glimpse of Scandinavian culture and history. The Continental du Sud, located in Ystad, has hosted celebrities and tourists for the last 200 years as Sweden's oldest hotel. Finland's Park Hotel in Turku stands out for its Art Nouveau architecture and has served guests since 1902. The Britannia Hotel in Trondheim is one of the most luxurious hotels in Norway and is featured in our Stories of Norway escorted group tour.
If you want information about tours to Scandinavia, please visit us at discoverscandinaviatours.com. You can also call us at (800) 936-2814 or email us at [email protected]; we will be happy to assist you.