by Marcelo Guimaraes – Founder & Owner of Discover Scandinavia Tours
INTRODUCTION – Is an Ice Hotel Stay for Me?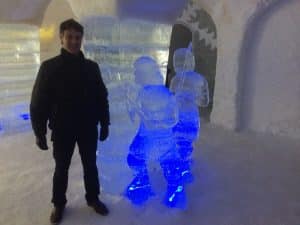 Great news: you have decided to go on an awesome winter vacation in Lapland! Now you are thinking about all the fun things you will see and experience there, so these questions are inevitable: how about those hotels made of ice? Should I try that?
The answer is: YES! Well, perhaps if you are like my mother, who strongly despises the cold more than anything, you should rethink the whole trip… but otherwise, the experience is something you should not miss. There are several candidates (hotels made entirely of ice, that is) all over northern Scandinavia, so let's get to know some of hotels and answer some of the most common questions that travelers have about them.
Also, chances are that you have heard of the original Ice Hotel, near Kiruna (Sweden). It was the first ice hotel built, back in 1989. They are great and consistently deliver an outstanding experience, but every single blog out there already mentions them. Therefore, I want to shine the spotlight on three other ice hotels which you should also consider visiting.
Here they are:
Snowhotel Kirkenes – KIRKENES, NORWAY
Established in 2006 and located close to the Russian border, the Snowhotel Kirkenes does a fantastic job when it comes to differentiating themselves from the competition. In addition to gorgeous Ice Suites, it also offers unique experiences such as their King Crab Safari and the chance to stay at the luxurious and extremely cozy Gamme Cabins. Those have one or more glass walls, so you can experience the Northern Lights in absolute comfort, while sipping on some wine or hot chocolate. To get there, you fly into the Kirkenes airport (KKN) and you can be picked up by the hotel shuttle or even a dog sled! Clients who experience our Deluxe Norway Winter tour can't say enough positive things about the place and the activities they enjoy there.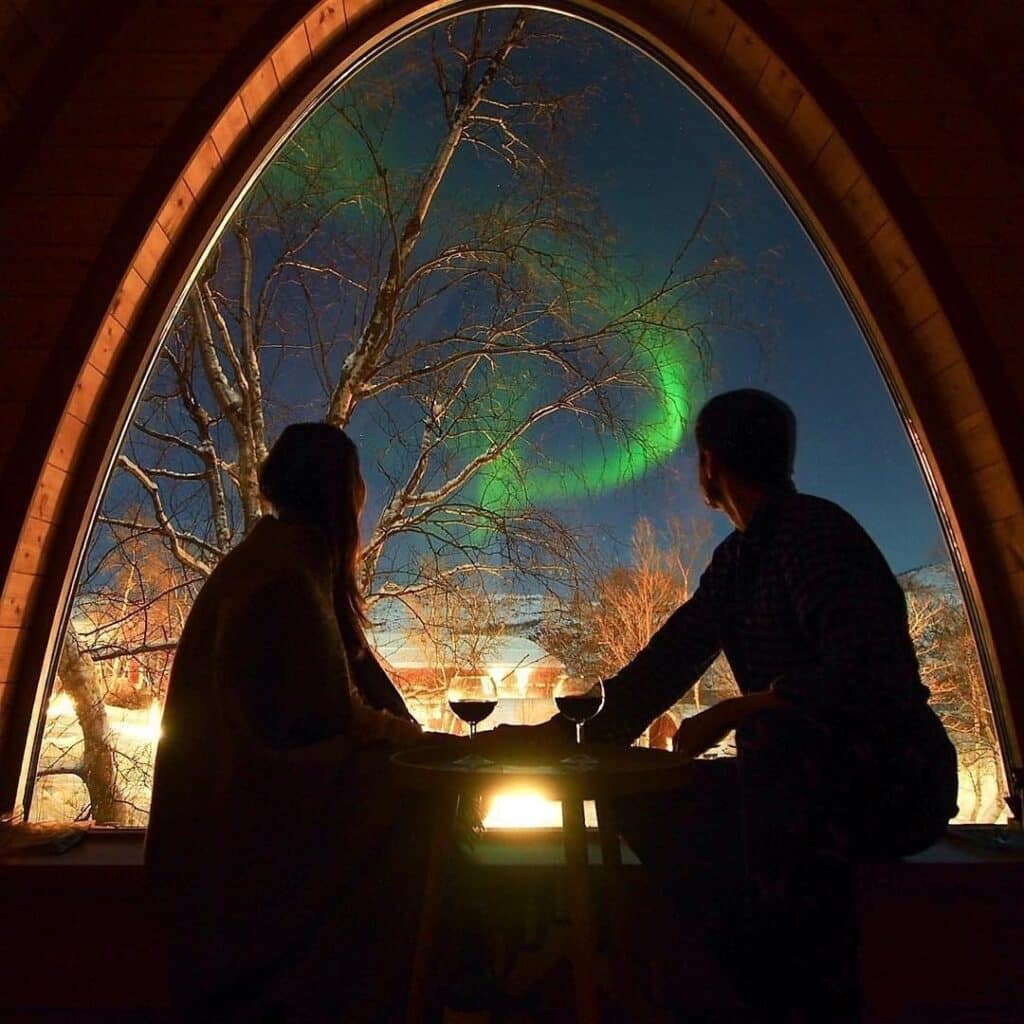 SnowHotel Kemi – KEMI, FINLAND
Since 1996 the SnowHotel Kemi has been inviting visitors from all over the world to the Finnish Lapland. The area is a complete center for fun and entertainment, with all the traditional Lapland types of adventures, plus some really unique ones. You can visit the SnowCastle, the biggest ice fort in the world, right next to the hotel, or venture into the Arctic waters in the Sampo, the icebreaker ship. As for accommodations, you have a number of ice rooms and suites available, as well as their Glass Villas, where you can spend the night and admire the surrounding nature (and Northern Lights, perhaps), from the comfort of your room. Getting there is easy if you fly into the Kemi airport (KEM), only a few minutes away, or into neighboring Rovaniemi airport (RVN), a short train ride away. Our clients visiting Finland with our Finland: Dogsleds & Aurora Borealis in Lapland tour stay at the Kemi SnowHotel and love it!
*UPDATE: Since writing this article, the SnowHotel Kemi as it once was no longer exists. Though visitors can still enjoy the SnowCastle, which is now open 365 days a year.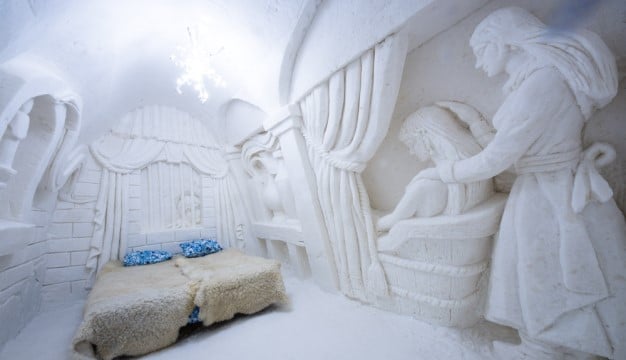 Sorrisniva Igloo Hotel – ALTA, NORWAY
This place is a true gem. For starters, if you spend a night there you can say that you have stayed at the northernmost ice hotel on Earth. Bragging rights counts, right? Unlike the hotels discussed on this list, the Sorrisniva Igloo Hotel is focused on smaller-scale experiences. Their focus is on finding ways to offer more exclusive and personalized treatment. When I think about it, that seems to be the general theme in Alta, Norway. Perhaps that's why I love the town. You can compliment your stay with a few nights at the Bjørnfjell Mountain Lodge, for a luxury-rustic type of stay.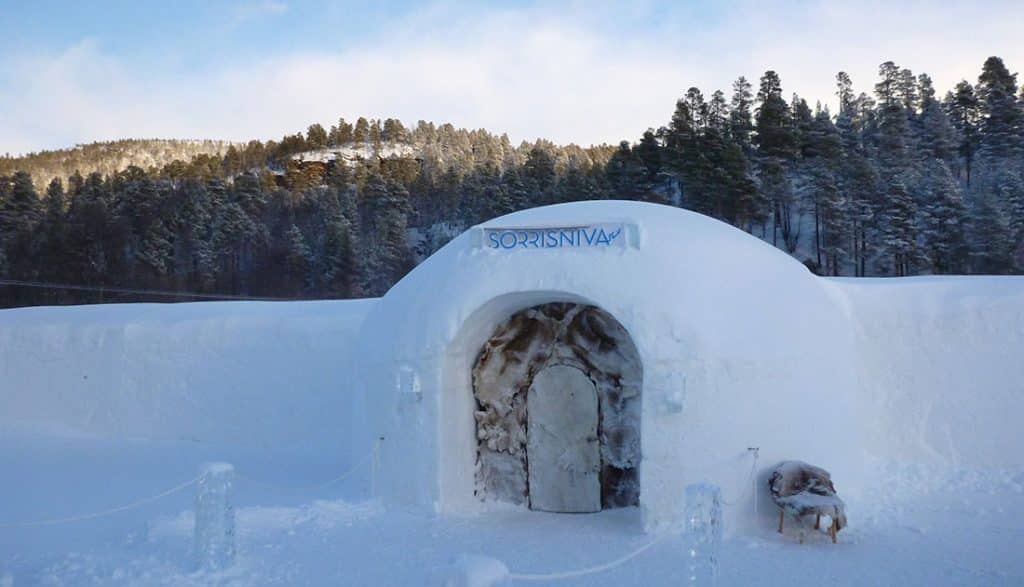 COMMON QUESTIONS FROM OUR TRAVELERS
How many nights should I spend at an ice hotel?
A: ONE night is ideal at an ice room/suite. That will give you the opportunity to enjoy the experience without sacrificing on comfort. The hotels listed here all offer "warm accommodations," at the property. They are excellent cabins or rooms where you can spend the remaining nights at the location.
How cold do ice rooms get?
A: Rooms are kept just a few Centigrade degrees below zero (equivalent to negative low 20s in Fahrenheit).
How do I sleep in an ice hotel?
A: Typically, each room has a mattress which sits on a base (often a wooden one) and special thermal sleeping bags are provided.
Will my room have a bathroom?
A: Bathrooms and storage areas (both warm) are generally found outside of the ice structures, in a nearby building.
What happens to ice hotels in the summer?
A: Traditionally, ice hotels melt every spring and are rebuilt in the late fall. However, many properties are now offering the experience year round, by building the hotel inside a temperature-controlled building (essentially, a giant freezer).
Do ice hotels look the same from year to year?
A: No! That's part of what keeps people coming back. Each year ice hotels are built according to themes and different designs. Some of the sculptures you will find in there are true masterpieces!
What should I pack to stay at an ice hotel?
A: When packing, focus on the winter Lapland vacation as a whole, not just your stay in the ice hotel. In terms of what to wear, the number one rule is: layers, layers, and more layers.
How many people can sleep in a room?
A: Most ice rooms and ice suites are perfect for couples, but you will also find options for families of 3 to 4 people.
Are ice hotels expensive?
A: Ice hotels offer luxurious, exclusive and unique experiences. You enjoy incredible activities and find yourself surrounded by an impressive environment of gorgeous ice art. How could it be cheap? Again, it is about the value you get from the experience.
How do I go about planning a stay at an ice hotel?
A: Easy! Just get in touch with us and we will make sure that you have the most memorable Lapland vacation possible (yes, with a stay at an ice hotel)!