Small Group Tour of Iceland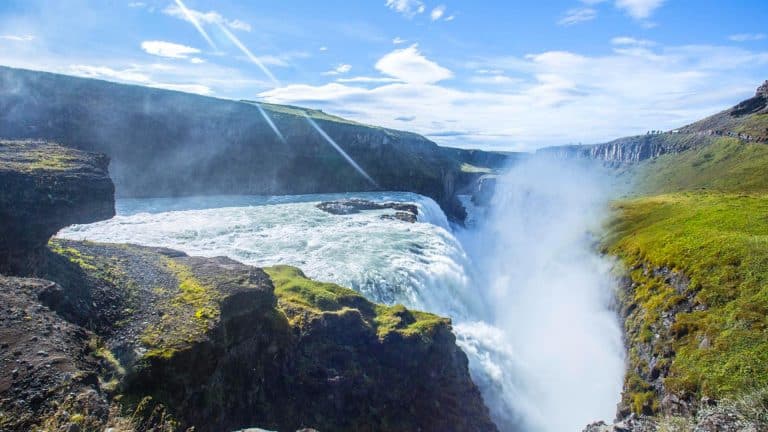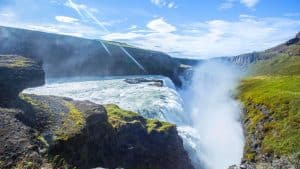 In the wintertime version of
Stories of Iceland™,
you will be immersed in eight days of local culture & cuisine, multiple geothermal spas (a fantastic experience on cold days), and jaw-dropping landscapes of color and terrain that come together in ways only seen in Iceland. With every single night of the small group tour, you will have a new opportunity to view the Northern Lights. Let's take a closer look at this itinerary and find out where you will stay and the sightseeing you will enjoy on this small group tour in Iceland.
Your Icelandic Adventure Begins
Your Icelandic adventure begins in Reykjavik with a three-night stay at the
Hotel Borg
– a Reykjavik icon. With its elegant facade and Art Deco interiors, Hotel Borg is Iceland's first and most-celebrated deluxe hotel. Combining sophisticated comfort, excellent service, and a superb location, your stay here will be remembered. Before settling in for the night and enjoying the group welcome dinner, you'll take a trip to
Sky Lagoon
. Iceland's newest thermal spa is just minutes away from Reykjavik, and the design takes inspiration from Icelandic nature and culture. Immerse yourself in the warmth of this oceanside geothermal lagoon and feel yourself relax before a busy few days of sightseeing. As you look out across the North Atlantic ocean, you may get your first taste of the dancing Northern Lights.
Exploring Reykjavik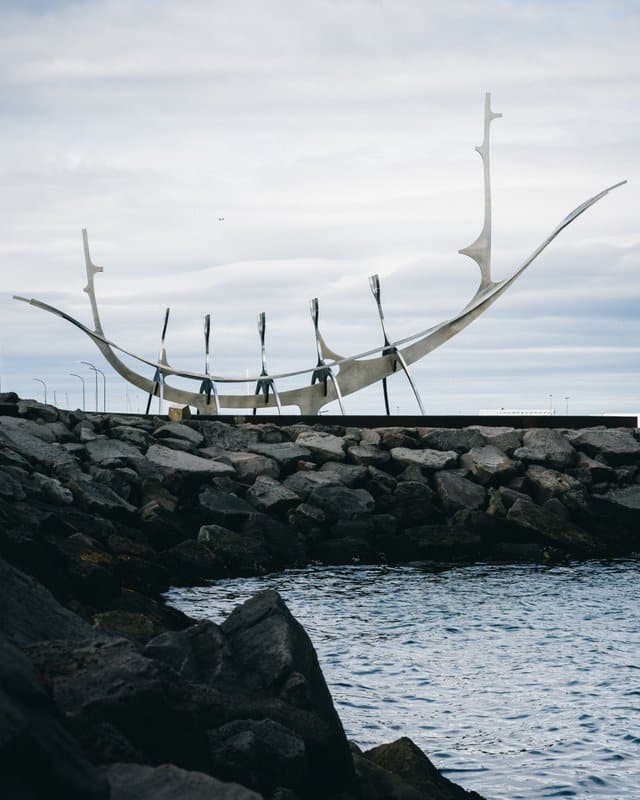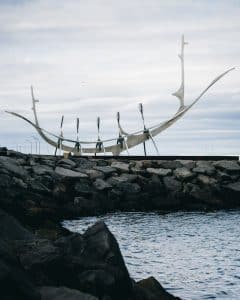 Day two is all about discovering Reykjavik. You'll depart on a guided driving tour and view some notable sights, including the famous
Hallgrímskirkja Church
,
Harpa Concert Hall,
and the unique
Sun Voyager
sculpture. The Sun Voyager, or "
Sólfar
," was the winning design in a 1986 competition for an outdoor sculpture to celebrate Reykjavik's 200th anniversary. Sun Voyager is a dream boat and an ode to the sun, representing the promise of undiscovered territory and a dream of hope, progress, and freedom. After the driving tour, you'll have some free time to experience the city on your own. As you explore, you will notice that nature is never far from view; peeking between city streets, you can spot far-off mountains rising above the nearby ocean. If the skies are clear, the evening brings a drive away from the city's lights to view the Northern Lights—just one of many opportunities on this tour. Your last day in Reykjavik is all about exploring the
Golden Circle
, a popular sightseeing route with three of Iceland's must-see sights: Gullfoss waterfall, Geysir geothermal area, and Þingvellir National Park. You'll also visit nearby Friðheimar to see Icelandic horses and taste some organic, tomato-based delicacies. Let's not forget if the Aurora Borealis dance in the skies, we will be ready to admire them.
The Road to Husafell
As we head north to your home for the next two nights –
Hotel Husafell
– we'll stop at some of the main attractions along the
Silver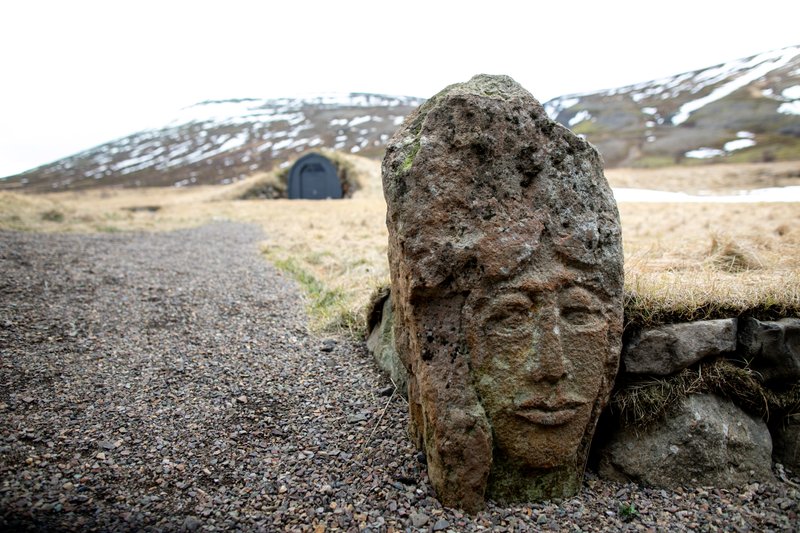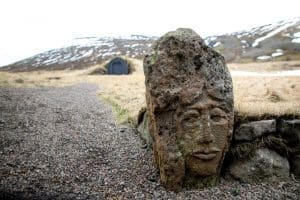 Circle
route. Along this fascinating route, you will find Árhver and Vellir, a unique hot-spring area, and incredible Icelandic waterfalls, such as Hraunfossar and Barnafoss. We will explore the town of Reykholt, marvel at the beautiful stone carvings by Páll Guðmundsson, and bathe in yet another fantastic geothermal spa, the
Krauma Baths
. The hot water which feeds Krauma Baths originates in Europe's most powerful hot spring Deildartunguhver, at a temperature of 212°F! While talking about hot springs, your accommodation for the next two nights is the only one in Iceland fully self-sustainable and powered by hot springs making it one of the world's most unique lodges. Hotel Husafell is in prime Northern Lights territory, enjoying an average of three Aurora sightings per week during the winter months. The hotel offers guests a wake-up call service to maximize their chances of seeing the lights.
Discover Snaefellnes Peninsula
On your last full day in the Husafell area, we will head west to discover one of Iceland's most precious gems: the
Snaefellsnes Peninsula
. Roughly translating to Snow Mount's Peninsula, the site holds both a volcano and a
glacier
, lava fields, craters, waterfalls, black and white beaches, caves, picturesque mountains, calm fishing hamlets, villages, and towns as well as gorgeous views along the coastline with rugged rocks and frozen trolls jutting out from the Atlantic waves. Your visit will provide many vantage points unique to the region depicting Iceland's natural beauty, including
Mount Kirkjufell
, possibly Iceland's most iconic and photographed site.
More Chances to See the Northern Lights
Next, we head South, leaving Husafell behind. You'll enjoy a full day of activities, including a visit to the inside of a lava cave, where you can learn about the volcanic process that led to its formation. Next up is the
Settlement Center
in Borganes. The Center is devoted to recreating Iceland's earliest days and introducing visitors to one of the best-known heroes of the Icelandic Sagas, Egil Skalla-Grimsson. Tor the final stop before arriving at our accommodation,
Hotel Ranga
, is a visit to the brand-new
Selfoss Downtown
, a collection of 35 historic buildings, previously damaged by fire or fallen into disrepair, reconstructed to form a unique cultural center. Hotel Ranga is one of Iceland's most unique hotels, with its ideal location in the Icelandic countryside, far from light pollution. At night, they turn off all of the property's external lights to provide optimal viewing conditions of the night sky and, hopefully, the
Northern Lights
. Similarly to Hotel Husafell, Hotel Ranga also offers guests a wake-up call service to ensure they don't miss the appearance of the night skies dancing lights. A bonus at the Hotel Ranga is the
Ranga Observatory
, where a local astronomer guides guests through the night sky on clear nights. With two high-quality telescopes to enhance your journey through the cosmos, you will spot incredible detail not visible to the human eye.
The Final Days of Your Icelandic Adventure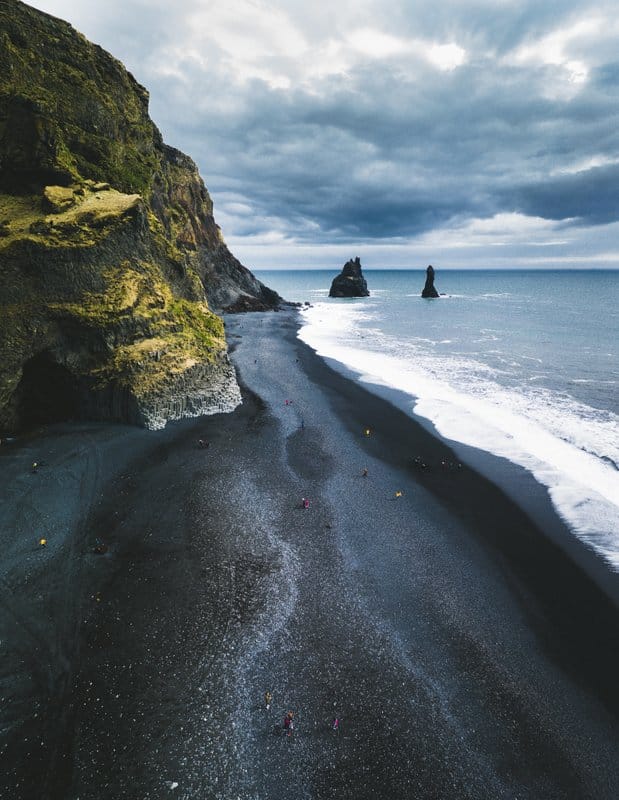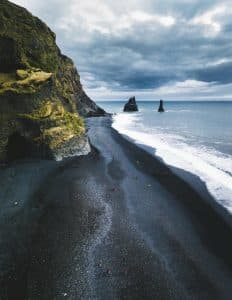 On the last full day of your tour, you'll see the South of Iceland in its wintertime glory, from the waterfalls of Selfoss, Skogafoss, and Seljalandsfoss to the picturesque
village of Vik
. A small village 100- miles from Reykjavik, Vik is home to just under 300 inhabitants, and though small, there is no shortage of things to see and do. We'll stop at the
Reynisfjara black sand beaches
and the beautiful Vík í Mýrdal Church – the white building stands out as it sits high on the hilltop, providing incredible panoramic views. After an incredibly scenic day, we will be back at Hotel Ranga for another great night of comfort and, weather permitting, another chance to see the Aurora Borealis. As we head back to Keflavik Airport the following day, a trip to Iceland is incomplete without seeing a Viking ship.
Viking World Museum
is home to Islendingur, "
the Icelander
," a replica of a vessel discovered during an excavation in Norway in 1880. Completed in 1996, Islendingur's builders used only the tools and materials that would have been available to Vikings. It may surprise some, but the hard work paid off, and it is a fully functioning replica. In 2000, nine crew left Iceland on Islendingur, sailing to Canada, New York, and back to celebrate 1,000 years since Vikings discovered North America. Now it's time to see Iceland for yourself. Call or email us to plan your tour and write your Icelandic story.