by Marcelo Guimaraes – Founder & Owner of Discover Scandinavia Tours
INTRODUCTION – What Can I Do on a Glacier?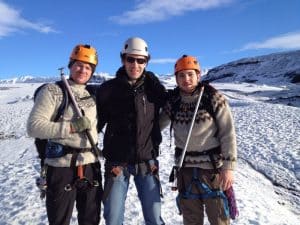 To most people, the idea of walking on a glacier is pretty exotic and seemingly out of reach. Seeing the inside of a glacier may even sound impossible… but it isn't, fortunately! If you know how to get to a glacier and how to safely explore it, the adventure becomes accessible and realizable. That is what I intend on doing here: to cut through all the confusing information out there and give you just what you need: 1) a list of a few highly accessible glaciers; 2) information on how to get to them, and 3) how to best explore them. Specifically, I will be discussing glaciers in Iceland and Norway, since the glacier tourism infrastructure in those countries is quite developed.
ICELAND – A GLACIAL COUNTRY
By definition, glaciers are always changing and moving. In layman's terms, they consist of truly massive blocks of ice which constantly sink and move under their own weight. Sadly, the severe climate change issues plaguing our planet are shrinking many glaciers, to the point that some of them have even lost their glacier status. That happens if the ice mass is no longer sufficiently large. One such example is the now "defunct" Okjokull glacier in west Iceland.
Still, currently about 11% of Iceland consists of glaciers, some of which cover entire underwater mountains and volcanoes. Let's look at 3 of the country's most visited glaciers, along with some interesting facts about each of them, accessibility and activities available.
Largest: Vatnajokull, the "water glacier"
Area: 3,050 square miles
Peak Altitude: 6,921 feet
Max Ice Thickness: 3,120 feet
This gigantic icecap is located in the southeastern part of Iceland and has about 30 outlet glaciers flowing from it (think of it as a valley glacier which works as a "drain"). It covers approximately 8% of the country.
WHY VISIT?
In addition to "traditional" guided activities (glacier walking, ice climbing, ice caves), the region also presents tourists with a unique experience in the Jökulsárlón glacial lagoon. The attraction is on the southeast border of the Vatnajokull National Park and can be accessed directly from the famous Ring Road, which circles around the entire island. Jökulsárlón is characterized by a collection of incredibly beautiful icebergs floating in its waters as they flow to the Atlantic Ocean. Those icebergs can be viewed from land or up close in a variety of boat tours available locally. My favorite way of experiencing them is on the fast Zodiac boats, which get you quite close to the blue icebergs.
Glacier walking or hiking – with crampon shoes and ice picks – is quite popular and should only be attempted in the company of an experienced guide. The same rule applies to all other glacier activities. Those guides will not only ensure your safety, but also share with you knowledge on the science behind glacier formation and on their historical and cultural relevance to the area.
WHERE TO STAY
Although it is possible to find several tours which will start and end in Reykjavik, the nation's capital, we recommend a base hotel in the south coast (the town of Vik, for instance) or in the East Fjords, such as the town of Hofn. I personally like Hotel Kria, in Vik, or Fosshotel Vatnajokull, near Hofn (if you stay in one of their suites, the view will blow your mind). Staying at one of these locations will avoid days with many hours of driving and allocate more time for the enjoyment of the adventure.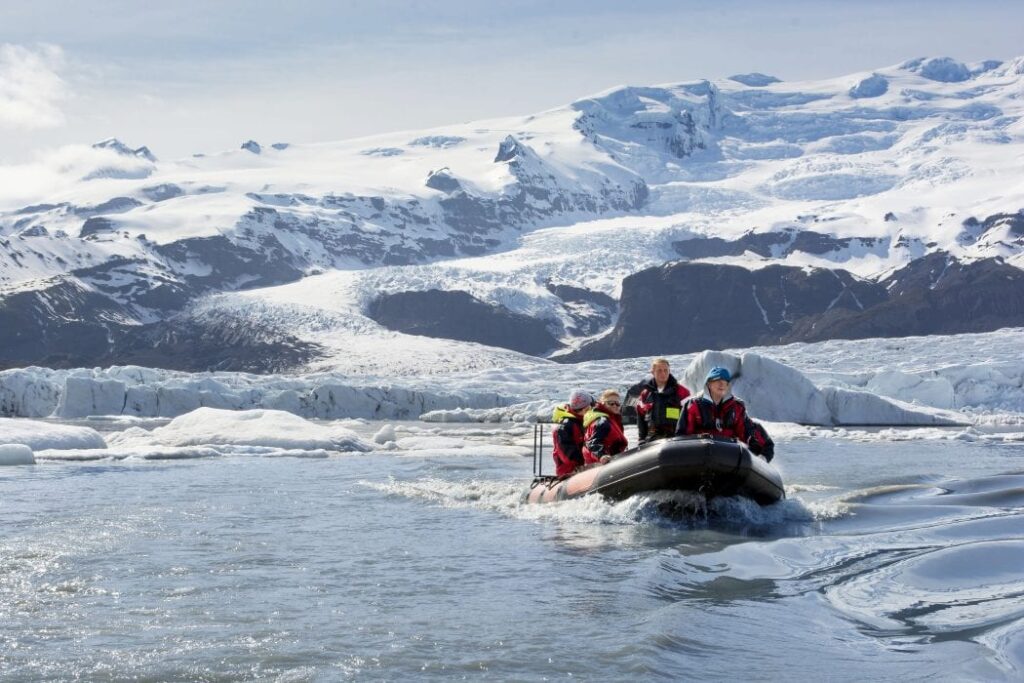 2nd Largest: Langjökull, the "long glacier"
Area: 368 square miles
Peak Altitude: 4,757 feet
Max Ice Thickness: 1,900 feet
This glacier, also an ice cap, is located in west Iceland, more specifically in the region known as the Highlands. Being the closest one to Reykjavik, it is quite popular among most tourists and allows for a comfortable day trip from the city.
WHY VISIT?
The glacier is very high and cannot be reached via regular family cars. A modified Jeep ("Super Jeep") or truck is required for access. The most common activities available are Super Jeep tours and, for those seeking the additional thrill, snowmobile tours. Also quite interesting are the tours which take you, through man-made tunnels, inside the glacier. You will even find a chapel in there! Clients who visit Iceland with us often get to experience Langjokull.
WHERE TO STAY
If your base is in Reykjavik, expect your guided tour to be a full-day affair (9 to 10 hours, usually). This includes around 3.5 to 4 hours of roundtrip driving. A town like Husafell, about 2 hours northeast of Reykjavik, provides an excellent alternative which significantly cuts down on the driving time. Besides, the town offers great accommodations (Hotel Husavik is my pick there) and easy access to a number of other fascinating attractions, such as lava caves, hikes and geothermal baths.
13th Largest: Snæfellsjökull
Area: under 4 square miles
Peak Altitude: 4,744 feet
Max Ice Thickness: 100 feet
We jump over several larger glaciers to land on the relatively small Snæfellsjökull, the only one on the Snæfellsnes peninsula. The choice is obvious given the scenic beauty of the peninsula and equally enchanting picturesque quality of the glacier itself. Furthermore, it gained notoriety when it was chosen by Jules Verne as the gate to the Earth's core in his classic "Journey to the Center of the Earth." Many tourists are motivated to see it simply for that reason. The sad part of the story is: based on current measurements and predictions, the glacier – which can still be seen from Reykjavik on clear days – is expected to be entirely gone by 2050. Can we revert this tragedy?
WHY VISIT?
The most popular activity at the Snæfellsjökull is a hike to the summit, but such hike is classified as "demanding" by most local guide companies. Therefore, a certain level of physical conditioning is expected from those interested in attempting it. The rewarding view from the top is definitely worth the effort, though. If demanding hikes are not your thing, do not despair. A great alternative is a snow-cat tour of the glacier departing from Grundarfjörður, a picturesque small town located right next to the highly-photographed Kirkjufell mountain. On this tour you will not reach the summit, but you will still experience amazing views and enjoy the thrill.
WHERE TO STAY
There are many locations along the Snæfellsnes peninsula which work really well as a base, assuming you have a rental car at your disposal. Grundarfjörður is the starting point for many glacier tours, but my personal recommendation is the town of Búðir, less than 45 min away from Grundarfjörður and home of the amazing hidden gem Hotel Búðir. We are currently developing a number of tours which will ensure that our guests experience this magical hotel and the amazing food they prepare and serve there.

Also of Interest
Hofsjökul ("Temple Glacier"), the 3rd largest in Iceland. It is located in the area known as the Highlands, a hiker's paradise. The best way to explore it is with an experienced guide and a 4×4 vehicle.
Mýrdalsjökull, the 4th largest glacier in the country and also the southernmost one. It conceals the Katla caldera (upper part of a large volcano) and is one of 2 glaciers surrounding the Fimmvorduhals hiking trail. The other glacier next to it is the Eyjafjallajökull.
Eyjafjallajökull, the 6th largest in Iceland, is named after the nearby Westman Islands archipelago (Vestmannaeyjar). It conceals the infamous Eyjafjallajökull stratovolcano, which erupted in 2010 and disrupted air traffic all over Europe. Today, a number of local tours expose travelers to the effects of the 2010 eruption and the scenic surroundings.
If you are fascinated by Glacial Geology, do check out Professor Ólafur Ingólfsson's webpage. It looks a bit on the outdated side, but the information in there is excellent and, to an extent, accessible to the layman.
NORWAY – FJORDS & GLACIERS
Norway is another country that combines the jaw-dropping beauty which draws in lots of tourists and the excitement of glacier exploration. Just like in Iceland, they have all the required infrastructure in place and can ensure that your visit to a glacier is safe and fun. Here, the secret is the same: join an experienced guide and follow their lead. Don't try it on your own.
Interestingly, the 18 largest glaciers in Norway are not located on the mainland. Instead, they are found in Svalbard, a Norwegian archipelago north of the mainland and, of course, south of the North Pole… but closer to the latter! At this point I am deciding to talk about the Svalbard glacier and ice cave tours on a separate post, because vacationing in Svalbard deserves an article of its own. So, let's take a look at 3 glaciers you can discover in mainland Norway:
Jostedalsbreen – The largest in all of Continental Europe
Area: 188 square miles
Peak Altitude: 6,442 feet
Max Ice Thickness: 1,954 feet
One of the most attractive features of this giant ice cap is how accessible it is. Located in the national park bearing the same name, Jostedalsbreen sits between Norway's two largest and most popular fjords: Sognefjord and Nordfjord. Several local tour operators compete for the tourist's attention by offering packages that range from light family excursions to hike & climb adventures suited for the experienced thrill seeker. We expose many of our clients to the majestic beauty of the Sognefjord in our beloved Scenic Norway Luxe Summer tour.
WHY VISIT?
Given the proximity to a number of highly accessible fjords, you will find many packages which combine a glacier activity with a scenic fjord excursion (kayaking, RIB boats and train rides near the fjords). NOTE: this region of Norway is commonly known – for marketing reasons – as "Fjord Norway." It is important to keep in mind that you will also find gorgeous fjords in many other regions of Norway as well.
As for the glacier activities, you will encounter mild glacier walks on crampon shoes (some are specially tailored for families with kids), medium-to-advanced glacier hikes (some are multi-day ones) and ice climbing (yes, with ice picks!), to name some. Local tour providers generally do a great job informing travelers of the level of difficulty for each tour and offer a great wealth of knowledge along the way. Of course, the views are absolutely incredible. Always.
WHERE TO STAY
The towns of Bergen, Balestrand and Loen are great candidates. I personally can't get enough of the historic Hotel Kviknes, in Balestrand. Discover Scandinavia Tours has been sending clients there for many years, and they always talk about the place as a "hidden gem." As for a choice of base, it all really depends on how much time you have to explore. Several arms of the Jostedalsbreen can be accessed via public transportation (buses, boats and trains). However, the most comfortable and flexible ways of reaching them are by having your own rental car or traveling with a tour group which will take you to the glacier. One such example is our own Stories of Norway small group tour.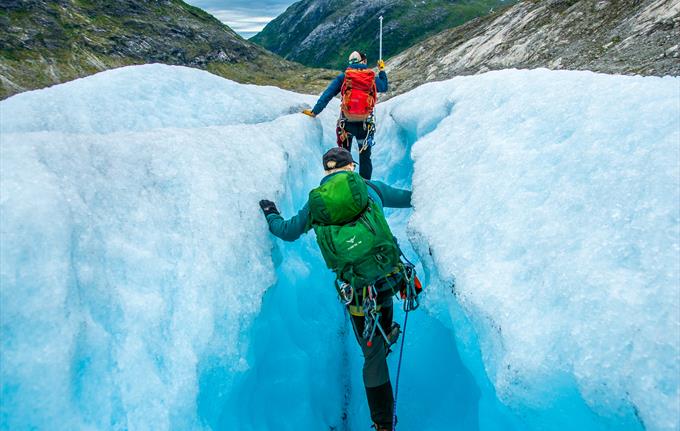 Austerdalsisen Glacier – Second largest in mainland Norway… and lowest in mainland Europe
Area: 143 square miles
Peak Altitude: 66 feet
Max Ice Thickness: 656 feet
In order to enjoy adventures at the Austerdalsisen glacier you will need to travel to northern Norway. Technically, it is one of the tongs of the Svartisen, Norway's second largest glacier in the mainland. What makes this glacier unique is how low it is: only about 20 meters (66 feet) above sea level. This means that you can reach the peak with relatively little effort. If you are coming from the south, this can be done by a boat ride across neighboring Svartisvatnet lake and a under-two-mile hike. The hike itself is not absolutely trivial, but not demanding either. Broken-record me… but use a guide. Safety first!
WHY VISIT?
It is fair to say that, when it comes to visiting the Austerdalsisen Glacier, half of the experience consists of enjoying the magnificently beautiful surroundings. True… one could argue that this applies to almost every sightseeing experience in nature, in Norway, but this is particularly relevant here. My personal recommendation? A scenic bike ride alongside the nearby lakes is a must. On the glacier itself you can enjoy some ice cave experiences and a variety of walks and hikes, including some Midnight Sun hikes. This means that you will be hiking at midnight and seeing the sun, which never quite sets in the summer months, up in the Norwegian Lapland.
WHERE TO STAY
One popular option is to stay in the town of Mo i Rana, south of the glacier. You can reach Mo i Rana by plane, from Oslo (1-stop flights), or by train from Trondheim. Alternatively, you can fly to Bodø and travel south to reach the glacier. Some local companies offer full-day tours which include hotel pick up and drop off from both cities. Having a rental car at your disposal or participating in a worry-free escorted tour will, most likely, increase your flexibility and convenience when it comes to transportation. If everything goes as planned, 2021 will see the inauguration of the Svart Glacier Hotel, dubbed the "World's most sustainable hotel." It will present guests with a 360° view of the Svartisen Glacier and the Arctic fjord. Quite something!
Folgefonna Glacier – Awesome for Hikers & Skiers
Area: 80 square miles
Peak Altitude: 4,790 feet
Max Ice Thickness: 1,230 feet
We are back in "Fjord Norway" to find Folgefonna Glacier, which actually consists of a set of 3 glaciers: Nordre Folgefonna, Midtre Folgefonna and Søndre Folgefonna. You guessed it: north, middle (center) and south. In addition to excellent glacial walking and hiking opportunities, the glacier also attracts skiers and snowboarders to its summer ski resort, in the heart of Hardanger. Yes, summer! This is a region somewhat removed from the big touristy centers in the area, allowing travelers the enjoyment of, perhaps, more authentic experiences.
WHY VISIT?
For those looking for an extra challenge, a number of tours offer you the chance to try some ice climbing in one of the glacier's countless blue crevasses. The experience is fantastic and quite thrilling, but somewhat demanding, so good physical conditioning is required. Other types of high-adrenaline activities (I am trying to avoid the word "extreme," because it isn't) are commonly found around the glacier: white water rafting/kayaking, fjord kayaking and rock climbing, to name a few. And if you really know your way around a kayak, you will even find a course for you to refine your Eskimo Roll skills. If, like me, you thought of sushi… sorry, that course is not for you (but I know some great sushi places all over Norway!).
WHERE TO STAY
It will take you a lot of driving to get there from Oslo or Bergen, so let's look at alternatives. A rather popular option is the town of Odda, right outside the Folgefonna National Park. You will find a number of hotels and guesthouses there. About 1 hour south of Odda you will find a hotel I very much like, the historic Energihotellet, in Nesflaten. Their concept is quite interesting: a minimalistic type of accommodation with outstanding food, where the nature outside your room provides the paintings on the walls (windows, really). About 45 min northwest of Odda you will find Jondal, home to the brand-new, boutique, design hotel Hardanger House (their website is in Norwegian only… but we talk to them). A little farther out, under 1.5 hours northeast of Odda, you will find another one of my favorite historic hotels in the area: the upscale Brakanes Hotel, in Ulvik.
NOTE: since we are talking about glaciers in Norway, it is imperative that I mention the outstanding Glacier Museum, in Fjærland, Vestland county. I confess that I did not expect much when I visited it in 2018, but I found myself quite impressed by the interactive displays I saw in there. Of particular relevance is how they demonstrate the devastating effects of climate change on many glaciers, along with all the ecosystems they affect and support. The building itself is quite fascinating and I highly recommend the attraction for travelers of all ages.
In closing, I hope this article eliminated any of your doubts about having some glacial fun, perhaps in the near future. The array of experiences, beauty and locations available is quite large and I am sure we can find the perfect combination just for you.