STORIES OF ICELAND - FALL & WINTER
Fully Escorted Iceland Vacation Package
Travel VIP-style with a local Tour Director and a group of 12 travelers or fewer.

Taste exquisite, gourmet Icelandic dishes every day, with every meal.

Enjoy every night as an opportunity to view the Northern Lights.

Smile uncontrollably as you watch geysers erupting in the Golden Circle.

Stroll on black-sand beaches, into amazing caves and past powerful waterfalls in Iceland's south coast.

Immerse yourself in several warm geothermal baths: Sky Lagoon, Krauma Baths, Husafell Canyon Baths & the iconic Blue Lagoon

Be in a

Game of Thrones

set as you snap a picture of Mt. Kirkjufell, in the Snaefellsnes Peninsula.

Have a blast in the world's northernmost capital as you discover Reykjavik.

See some of Iceland's most unique waterfalls in the Silver Circle.

Sleep comfortably and peacefully in some of Iceland's best hotels.
Interactive Map/Virtual Tour
Included in this Fully Escorted Iceland Vacation Package
| Departing | Price Per Person | Spots Left |
| --- | --- | --- |
| February 6 - February 13, 2023 | $4,998 | 8 |
| March 4 - March 11, 2023 | $4,998 | 10 |
| October 13 - October 20, 2023 | $4,998 | 8 |
| November 11 - November 18, 2023 | $4,998 | 10 |
| December 9 - December 16, 2023 | $4,998 | 12 |
Sky Lagoon & Kickoff Dinner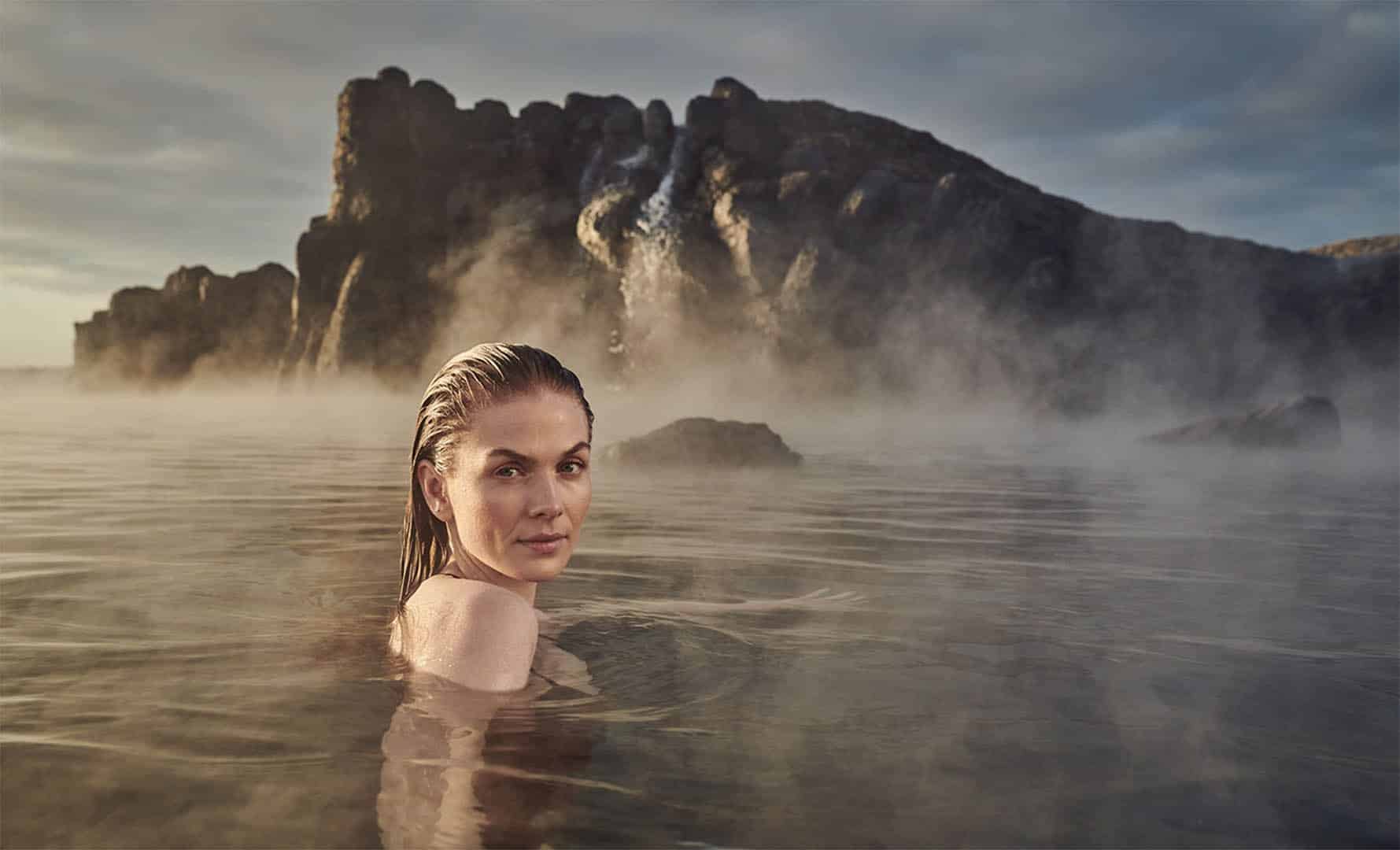 You are now in the Land of Fire and Ice, yours to discover. Your group tour of Iceland starts with a relaxing visit to the brand-new Sky Lagoon and a delicious kickoff dinner, where you will meet your Tour Director and fellow travelers. Cheers to the start of your Icelandic adventure!
Attractions Visited: 
Sky Lagoon (geothermal spa)
Accommodation: Hotel Borg
Discovering Reykjavik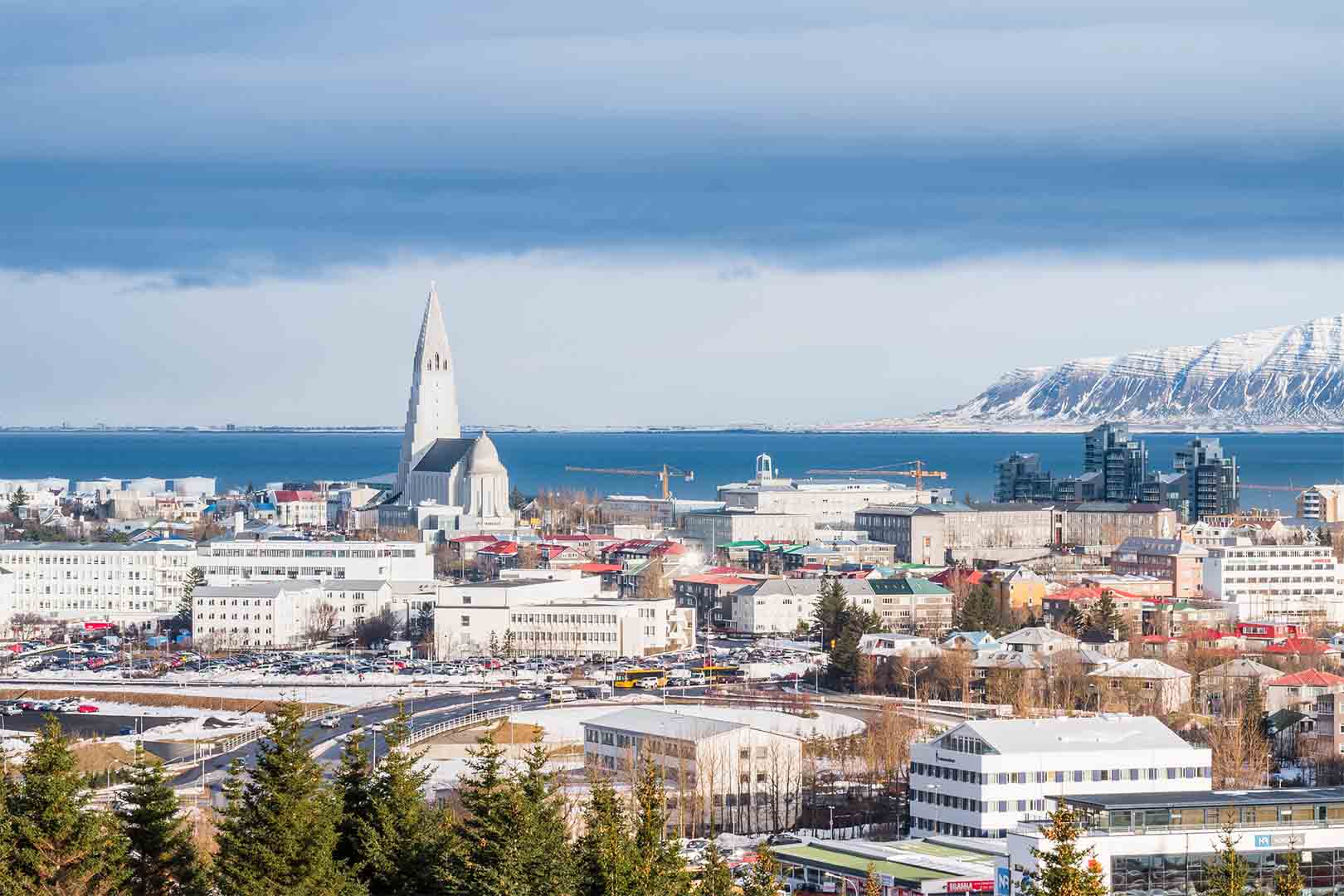 Join a driving tour of Reykjavik and take in some of the city's attractions. If the skies are clear after dinner, you'll have your first opportunity to see the Northern Lights.
Attractions Visited: 
Hallgrímskirkja Church, Harpa Concert Hall, Sun Voyager Sculpture, The Perlan, Laugavegur Street, Northern Lights Safari
Accommodation: 
Hotel Borg
Secrets of The Golden Circle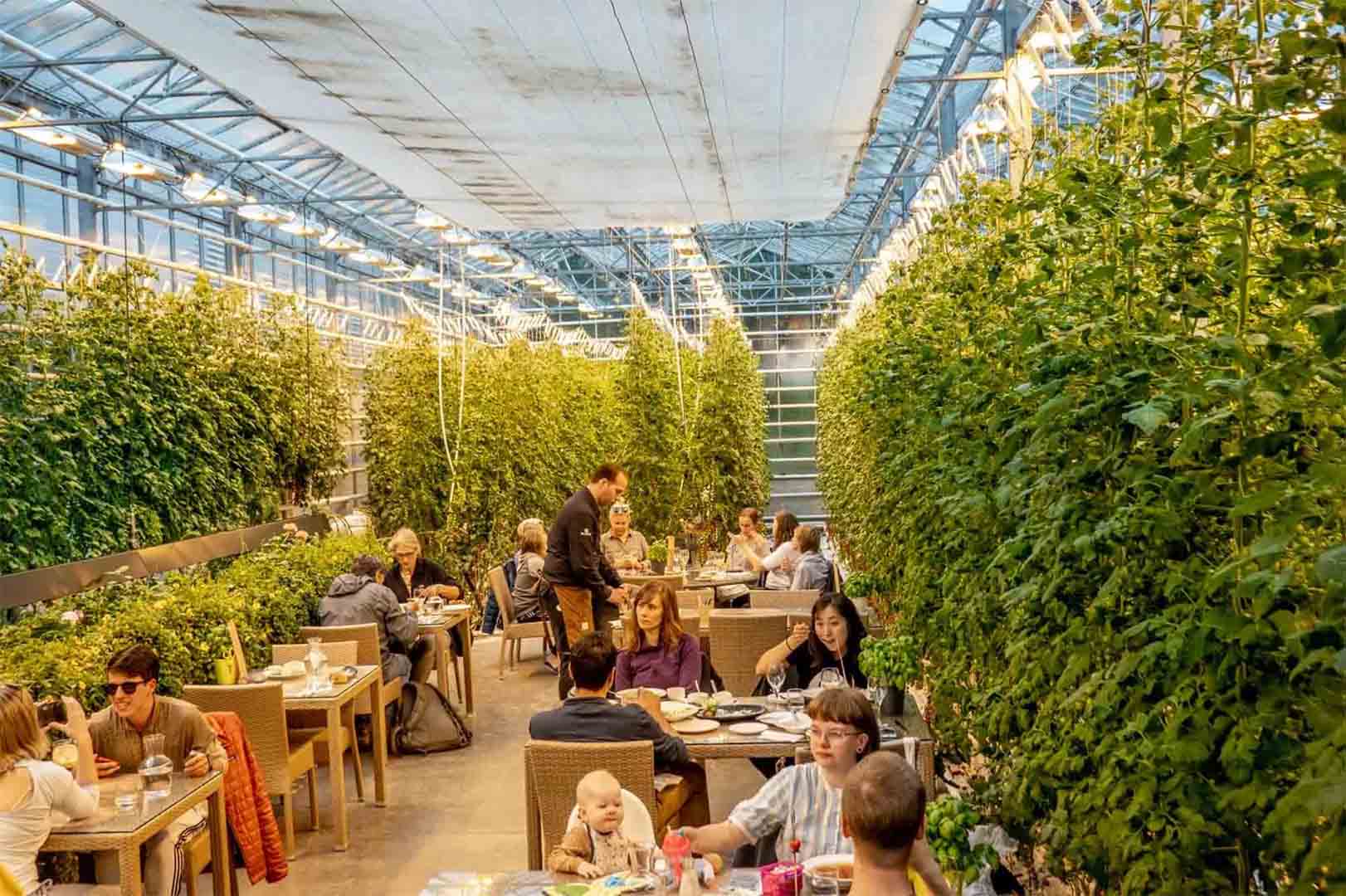 Embark on a guided tour of the Golden Circle attractions, followed by a stop at nearby Friðheimar to enjoy a beautiful show with Icelandic horses.
Attractions Visited: 
Gullfoss Waterfall, Geysir Geothermal Area, Thingvellir National Park, Fridheimar Tomato Farm
Accommodation: 
Hotel Borg
Silver Circle & Husafell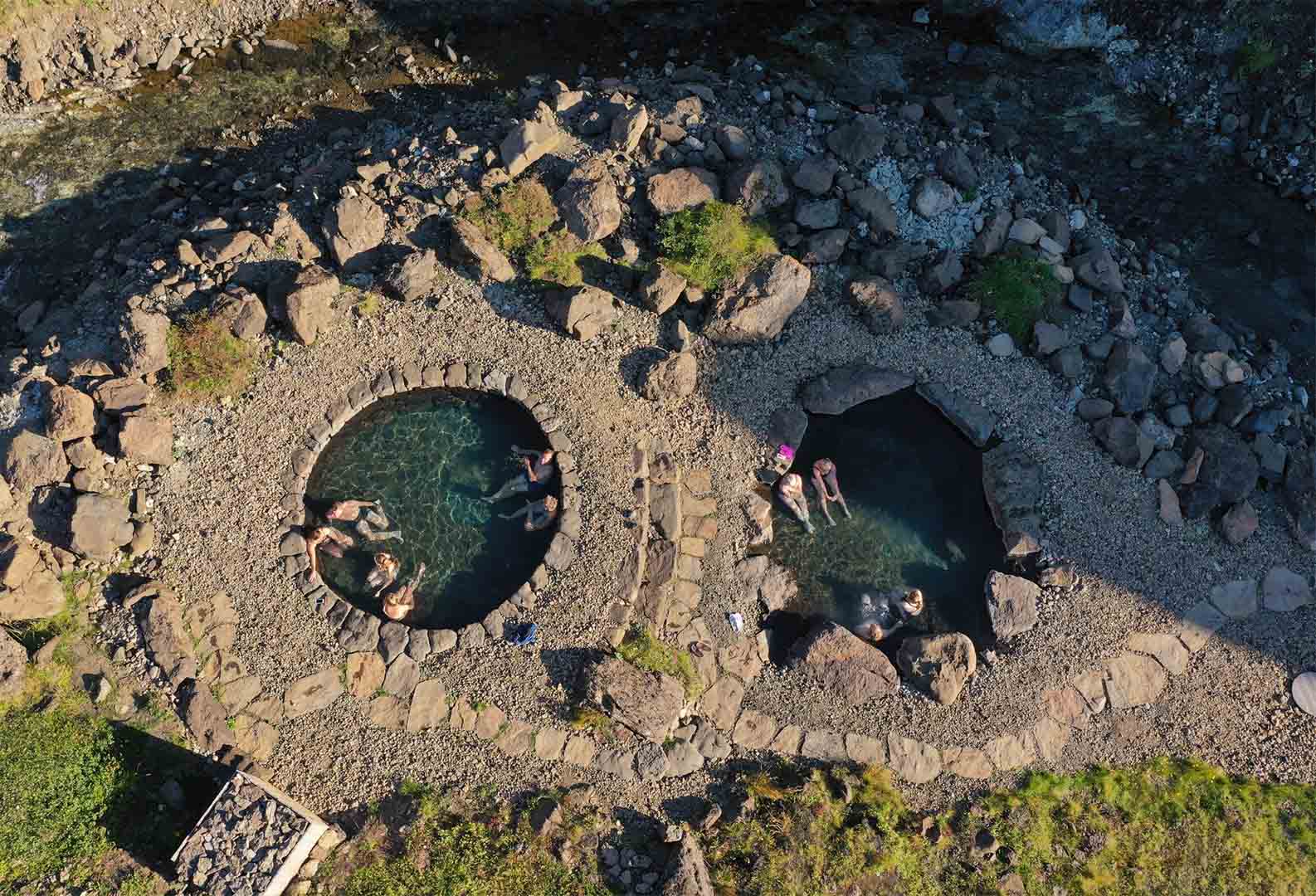 Discover a collection of fascinating attractions in the Silver Circle: waterfalls, small towns, Viking settlements, old churches and a state-of-the-art geothermal spa.
Attractions Visited:
Hraunfossar and Barnafoss waterfalls, Reykholt, Krauma Baths, Husafell Church
Accommodation:
Hotel Husafell
The Magnificent Snaefellsnes Peninsula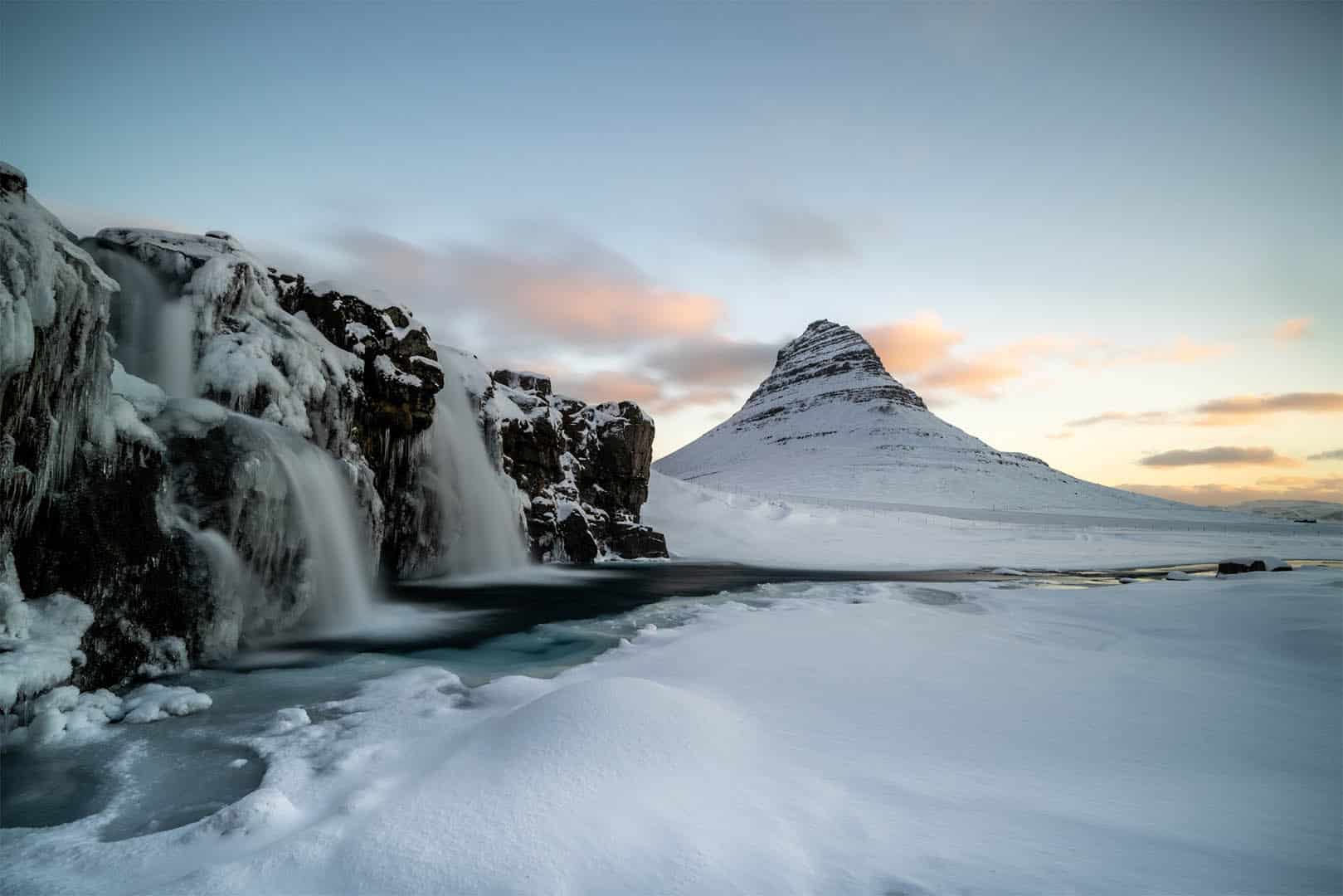 Experience the Snaefellsnes Peninsula, including a stop at the majestic Mount Kirkjufell, possibly Iceland's most iconic and photographed site.
Attractions Visited: 
Goat and Horse farms, Mount Kirkjufell, Husafell Canyon Baths
Accommodation:
Hotel Husafell

More Gems on The Way South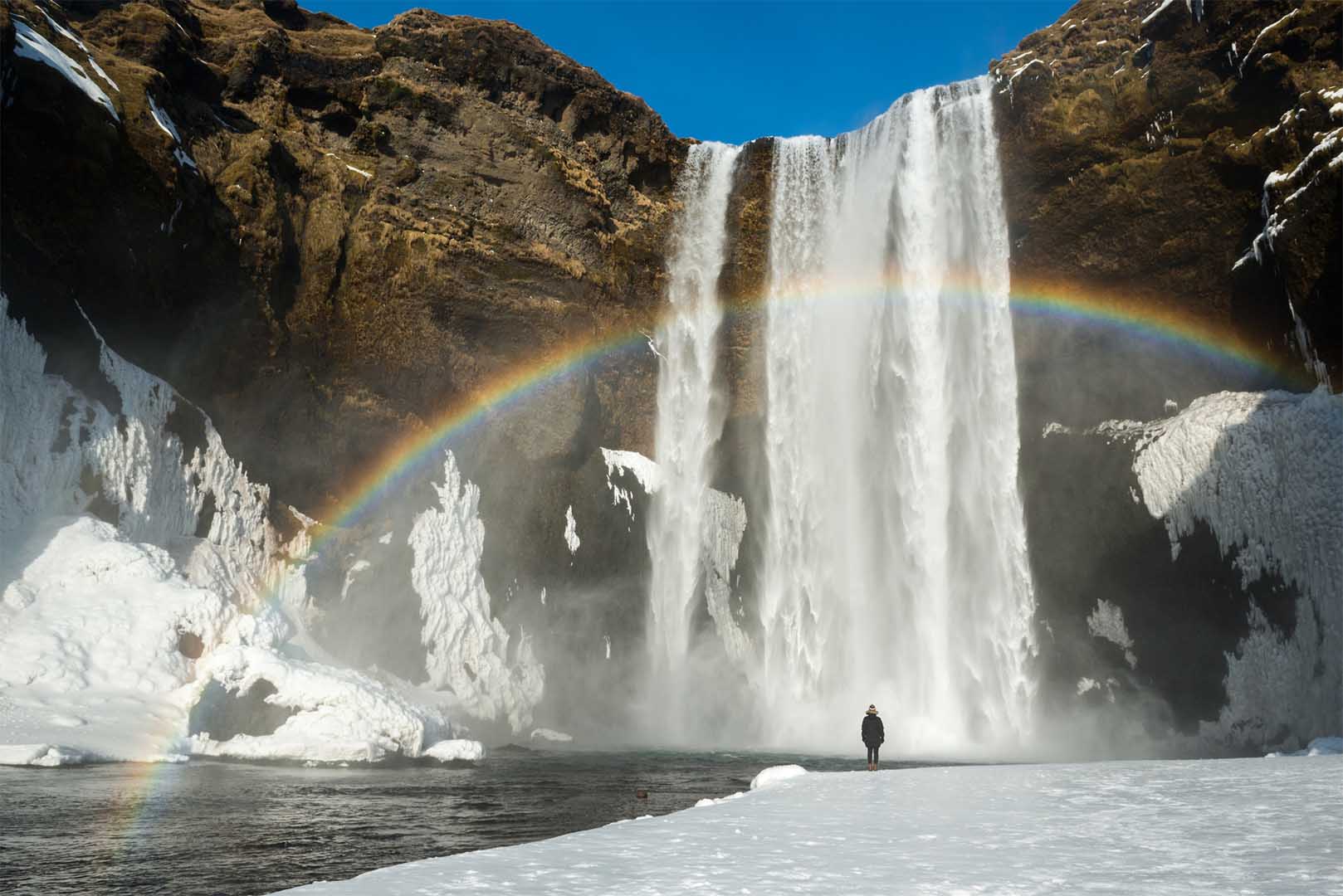 After exploring a lava cave in Husafell, travel to the brand-new Selfoss Downtown, a collection of 35 reconstructed historic buildings, on your way to the South Coast.
Attractions Visited: 
Borganes Settlement Center, Husafell Lava Caves, Selfoss Downtown
Accommodation:
Hotel Ranga

Breathtaking South Coast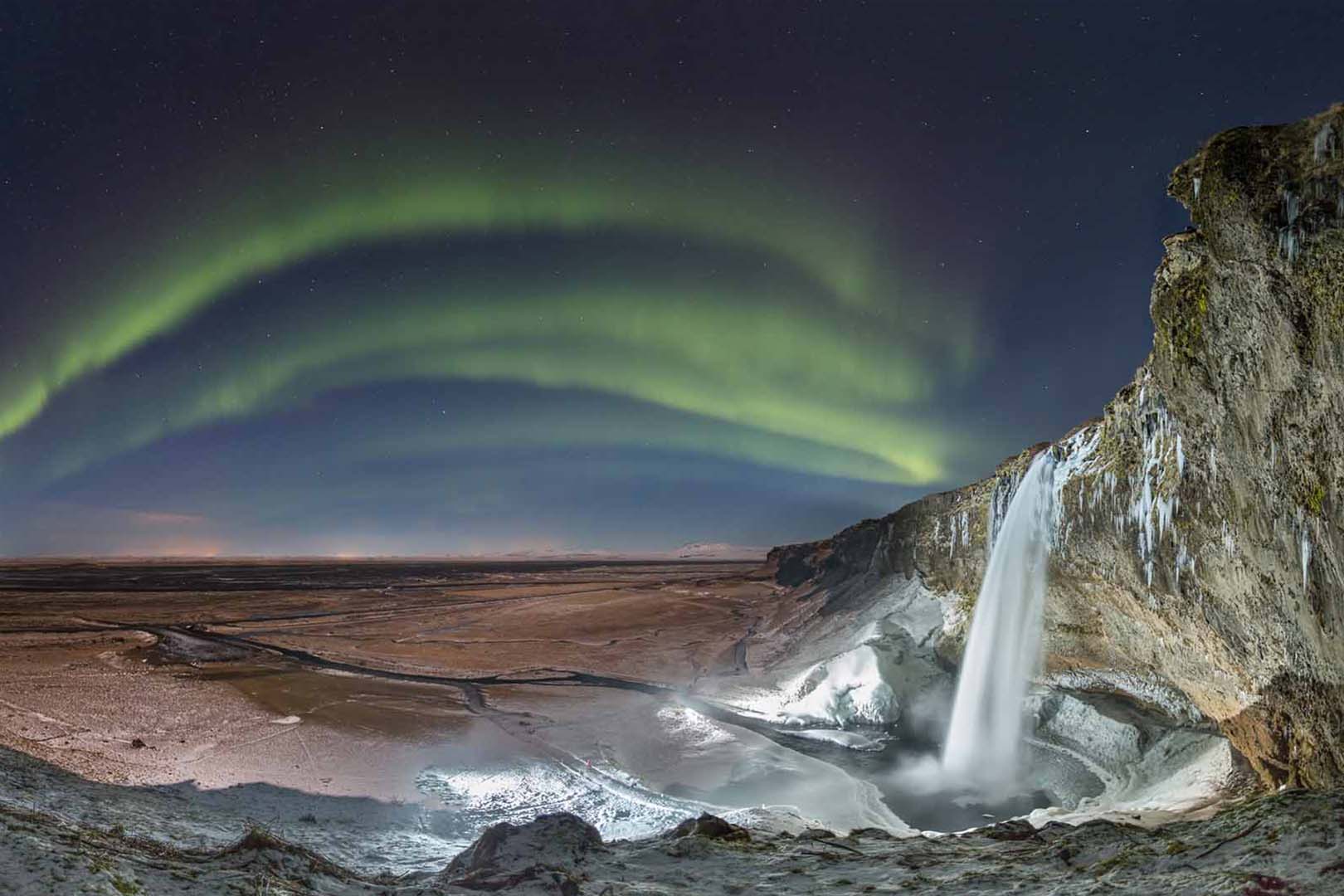 See, with your own eyes, the attractions that make the South Coast of Iceland so popular among visitors and locals: gorgeous waterfalls, black-sand beaches and remote fishing villages.
Attractions Visited:
Skogafoss and Seljalandsfoss Waterfalls, Dyrholaey Rock Formation, Reynisfjara Black Sand Beach
Accommodation:
Hotel Ranga
Program Conclusion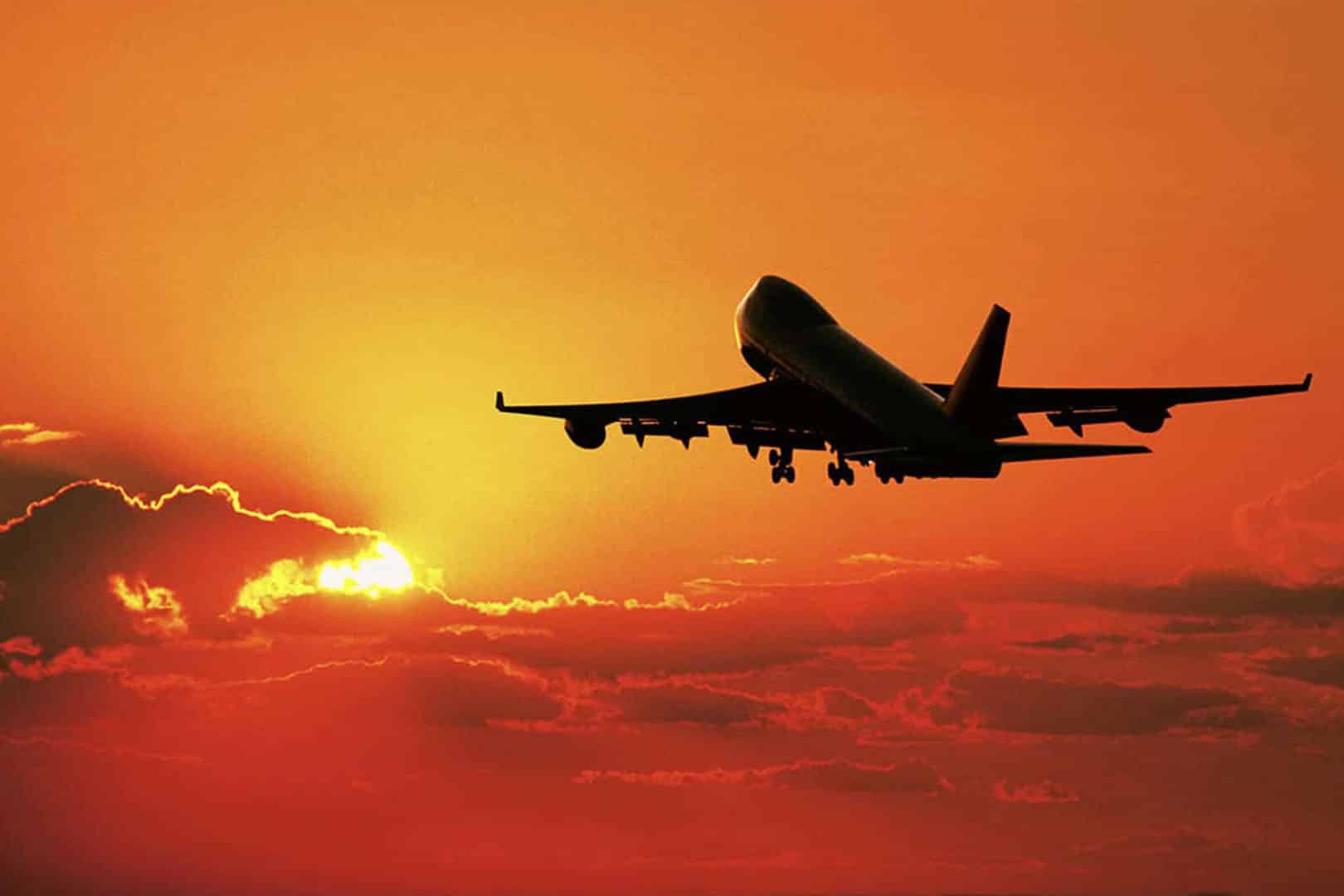 Conclude your group tour of Iceland by learning more about the country's Viking heritage at Viking World, before departing to Keflavik airport for your return home.
After landing at Keflavík Airport, you will travel to your hotel in Reykjavík. Located in the heart of Iceland's capital city, Hotel Borg offers the best in both style and comfort. Following check-in, connect with your Tour Director before a visit to the Sky Lagoon. Relax in the warm waters of the geothermal lagoon and soak off your jet lag as your gaze upon incredible views of the North Atlantic. End your day with a gourmet kickoff dinner where you will get to know your fellow travelers and taste delicious Icelandic dishes. Your group tour of Iceland has officially started!

After breakfast, join a driving tour of Iceland's capital. Notable sights include the famous Hallgrímskirkja Church, Harpa Concert Hall and the unique Sun Voyager sculpture. Following your tour, you will have free time to experience the city on your own. End your day with a delectable dinner and a drive to view the Northern Lights, if the skies are clear that night. If they are not, don't worry. We will have many other opportunities!

Day 3 is dedicated to Iceland's Golden Circle, which is made up of three must-see sights: Gullfoss waterfall, Geysir geothermal area and Thingvellir National Park. Nearby, at Fridheimar, you will enjoy a beautiful show with Icelandic horses and some organic, tomato-based delicacies as well. Along your guided tour of the Golden Circle, we will drive to the "Secret Lagoon," another most-welcome, warm geothermal bath on a cold day. Of course, if the Aurora Borealis dance in the skies, we will be ready to admire them. Enjoy a fantastic dinner on your last night in Reykjavik.
After breakfast we head north and visit some of the key attractions along the Silver Circle, the less-known, yet no-less-interesting-and-beautiful cousin of the Golden Circle. In this fascinating route you will find Arhver and Vellir, a unique hot-spring area. You will also see gorgeous Icelandic waterfalls, such as Hraunfossar and Barnafoss, explore the town of Reykholt, marvel at the beautiful stone carvings by Páll Guðmundsson and bathe in yet another fantastic geothermal spa: the Krauma Baths. While most travelers only experience the Golden Circle, we ensure that you experience much more of what Iceland has to offer, such as the Silver Circle, as you write your own Icelandic Winter Story. We wrap up the day with a visit to Husafell Church, a gourmet dinner and an overnight at Hotel Husafell. As always, we will be ready to see the Northern Lights if the conditions are favorable.
On Day 5 we head west to discover one of Iceland's most precious gems with a tour of Snaefellsnes Peninsula. Marking your day of discovery will be a number of vantage points unique to the region and uniquely capable of depicting Iceland's natural beauty. You will visit a local goat farm and a horse farm as well, where you will understand this important aspect of Icelandic living. Of course, no tour of Snaefellsnes Peninsula is complete without a stop by Mount Kirkjufell, possibly Iceland's most iconic and photographed site. Our scenic day is concluded with another delicious meal and restful night at Husafell Hotel. Another night is another opportunity to view the Northern Lights.
Leaving Husafell we head south, well fed from a wonderful breakfast and prepared for a day full of excellent stops. First we visit the inside of a lava cave and learn about the volcanic process which led to its formation. From there we move to the world-class Settlement Center, in Borganes. The Center is a space devoted to recreating Iceland's earliest days and introducing visitors to one of the best known heroes of the Icelandic Sagas, Egil Skalla-Grimsson. From old to new, we continue moving south and visit the brand-new Selfoss Downtown, a collection of 35 historic buildings, previously damaged by fire or fallen into disrepair, reconstructed to form a unique cultural center. After that we reach our destination for the day, Hotel Ranga. Holding the distinction of being one of Iceland's most unique hotels, it will provide us with a gourmet meal and a great night of sleep. Hotel Ranga offers a great location – away from city lights – for Northern Lights viewing.
Every corner of Iceland gains a new shade of beauty in the wintertime, but this transformation is particularly accentuated in the south of the country, where you will be on Day 7. Landmarks you find there become particularly magical and mysterious, one could say, in the fall and winter. You will see several of those landmarks: Selfoss, Skogafoss and Seljalandsfoss waterfalls, the town of Vik and Reynisfjara black-sand beach are just a few of them. After an incredibly scenic day, we will be back at Hotel Ranga for another great night of comfort and, weather permitting, another chance of seeing the Aurora Borealis.
Enjoy breakfast at the hotel before departing. We can't wait to create your next vacation package, be it another group tour of Iceland or an adventure anywhere else in Scandinavia!
This is what other people who have been on the trip have to say
Allison C.
(Walnut Creek, CA)
My husband and I used Discover Scandinavia for our recent honeymoon to Iceland. They were beyond fantastic - the itinerary was built perfectly and each one of our tours was top notch. From visiting the amazing natural sights in Iceland to a walking tour of Reykjavik, we felt like we were able to pack it all in and get the best of everything. Thanks again for a stellar trip!
Chris M.
Our family of four just returned from the 10 day Iceland (winter) Discover Scandinavia Tour and we had the trip of a lifetime! From the moment we landed, every detail of our trip had been taken care of. The tour operators Discover Scandinavia Tours uses were beyond excellent and the hotels we stayed in were top in their class. We needed to customize some of our tours to accommodate my 80 year old mother and DST went above and beyond to make sure she would have a wonderful experience, yet stay safe in the winter conditions. We had excellent communications throughout the process, even when the weather took an unexpected turn for the worst and we had to stay an extra night in one location due to road closures, DST local rep immediately jumped in to rearrange our itinerary for us. I cannot say enough wonderful things about DST and their tours. They do not disappoint with their level of care in putting together a fully immersive tour experience. Our family has travelled the world and this tour company and trip was Top 10 worthy!
Tom J.
(Niskayuna, NY)
ICELAND WINTER: NORTHERN LIGHTS & MORE (7 DAYS). We just completed this tour December of 2021. This is our 3rd experience with this tour company. I just cannot say enough great things about this trip. We saw the northern lights on our first night! Everything was perfectly arranged. We got to see and do so much. I highly rate this tour for anyone wanting to see Iceland and the Northern Lights. I hope to go back and see more of Iceland in the summer. Discover Scandinavia Tours makes it so easy. This tour was already prepared (and I would not change a thing) but previous experiences with them have been equally as great. They allow you to customize your experience and work with you every step. Marcelo, Shawna, and the team are awesome.
Looking For A Summer Adventure?
Try out our fully escorted 10 day Iceland summer adventure
STAY INFORMED ABOUT COVID & TRAVEL IN SCANDINAVIA