Iceland Luxe Winter 8 DaysNorthern Lights, Geo Spas & Glaciers
deluxe experience
Quick Facts
Duration:

8 Days

Season:

October through March

Regions Featured:

Reykjavik, Husafell, South Coast and surroundings

Price:

SCROLL DOWN FOR OUR PRICE CALCULATOR

Program highlights
See Reykjavik beautifully decorated for the winter
Go on several Northern Lights safaris
Tour the Siver Circle & the Golden Circle Tour
Stay at the renowned Hotel Ranga, in South Iceland
Soak in the Blue Lagoon, Krauma Baths & Canyon Baths
View incredible geological formations
Program overview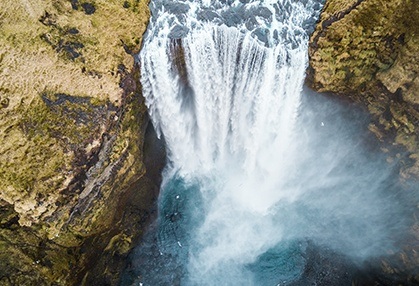 This 8-day, deluxe experience in the Icelandic winter is designed for the refined traveler who enjoys the finest comforts and who desires to witness one of the most jaw-dropping spectacles on Earth: the Aurora Borealis (Northern Lights). Visit Reykjavik, the Reykjanes peninsula, Husafell region and South Iceland while traveling in absolute comfort, tasting the finest Icelandic delicacies, enjoying the best hotels and receiving all the attention from local, experienced tour guides.
PROGRAM TYPE: SEMI-ESCORTED. For details, WATCH THIS SHORT VIDEO.
Included in the deluxe experience
7 nights at high-end hotels with daily Icelandic breakfast buffets for all guests;
8 comprehensive guided tours led by the most friendly and knowledgeable local guides;
Hotel pick up and drop off for your guided tours;
Entrance tickets and transportation to the Blue Lagoon geothermal spa (premium package) & Krauma Baths;
Private transportation connecting all your locations in Iceland;
All of our services: preparing and implementing your entire trip (including your personalized travel book), addressing all your questions and taking great care of you prior to your vacation and while you travel.
OPTIONAL ADD-ONS:

A visit to Reykjavik's newest geothermal spa, the Sky Lagoon (with private transportation)
A thrilling snowmobile ride on a glacier
Itinerary Highlights
Days 1 through 3 – Northern Lights, Reykjavik, Golden Circle, Super Jeep, Glaciers and Blue Lagoon
Day 1
ARRIVAL IN ICELAND & NORTHERN LIGHTS SAFARI BY SUPER JEEP
Day 2
REYKJAVIK & THE BLUE LAGOON
Day 3
THE GOLDEN CIRCLE TOUR (PRIVATE)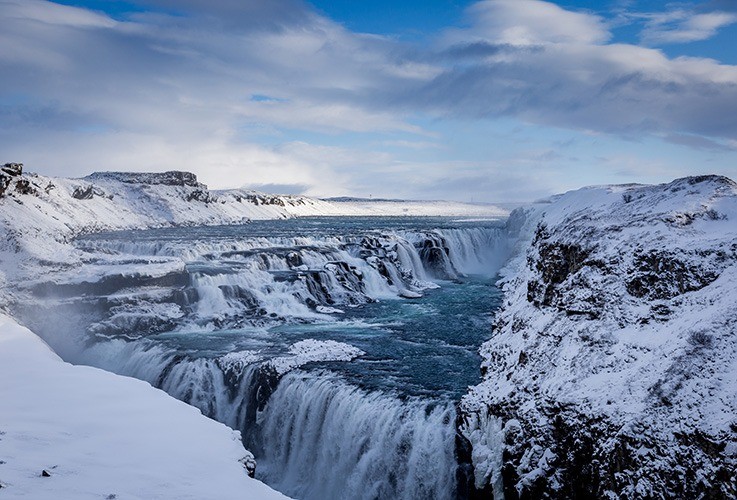 Your friendly, private driver will greet you at the Keflavik International Airport and drive you to your hotel in the heart of Reykjavik. Enjoy the rest of your arrival day relaxing and exploring the world's Northernmost capital at your own pace. In the evening you will be picked up at your hotel and taken, via Super Jeep, on a wild hunt for the magical Northern Lights. Your experienced driver and guide will take you to locations where the average tourist does not go, searching for the wonderful spectacle of light and color!
ADD-ON: soak in the thermal waters of the SkyLagoon, a brand-new geothermal spa located just minutes from Reykjavik.
After a great night of sleep you will join a fun tour of Reykjavik where you will learn about the city's history, culture, attractions and architecture. In the afternoon and evening you will visit the Blue Lagoon, the world's most famous geothermal spa and Iceland's hottest attraction (pun intended!). The next day will send you off on an awesome adventure, where you will board a Super Jeep and get in close contact with some of Iceland's most famous locations along the Golden Circle route. Passing through the historical Þingvellir National Park you will head along the mountain tracks towards the Geysir geothermal area and Gullfoss waterfall where your proximity to its edge is such that you can feel the spray of the glacial water on your face.
OPTIONAL ADD-ON: embark on a thrilling, guided snowmobile ride on the Langjökull glacier, Iceland's second largest.
MAIN ATTRACTIONS: Hallgrímskirkja Church, Thingvellir National Park, Geysir hot spring area, Gullfoss waterfall, Langjökull glacier area, the Blue Lagoon
GUIDED ACTIVITIES: Northern Lights Tour by Super Jeep (4 to 6 hours), The Golden Circle Tour by Super Jeep (9 hours), Private Walking Tour of Reykjavik (3 hours), Premium Blue Lagoon Experience with Private Transfers
OPTIONAL ADD-ONS: Snowmobile Ride on a Glacier (1 hour); Visit to the SkyLagoon with premium entrance and transportation
ACCOMMODATIONS: Apotek Hotel by Kea Hotels or equivalent
Start Your Vacation
Days 4 & 5 - Husafell, Lava Caving, The Silver Circle & Krauma Baths
Day 4
Husafell, waterfalls & lava caves
Day 5
the silver circle & its hidden gems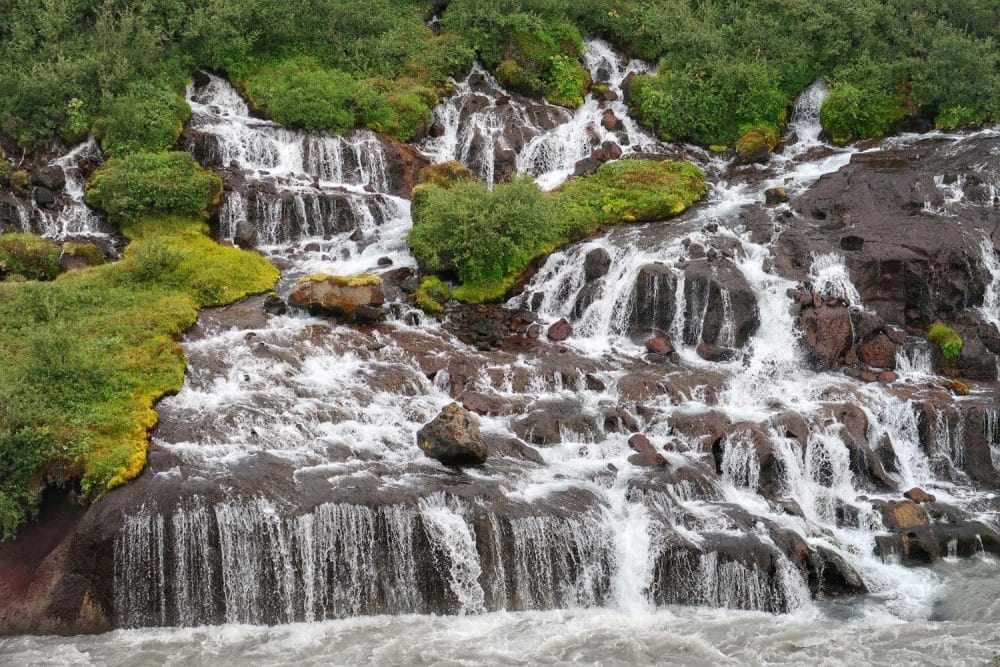 We leave Reykjavik and travel northeast to the Husafell region, on a drive which typically lasts only a couple of hours. Husafell serves as the gateway to many unique attractions, such as mesmerizingly "painted" lava caves – which you will be visiting on Day 4 and the Silver Circle, a circuit of attractions in West Iceland which is not mentioned as often as its southern counterpart, the Golden Circle, but which is certainly no less interesting. When you travel the Silver Circle, on Day 5, on a private tour, you will see fascinating waterfalls, such as the Hraunfossar and Barnafoss. You will also have the opportunity to soak in the healing waters of the Krauma baths as well as the Husafell Canyon Baths, another geothermal bath not to be missed. On top of that you will discover local gems such as Reykholt and the Settlement Center in Borganes.
MAIN ATTRACTIONS: Hraunfossar, Barnafoss, Víðgelmir lava cave, Krauma Goethermal Baths, Husafell Canyon Baths, Reykholt, the Settlement Center in Borganes.
GUIDED ACTIVITIES: Visit to the Víðgelmir lava cave; Private Silver Circle Tour with Krauma Baths, Husafell Canyon Baths
ACCOMMODATIONS: Hotel Husafell
Start Your Vacation
Days 6 through 8 – Northern Lights, Black Sand Beaches, Waterfalls & the Magic of South Iceland
Day 6
ARRIVAL AT HOTEL RANGA (SOUTH COAST) & MORE NORTHERN LIGHTS
Day 7
EXPLORING THE SOUTH COAST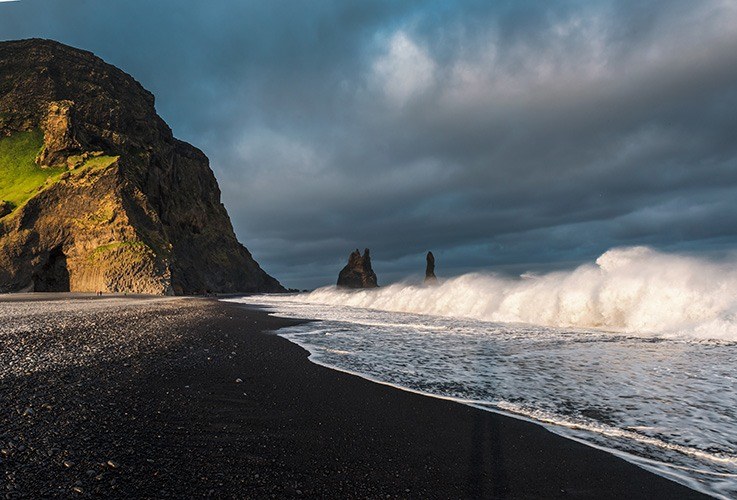 After being picked up at your hotel in Reykjavik, your chauffeur will drive you through magnificent landscapes to the Hotel Ranga, a treat in itself. The property offers 51 luxurious rooms, including the renowned continental suites, decorated and themed after the continents. The hotel also hosts its own observatory, with a powerful telescope for your own star-gazing experience during clear Icelandic nights. That same night you will depart the hotel on yet another Northern Lights safari, this time under Southern Iceland skies. Remember: we only work with the most experienced guides!
The following morning you will embark on a very exclusive tour of some of Iceland's most beautiful areas: the south coast. Discover gorgeous waterfalls, black-sand beaches, amazing rock formations and many other spectacles of nature. After a long and exciting day of unique sightseeing, return to the Ranga for a most relaxing dip in the hot tub right outside your room. Adventure and relaxation at their best.
After a delicious breakfast on day 8 you will be driven back to the Keflavik airport, in total comfort, for your flight back home.
MAIN ATTRACTIONS:  Skógafoss Waterfall, Reynisfjara Beach, Sólaheimasandur Glacier view and Vík Village
GUIDED ACTIVITIES:  Northern Lights Safari (4 hours) The South Coast Tour (5 to 6 hours)
ACCOMODATIONS: Hotel Ranga
Start Your Vacation
Program Price Calculator - 2022/23 Winter
Please select all the criteria.