THE SOUTH, SPRING & SUMMER
Duration: 10 Days 
Season: May – September
Regions Featured:
Reykjavik, Westman Islands, South Coast, East Coast, Reykjanes Peninsula
2022 Prices: from $6,861 USD Per Person*
Capacity: Max 12 People Per Group
Vacation Type: Fully Escorted Vacation Package
Our "Stories" tour series™ presents each Scandinavian destination like a book of endless, fascinating stories. In these books, unlike all other books, the stories are written and rewritten, endlessly. The writer – you – merges their own journey with the country's traditions and way of life, line by line, experience by experience. Each region is a chapter and each chapter is full of discovery and enrichment. Marvel at the scenery, savor the local cuisine, meet the locals and hear their stories.
In Stories of Iceland – The South™ you will be immersed in 11 days of black-sand beaches, geothermal spas, majestic waterfalls and landscapes of color and terrain that come together in ways only seen in Iceland. You will travel in the company of a local Tour Director and as part of a group of no more than 12 travelers, as you discover the south coast of Iceland in the most worry-free way possible. New friendships will be formed and wonderful memories will be created.
Are you ready to write your own Icelandic story?
Interactive Map/Virtual Tour
Included in this Fully Escorted Iceland Vacation Package
Have questions before you buy? 
Sky Lagoon & Kick-off Dinner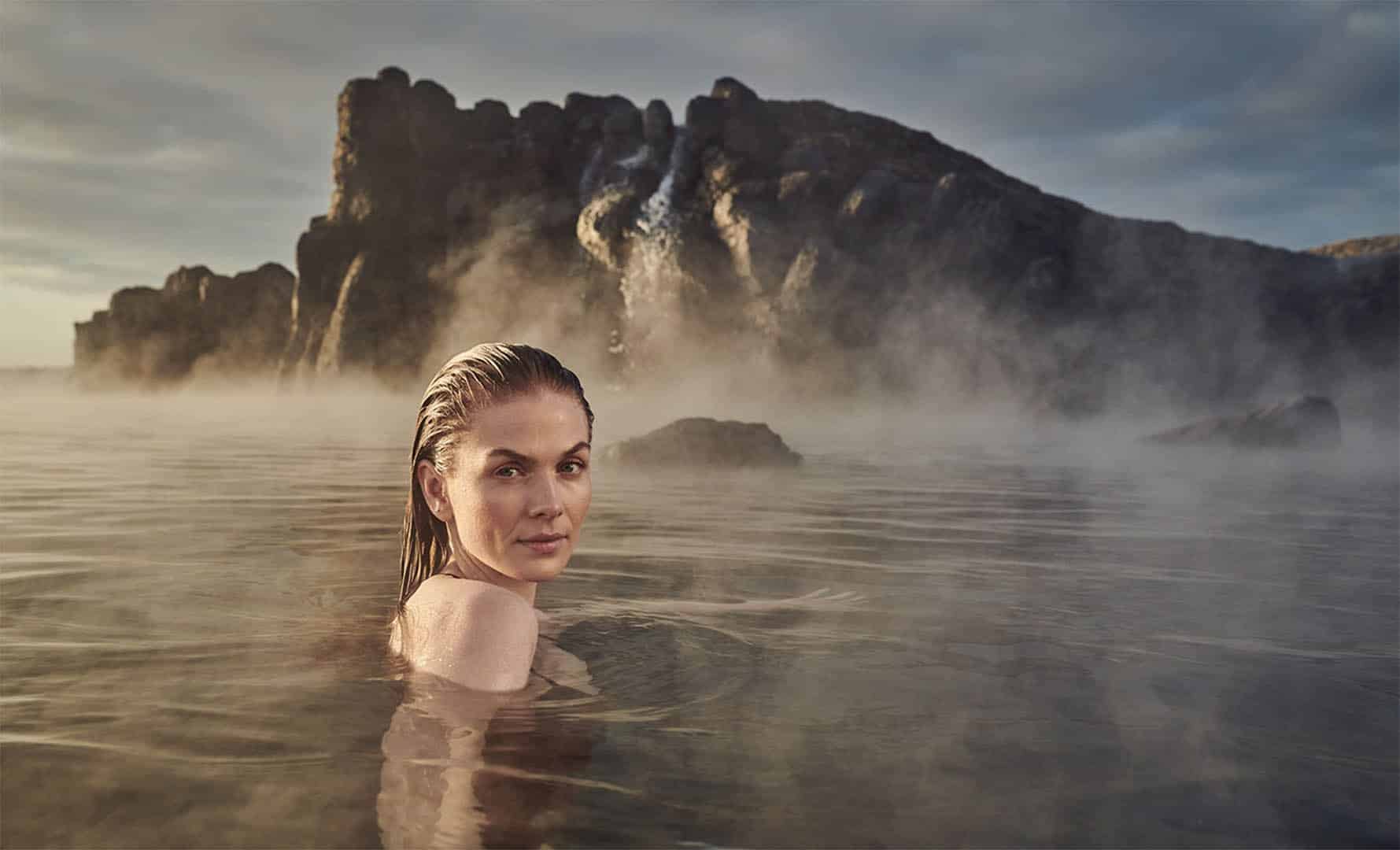 After landing at Keflavik airport, you will travel to Reykjavik to check in to your hotel before enjoying a visit to the Sky Lagoon.
Main Attractions: 
Sky Lagoon (geothermal spa)
Accommodation: Hotel Apotek
Discovering Reykjavik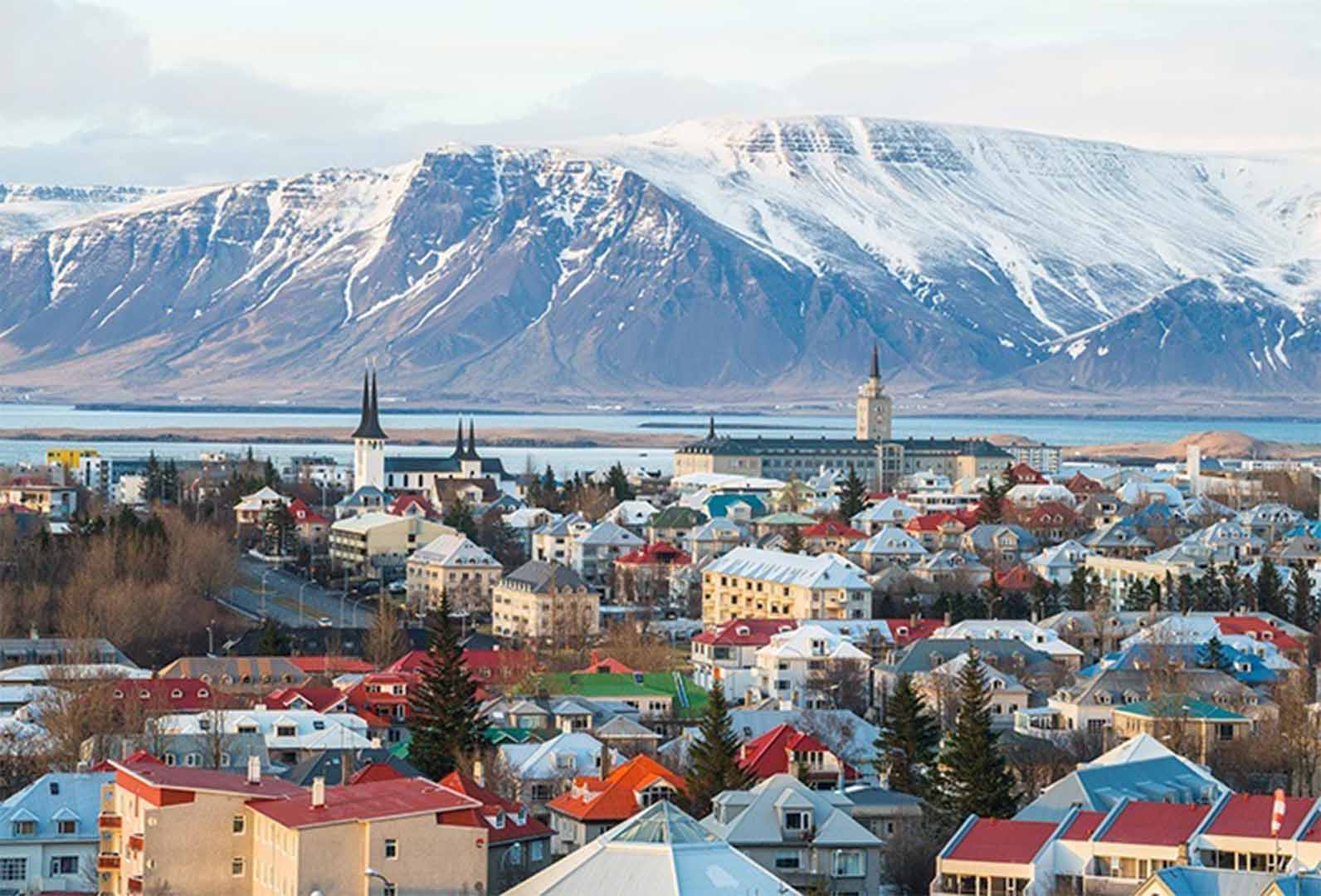 Join a driving tour of Reykjavik and take in some of the city's attractions. You'll have the afternoon to explore at your leisure.
Main Attractions: 
Hallgrímskirkja Church
Harpa Concert Hall
Sun Voyager Sculpture
The Perlan
Laugavegur Street
Accommodation: 
Hotel Apotek
Golden Circle For Foodies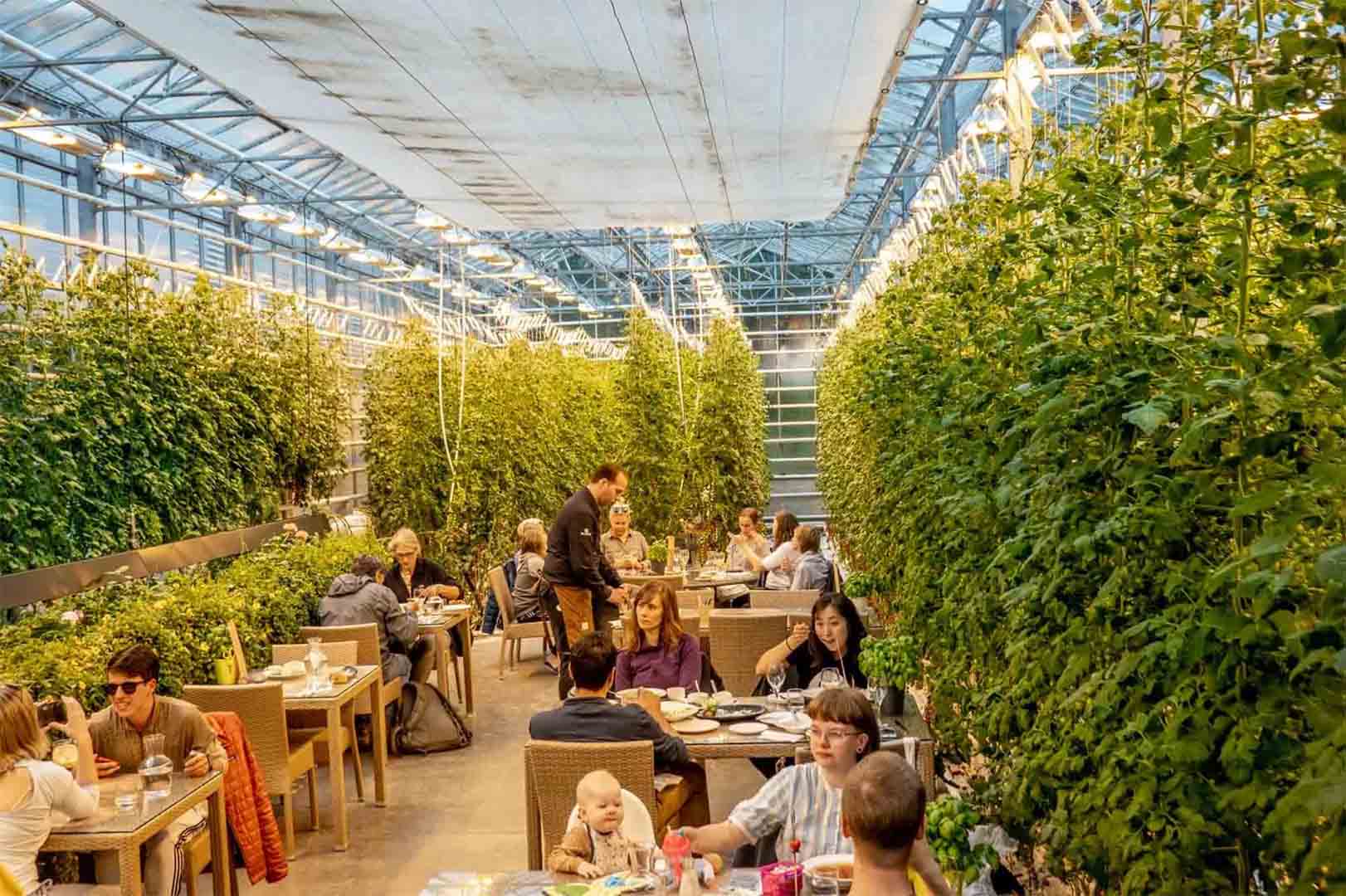 Embark on a guided tour of the Golden Circle attractions. Later, board a ferry for a scenic journey to the Westman Islands.
Main Attractions: 
Gullfoss Waterfall
Geysir Geothermal Area
Thingvellir National Park
Fridheimar Tomato Farm
Ferry to Westman Islands
Accommodation: 
Hotel Vestmannaeyjar
Discovering The Westman Islands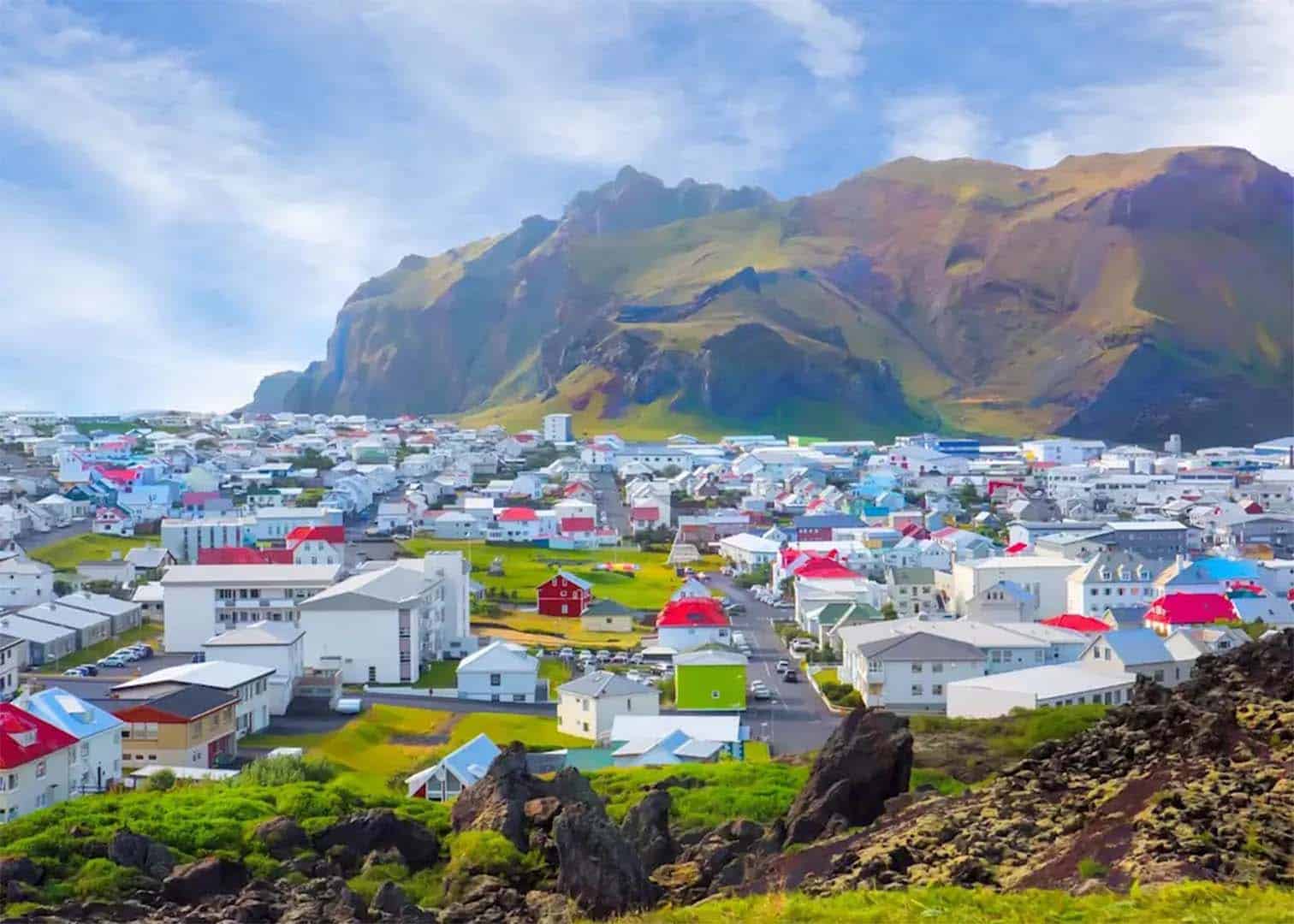 Learn more about the 1973 volcanic eruption of Eldfell at the Eldheimar Museum, plus a visit to the Beluga Whale Sanctuary.
Main Attractions: 
Eldheimar Museum
Beluga Whale Center
Eldfell Vocano
Ferry to Landeyjahöfn
Drive to Vik
Accommodation:
Hotel Kria
Thorsmork: Valleys & Volcanoes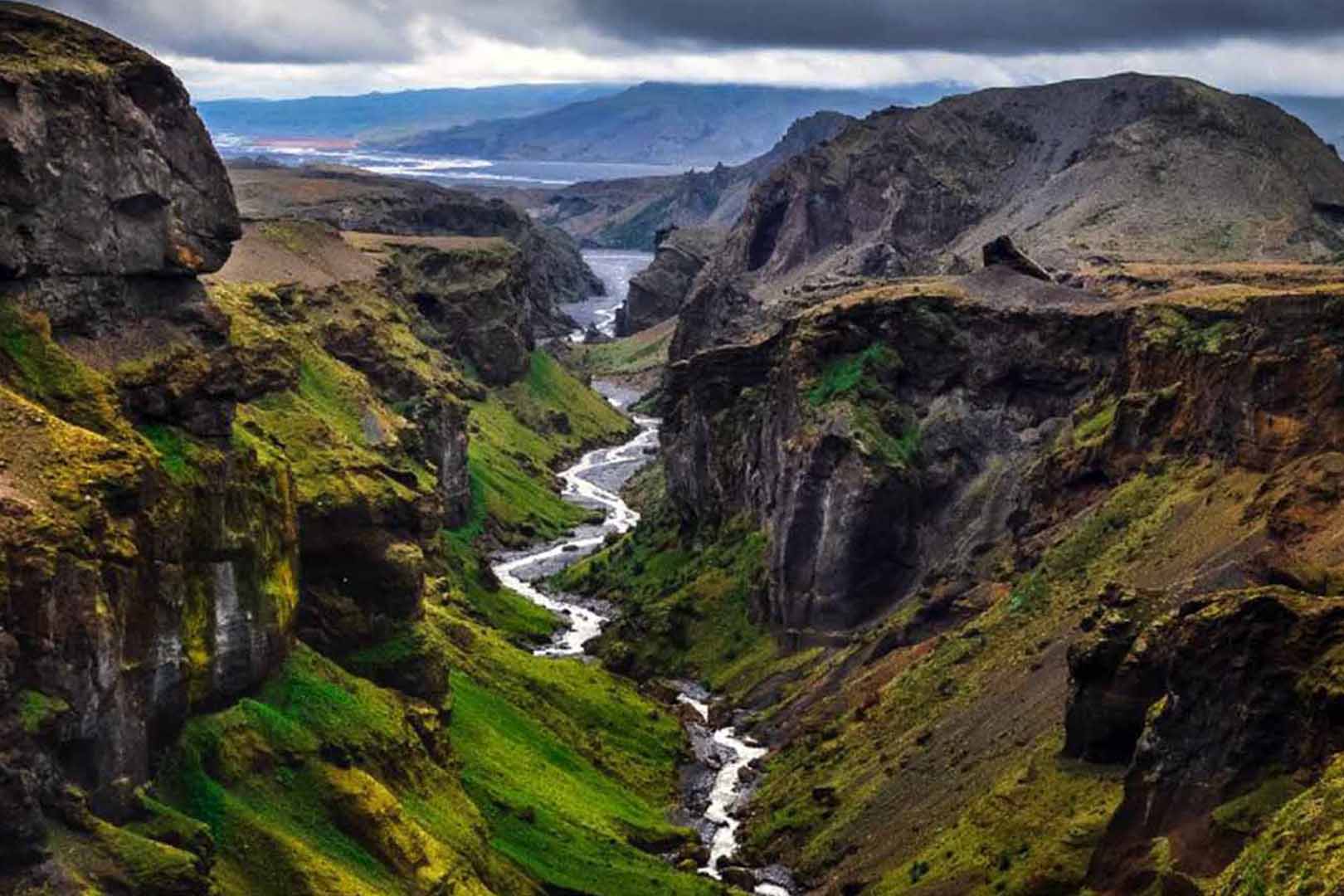 Visit the snow-covered Eyjafjallajökull volcano-glacier–the very same that erupted in 2010. Followed by a trip to Thorsmork Valley, a famous Icelandic valley filled with astounding natural beauty.
Main Attractions: 
Eyjafjallajökull Volcano
Stakkholtsgjá Canyon
Krossá River
Accommodation:
Hotel Kria

Landmannalaugar: The Colors Of The Highlands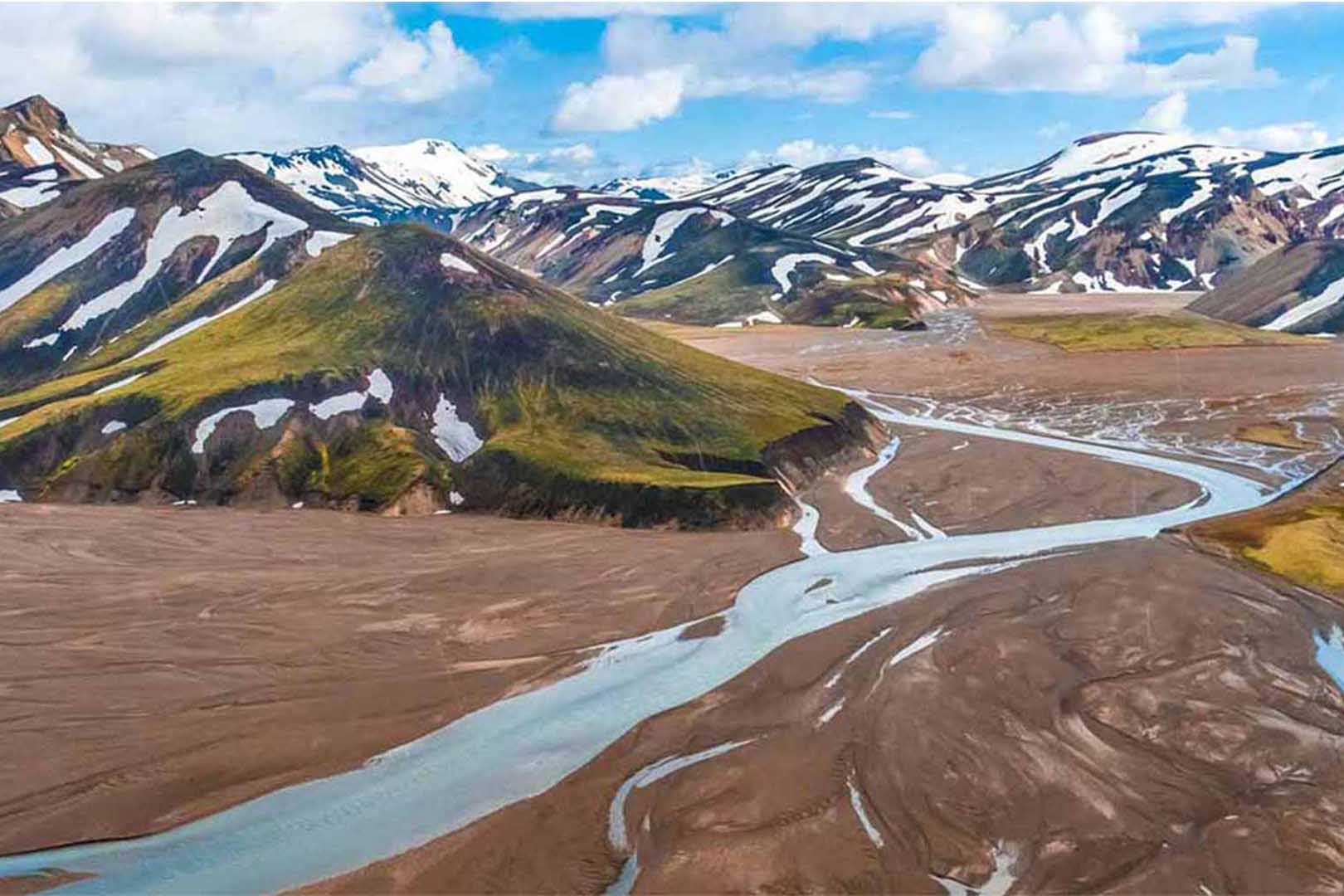 Explore the Landmannalaugar area, an off the beaten path natural landmark filled with hiking trails and geothermal activity.
Main Attractions: 
Álftavatn Lake
Bláhnjúkur Volcano
Raudufossar Waterfall

Accommodation:
Fosshotel Glacier Lagoon

East Iceland Highlights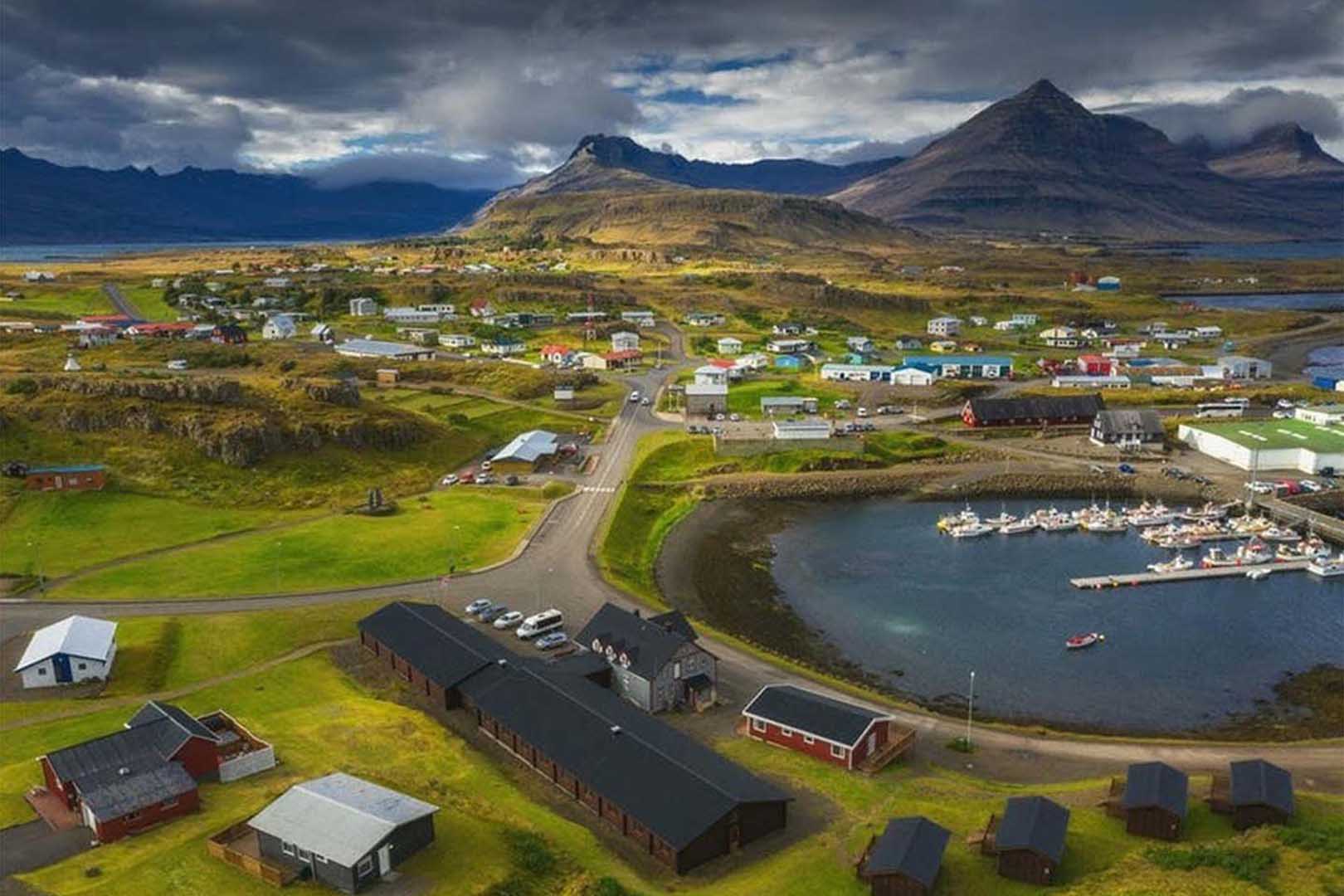 Learn about Iceland's Viking heritage with a visit to the Viking Village. Other highlights of the day include Vestrahorn mountain and the charming fishing village, Hofn.
Main Attractions:
Fishing Village of Hofn Vestrahorn
Mountain
Viking Village
Accommodation:
Fosshotel Glacier Lagoon
Diamond Beach And Glacier Lagoon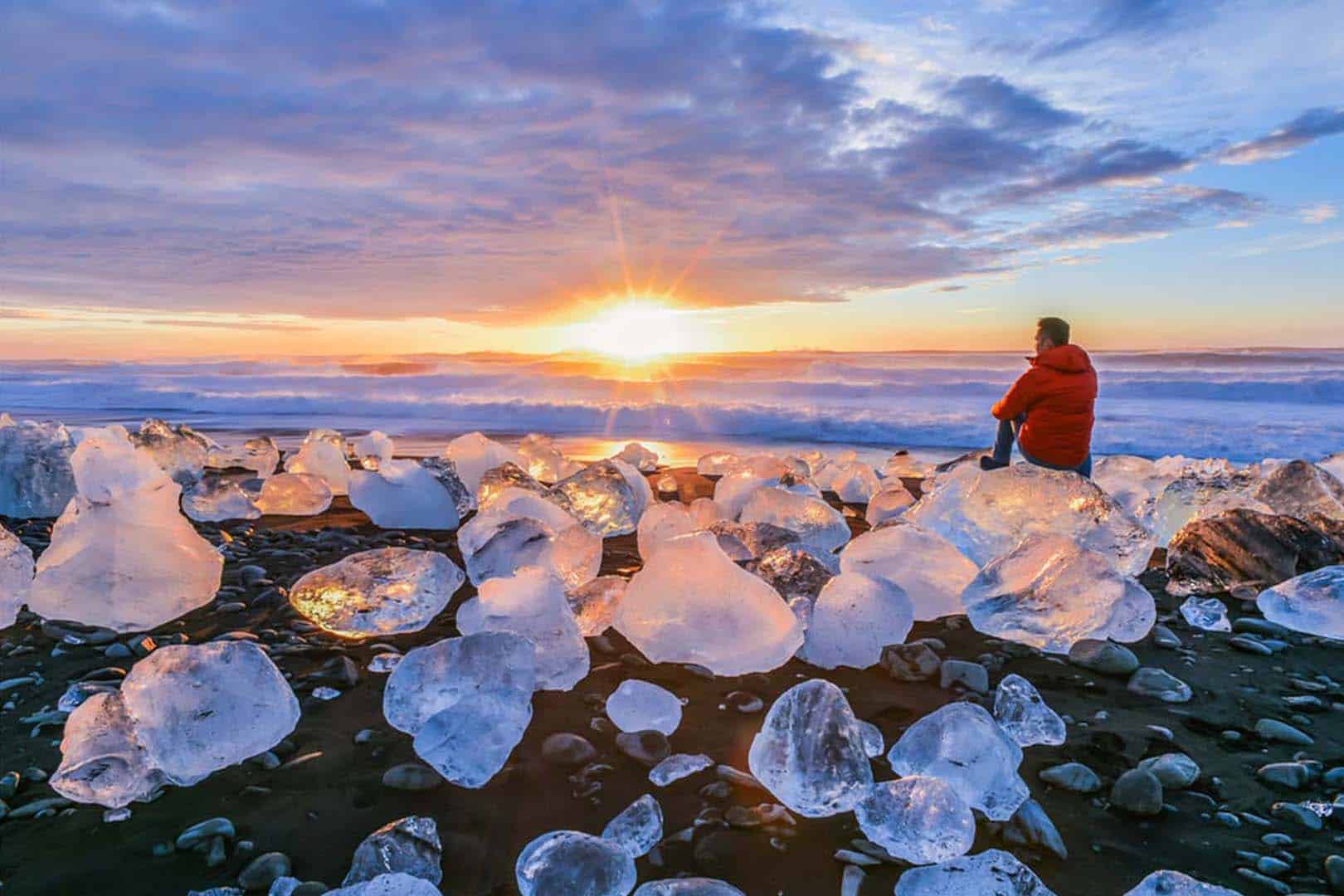 Experience jaw-dropping blue icebergs up close on a Zodiac boat ride at the Glacier Lagoon.
Main Attractions:
Jokulsarlon Glacier Lagoon & Diamond Beach
Skogafoss (waterfall)
Seljalandsfoss (waterfall)
Dyrholaey (rock formation)
Reynisfjara (black sand beach)

Accommodation:
Frost & Fire Hotel
The Blue Lagoon & Return Home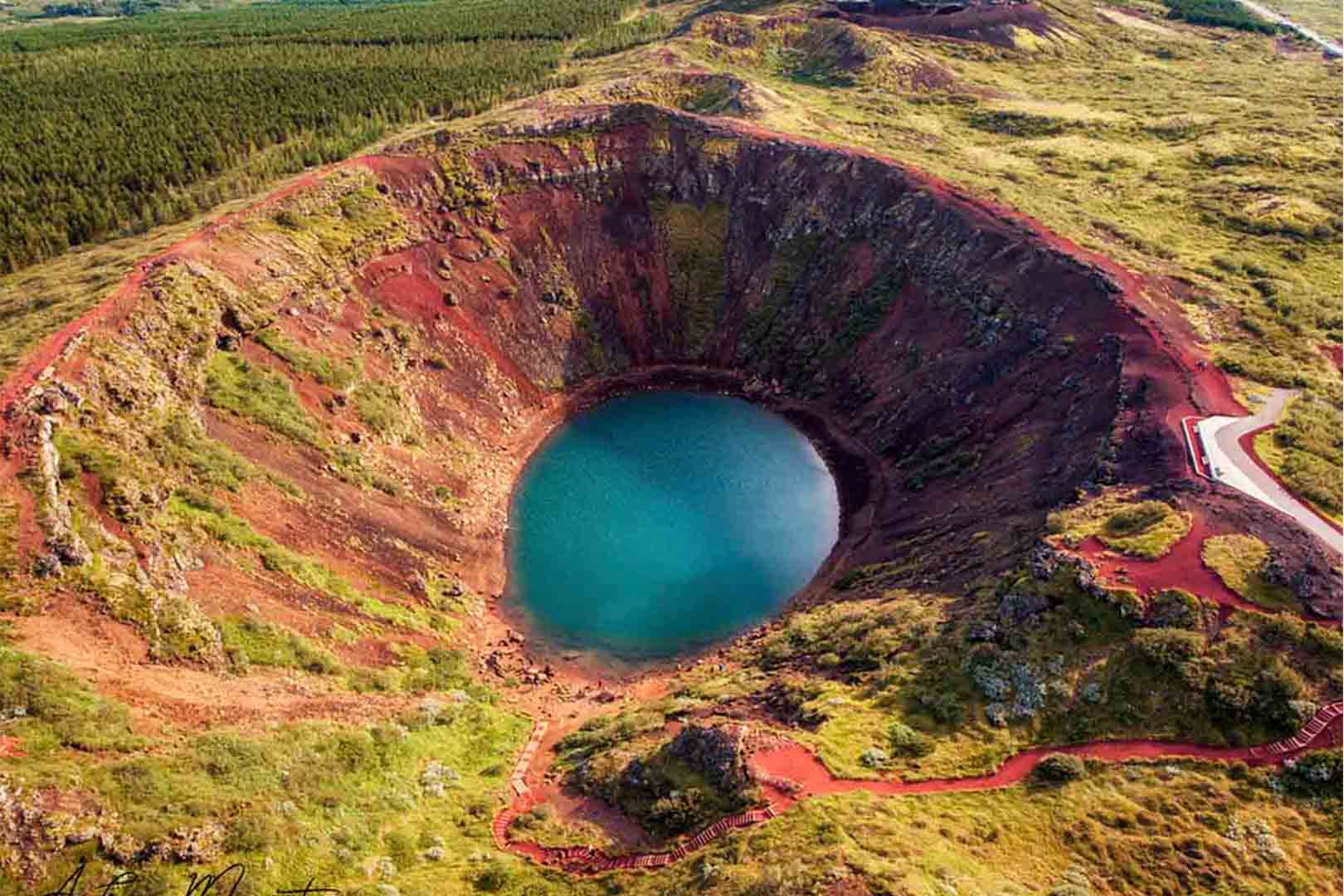 Hike to "The Eye of the World" an impressive volcanic crater shaped like a human eye. Enjoy a final group dinner and exchange stories and memories with co-travelers.
Main Attractions:
Kerid Crater
Reykjanes Peninsula & The Blue Lagoon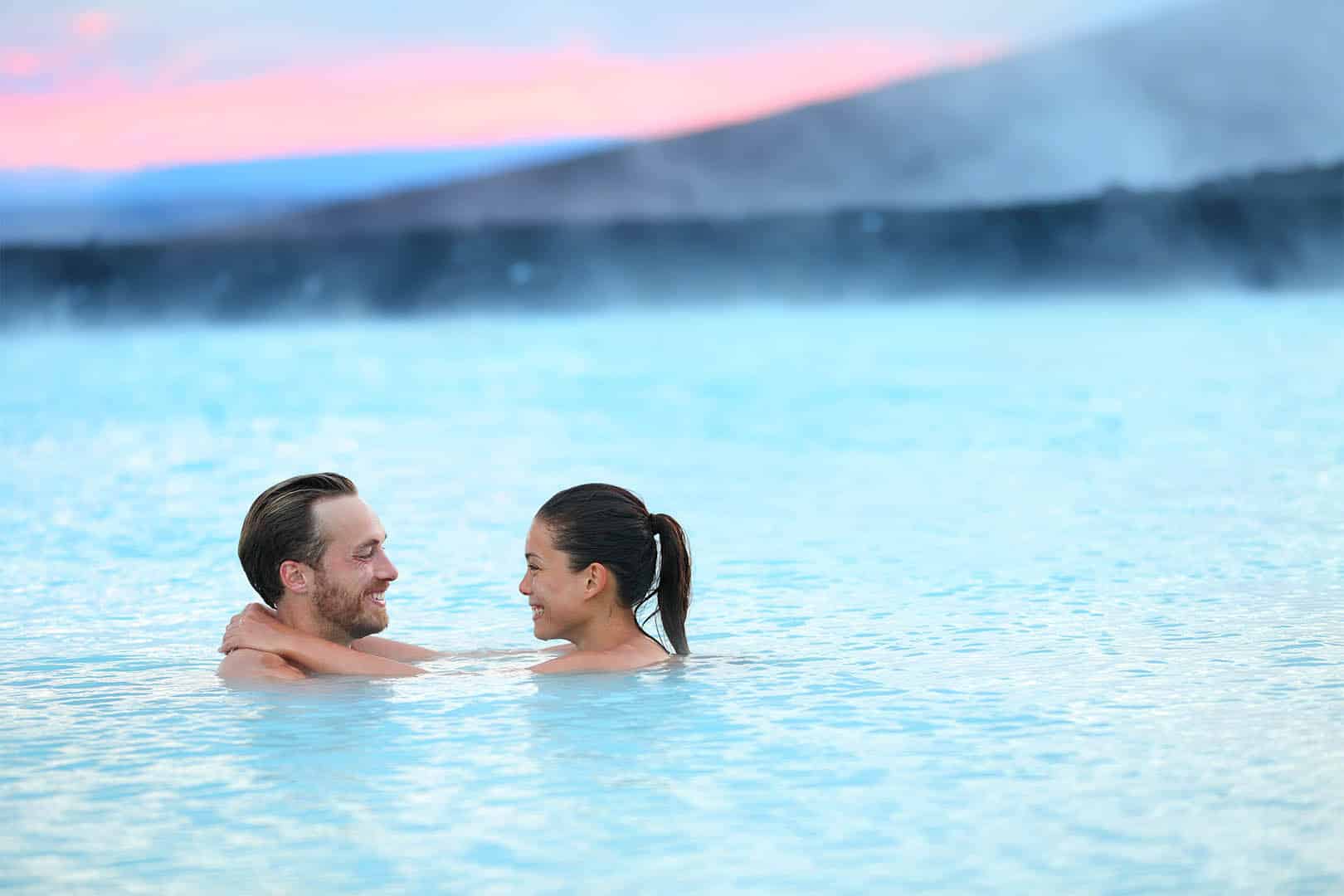 The final day of the tour has arrived, but it isn't over before a visit to the Blue Lagoon – Iceland's most famous attraction.
Main Attractions:
Blue Lagoon
Reykjanes Lighthouse
Krysuvik and Seltun Geothermal Areas

After landing at Keflavík Airport, you will travel to Reykjavík and check in to Hotel Apotek. Located in the heart of Iceland's capital city, Hotel Apotek offers the best in both style and comfort. Following check-in, connect with your Tour Director before a visit to the Sky Lagoon. Relax in the geothermal lagoon and soak off your jet lag as your gaze upon incredible views of the North Atlantic. End your day with a gourmet kick-off dinner where you will get to know your fellow travelers and taste delicious Icelandic dishes.
Welcome to your dream Icelandic vacation!
On the second day, after enjoying a delicious breakfast at your hotel, join a driving tour of Reykjavík, Iceland's capital. Notable sights include the famous Hallgrímskirkja Church, Harpa Concert Hall and the unique Sun Voyager sculpture. Following your tour, you will have free time to experience the city on your own. As you explore, you will notice that nature is never far from view; peeking between city streets you can spot far-off mountains rising high above the nearby ocean. End your day with a delectable dinner and experience Reykjavík's at night.
On day 3, visit the golden circle. Iceland's Golden Circle is made up of three must-see sights: Gullfoss waterfall, Geysir geothermal area and Þingvellir National Park. Nearby, at Friðheimar, you will enjoy a beautiful show with Icelanic horses and some organic, tomato-based delicacies as well. Following your guided tour of the Golden Circle, we will drive to Landeyjahöfn harbor and board a ferry to the Westman Islands. The short 45-minute boat ride will give you a new perspective of Iceland's south coast. Be sure to get a good view as your ferry docks on the main island, Heimaey – you might even spot a brave sheep grazing on the rocky cliffs surrounding you! Enjoy a delectable dinner at Hotel Vestmannaeyjar, your cozy accommodation for the evening.
Iceland's Westman Islands are famous for their incredible bird and sea life. Begin day 4 with a trip to the Beluga Whale Center and a visit to a local bay where you have the opportunity to see some of the majestic creatures themselves. The Westman Islands are also known for the 1973 volcanic eruption of Eldfell on the main island of Heimaey. Eldfell is currently dormant, and visitors to the island can actually hike up its summit. You will learn more about the volcano and the island's brave response to this event on a visit to Eldheimar Museum. Following your day of adventures, the group will board the ferry back to the mainland and drive to Vík where you will end your evening at Hotel Kria.
On day 5 visit the snow-covered Eyjafjallajökull volcano-glacier–the very same that erupted in 2010. From there, you will travel to Þórsmörk, a famous Icelandic valley filled with astounding natural beauty. Catch gorgeous views from high above of the river Króssa threading its way across the valley. Spend another night in Vík–a town known for its black sand beaches and unique rock formations made of columnar basalt. End the evening with another fantastic gourmet meal and the company of your fellow travelers.
On day 6, experience the incredible colors of the highlands on a guided tour into Iceland's interior. Landmannalaugar is off the beaten path, a natural landmark filled with hiking trails and geothermal activity. Known for its mountains that are colored with rainbow hues, we will explore some of the area and enjoy lunch at the Volcano Huts–a basecamp located in the highlands. From Landmannalaugar, we will travel on to Öræfi and spend the night at Fosshotel Glacier Lagoon.
Many Icelanders consider East Iceland to be the most interesting area in the country, given the variety of landscape and activities that can be found there. On day 7 we will visit some of those attractions and dive a bit deeper into some of the Viking Sagas, which are key for understanding the Iceland of today. While touring the East Fjords we will face Vestrahorn, a very impressive mountain which commands respect from its uniquely dark and jagged appearance. We will also explore the charming fishing village of Hofn ("harbor" in Icelandic) and pay a visit to the Viking Village, a place originally built as a movie set which gained notoriety from its majestic surroundings and the level of attention to detail applied when building it. It was so well built, in fact, that it is now a rich source of information to anyone interested in life during the Viking Age.
On day 8, before leaving the east coast we will witness two of the most popular attractions in Iceland. Diamond Beach gains its name from the blocks of ice contrasting against the black sand where they sit. Nearby Glacier Lagoon offers the opportunity for an exciting Zodiac boat ride which will take us very close to jaw-dropping blue icebergs living in its waters. On our way back west we will visit several waterfalls and other landmarks that make the south of Iceland known for its unique beauty. Our day ends with a delicious meal at the Fire & Frost, a hotel surrounded by magnificent nature.
Day 9 calls for a mixture of relaxation, enjoyment of your (very accessible) surroundings and a light hike. You will find a variety of unique experiences in the immediate vicinity of your hotel, such as hot-spring cooking and geothermal horticulture to thermal bathing and earthquake tourism. If you are looking for a truly immersive Icelandic experience, today you will find it. We will also hike up to Kerid, an impressive volcanic crater and home to a lake. Kerid is shaped like a human eye, therefore called "The Eye of The World." We will wrap up this special day with a fantastic closing dinner, the perfect opportunity to exchange stories and memories with your co-travelers
Day 10, visit Reykjanes Peninsula Home to Keflavik airport, Iceland's largest, the Reykjanes Peninsula is also home to possibly the most famous attraction in the country: the Blue Lagoon. Before heading out to the airport we will enjoy bathing in its waters heated by geothermal energy.
This is what other people who have been on the trip have to say
Allison C.
(Walnut Creek, CA)
My husband and I used Discover Scandinavia for our recent honeymoon to Iceland. They were beyond fantastic - the itinerary was built perfectly and each one of our tours was top notch. From visiting the amazing natural sights in Iceland to a walking tour of Reykjavik, we felt like we were able to pack it all in and get the best of everything. Thanks again for a stellar trip!
Chris M.
Our family of four just returned from the 10 day Iceland (winter) Discover Scandinavia Tour and we had the trip of a lifetime! From the moment we landed, every detail of our trip had been taken care of. The tour operators Discover Scandinavia Tours uses were beyond excellent and the hotels we stayed in were top in their class. We needed to customize some of our tours to accommodate my 80 year old mother and DST went above and beyond to make sure she would have a wonderful experience, yet stay safe in the winter conditions. We had excellent communications throughout the process, even when the weather took an unexpected turn for the worst and we had to stay an extra night in one location due to road closures, DST local rep immediately jumped in to rearrange our itinerary for us. I cannot say enough wonderful things about DST and their tours. They do not disappoint with their level of care in putting together a fully immersive tour experience. Our family has travelled the world and this tour company and trip was Top 10 worthy!
Tom J.
(Niskayuna, NY)
ICELAND WINTER: NORTHERN LIGHTS & MORE (7 DAYS). We just completed this tour December of 2021. This is our 3rd experience with this tour company. I just cannot say enough great things about this trip. We saw the northern lights on our first night! Everything was perfectly arranged. We got to see and do so much. I highly rate this tour for anyone wanting to see Iceland and the Northern Lights. I hope to go back and see more of Iceland in the summer. Discover Scandinavia Tours makes it so easy. This tour was already prepared (and I would not change a thing) but previous experiences with them have been equally as great. They allow you to customize your experience and work with you every step. Marcelo, Shawna, and the team are awesome.
Looking For A Winter Adventure?
See our fully escorted 8 day Iceland Winter Tour
STAY INFORMED ABOUT COVID & TRAVEL IN SCANDINAVIA