15 Day Small-Group Escorted Tour of Scandinavia
MINGLE WITH SCANDINAVIANS
A GREEN ESCORTED GROUP TOUR
Embark on a beautiful adventure with a small group of like-minded travelers and explore the highlights and hidden gems of Denmark, Norway & Sweden.
Travel Green…Like Scandinavians Do.
Our 15-day escorted journey of Scandinavia will showcase Sweden, Denmark, and Norway to you as no one else does. We adopted a very green (and Scandinavian) mindset – that of saving our beautiful planet – when designing a route full of gems, variety, and local charm. It's a route that combines many less-explored gems with absolute must-sees while taking full advantage of efficient transportation used by the locals. Why be stuck on planes or in a bus for days when you can experience scenic train rides through the Swedish countryside and jaw-dropping boat rides through the Norwegian fjords, all in total comfort? Travel as locals travel while learning from your expert Tour Leader, hand-picked local guides, and your co-travelers. Taste the best of the Nordic Cuisine while staying in some of the finest hotels in the region. Our groups allow for a maximum of 12 travelers per departure, creating fun and intimate experiences for all. This journey centers on exposing you to gorgeous, culturally rich, and advanced lands, as well as its people. Experiencing it… will transform you into an honorary Nordic.

The journey will live in you forever.
Included In This Fully Escorted Journey 13 nights at centrally-located hotels with daily Scandinavian breakfast 
1 night on board the overnight ferry to Stavanger
The Norway in a Nutshell ® journey
Luggage transfer services between Oslo and Bergen
Guidance of an experienced Tour Director throughout the entire program 9 guided tours led by the most friendly and knowledgeable local guides 20 gourmet meals (14 breakfasts, 6 dinners) Private airport transfers in Stockholm and Oslo
All of our services to plan and implement your trip, and support while traveling
Begin Your Scandinavian Journey with Wonder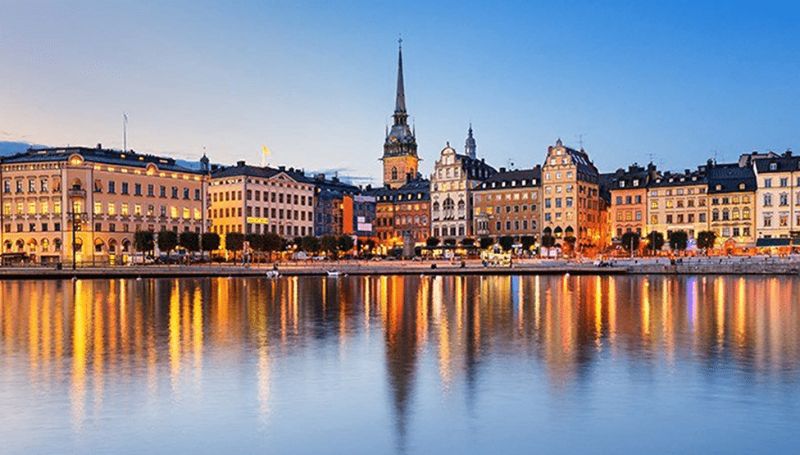 Embark on your Scandinavian adventure with your arrival in Sweden. Greet Stockholm and meet your tour leader to kickstart the journey. Explore the charming city, strolling through its iconic streets and soaking in its culture. As the sun sets, indulge in a delightful kick-off dinner, marking the beginning of our unforgettable exploration of Scandinavia.
Stockholm Unveiled: Landmarks and Charm Await You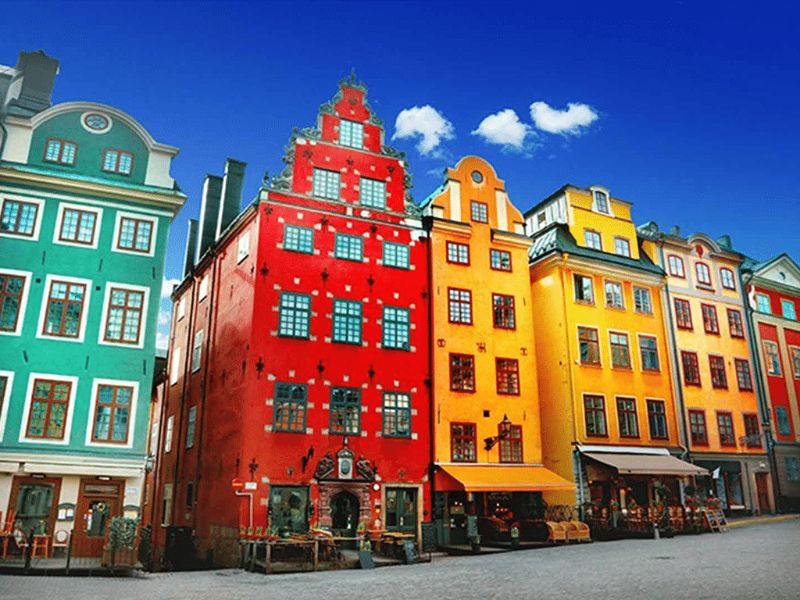 Day 2 unveils the heart of Stockholm through an immersive walking tour. Wander amidst iconic landmarks like the regal Royal Palace, the historic Gamla Stan, and the elegant Vasa Museum, where a centuries-old ship stands preserved. Traverse cobbled streets, taking in the vibrant culture and architecture of this captivating city. Today's journey paints a vivid picture of Stockholm's rich history and contemporary allure in a compact and unforgettable exploration.
Viking Heritage: Sigtuna, Uppsala - Echoes of Ancient Scandinavia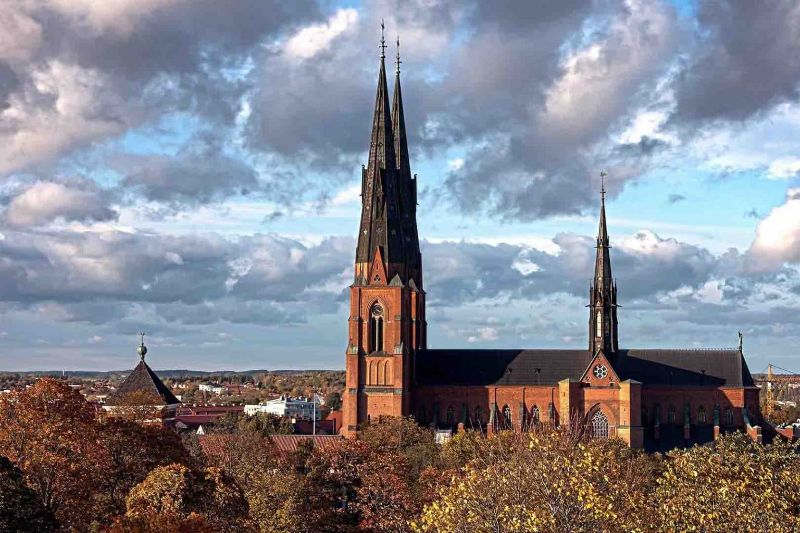 Today, we venture beyond Stockholm for a captivating day trip into Viking history. Explore ancient church ruins and enigmatic rune stones, unravelling tales of the past. Journey to Sigtuna, Sweden's first town, adorned with medieval charm and cobblestone streets. Discover the captivating allure of Uppsala, home to the historic Uppsala Cathedral and the captivating Gamla Uppsala mounds. This excursion transports you through time, weaving stories of Viking sagas and medieval marvels, all while exploring the enchanting landscapes of Sweden's heritage.
Sustainable Rails: Stockholm to Copenhagen's Eco-Friendly Journey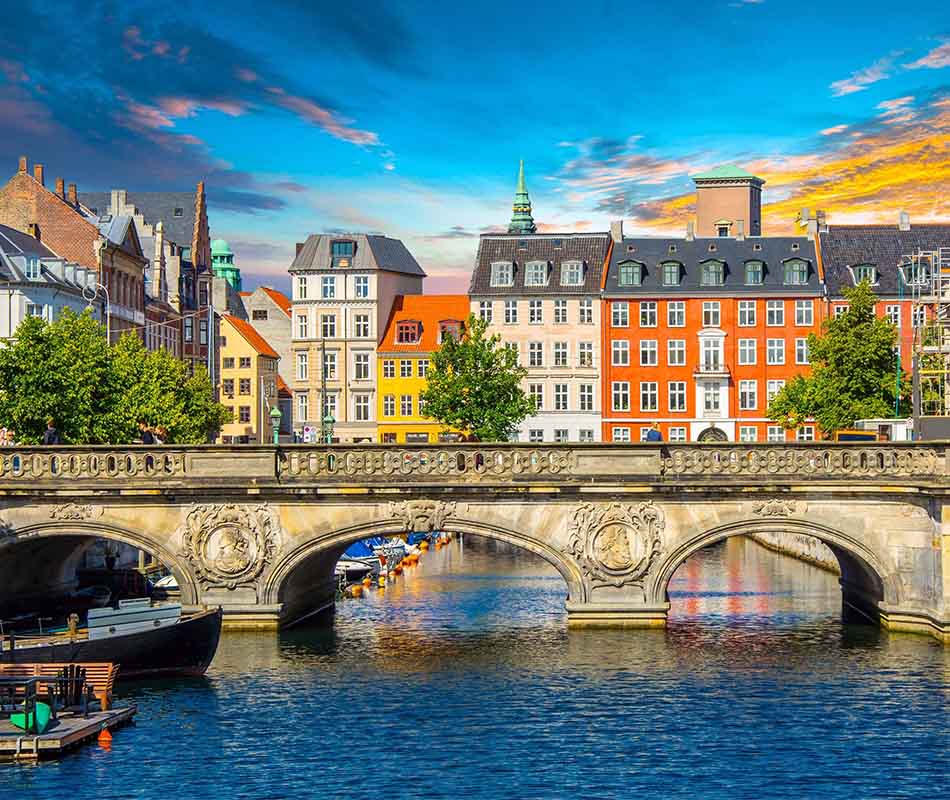 Day 4 embraces sustainable travel as we embark on a scenic train journey from Stockholm to Copenhagen. Witness the picturesque landscapes of Sweden and Denmark unfold before your eyes, all while treading lightly on the environment. Our commitment to eco-friendly exploration ensures that every mile traversed leaves a smaller carbon footprint. As you relax and revel in the views, you can take pride in knowing that your adventure is as responsible as it is enchanting.
Copenhagen: Walking the City, Cruising its Enchanting Canals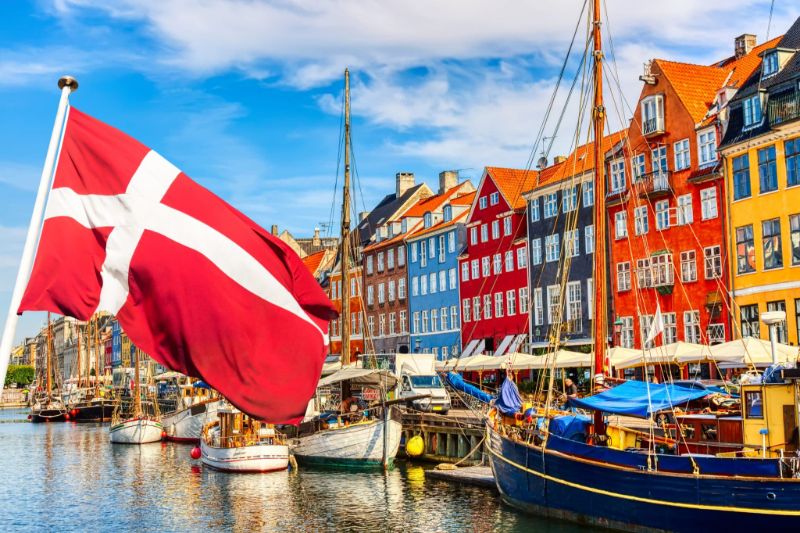 Today will immerse you in Copenhagen's beauty with a walking tour of its iconic landmarks. Traverse the charming Nyhavn waterfront, admire the architectural marvel of Amalienborg Palace, and feel the vibrancy of the Little Mermaid statue. Afterward, embark on a leisurely 2-hour canal cruise, gliding through picturesque waterways that weave the city's story. Witness the grandeur of Christiansborg Palace and the captivating design of The Black Diamond Library. This day marries history, culture, and the tranquil allure of Copenhagen's canals for an unforgettable exploration.
Onto Odense & Aarhus: Green Routes, Rich Experiences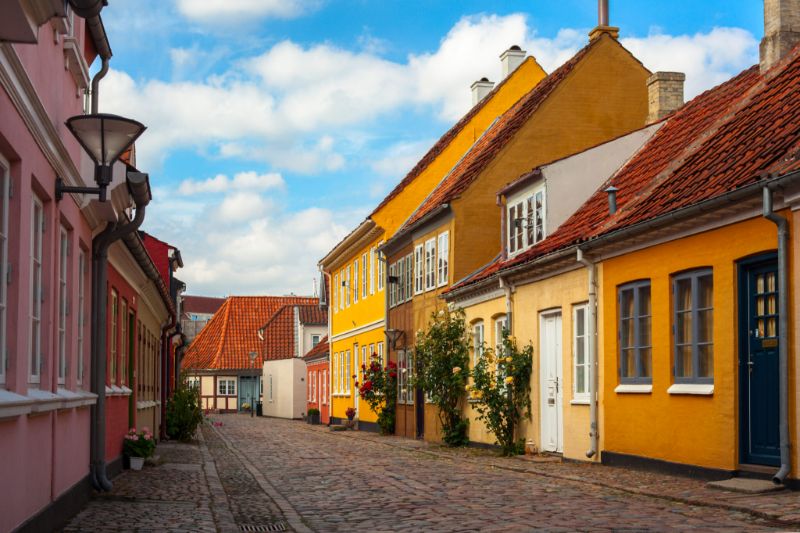 Our eco-conscious journey continues on Day 6 as we bid farewell to Copenhagen and embark on a train ride to Aarhus. Embrace sustainable travel while enjoying scenic vistas. En route, a captivating stop in Odense awaits. Explore the birthplace of Hans Christian Andersen, where enchanting stories come to life. Stroll through charming streets and visit the Andersen Museum, celebrating the famed storyteller's legacy.
Exploring Aarhus & Viborg: Danish Heritage Beckons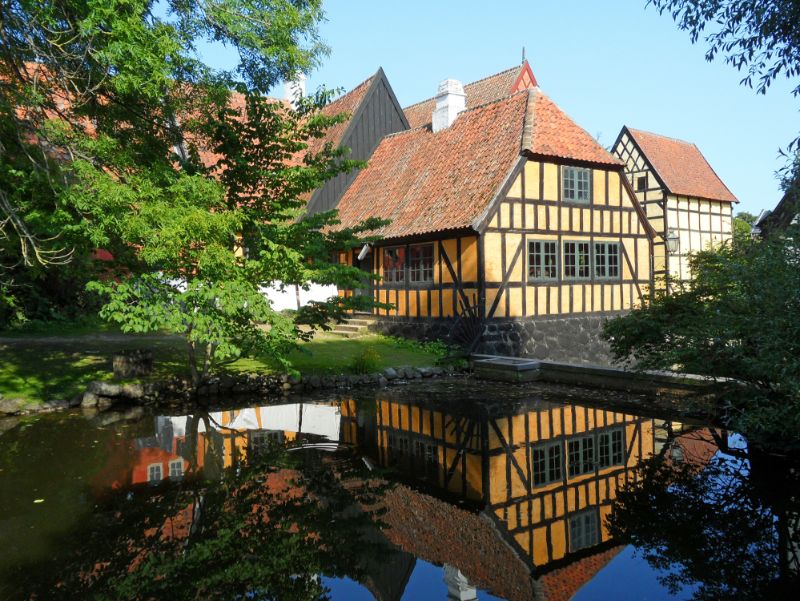 Today promises an enriching full-day tour encompassing Aarhus and Viborg. Immerse yourself in Aarhus, Denmark's second-largest city, and witness the architectural marvel of the ARoS Aarhus Art Museum. Traverse the cobbled lanes of the Latin Quarter and explore its charming boutiques. Continue to Viborg, known for its towering Viborg Cathedral, a medieval masterpiece. Stroll through the city center, taking in the mix of historical and modern influences. This comprehensive exploration captures the essence of both cities, from artistic wonders to historical treasures, leaving you with lasting memories of Danish heritage.
Aalborg to Stavanger: Ferry to Fjord-Filled Adventures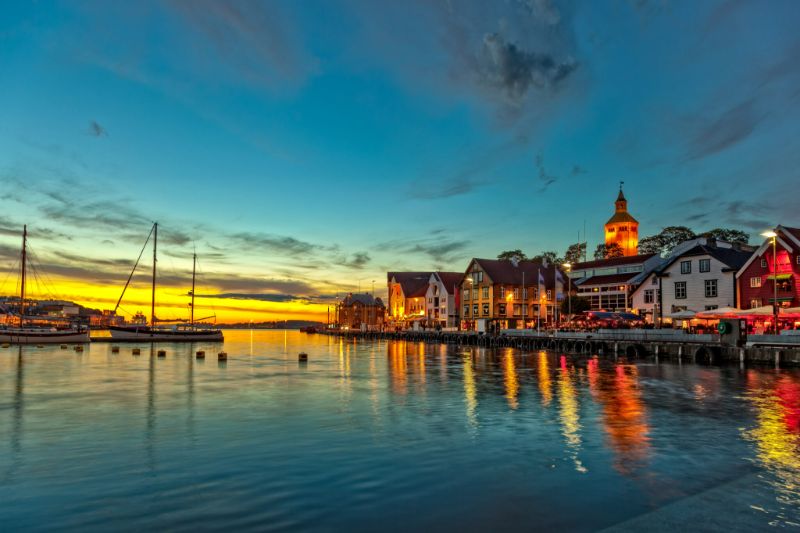 Day 8 embarks on a captivating journey from Aarhus to Hirtshals, where an overnight ferry awaits to transport us to Stavanger. En route, we pause to explore Aalborg. Discover the imposing Aalborg Castle and the enchanting Jens Bang's House. Stroll along the picturesque waterfront of Limfjord, soaking in the maritime charm. This interlude leads us to Hirtshals, where the ferry journey ushers in anticipation for the Norwegian wonders ahead. We continue to travel as locals do!
Stavanger Delights: Explore, Rest, and Embrace Norwegian Beauty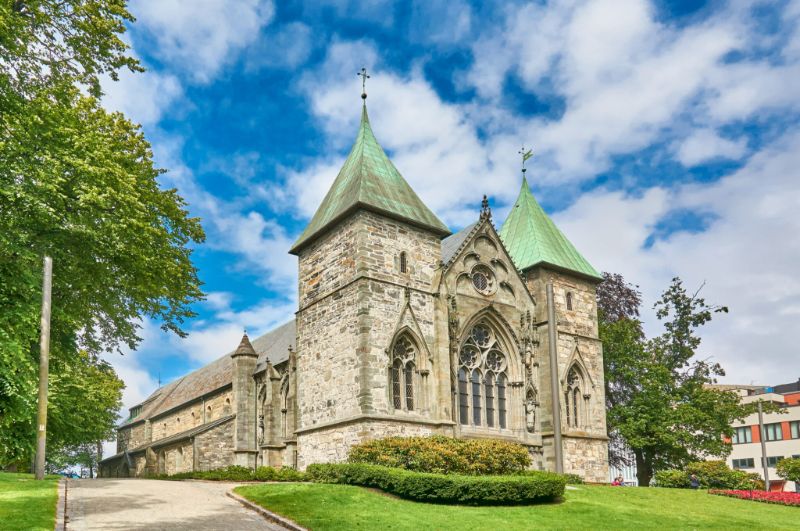 The journey continues as we arrive in Stavanger, granting a moment of respite at the hotel before an enchanting walking tour. Wander through Stavanger's charming streets and discover the iconic Stavanger Cathedral, a masterpiece of medieval architecture. Immerse yourself in the vibrant atmosphere of the Old Stavanger district, where white wooden houses exude historical charm. Stroll by the harbor, taking in the sight of sleek boats against the dramatic Norwegian backdrop. This day encapsulates Stavanger's fusion of history and contemporary allure, leaving you captivated by its unique ambiance.
Haugesund or Preikestolen: Choose Your Path of Exploration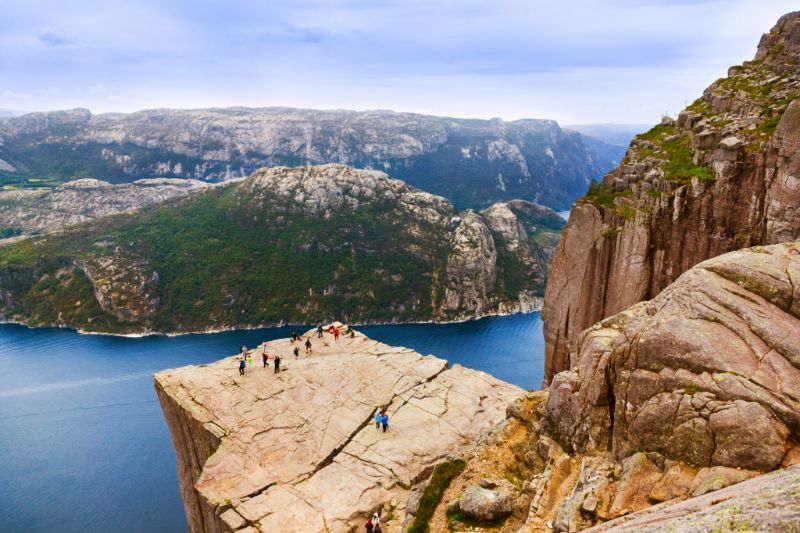 Day 10 unveils two captivating options. Our standard journey features a scenic day trip to the stunning region of Haugesund. Immerse yourself in its natural beauty and explore landmarks like Haraldshaugen, a national monument commemorating Norway's unification. For the adventurous, an alternative awaits – a hike to the pinnacle of the iconic Pulpit Rock (Preikestolen), offering breathtaking panoramic views. Whichever path you choose, this day epitomizes the diverse offerings of Norway, from historical monuments to awe-inspiring vistas, ensuring a day of unforgettable experiences.
Scenic Ferry to Bergen: Embrace Norwegian Coastal Beauty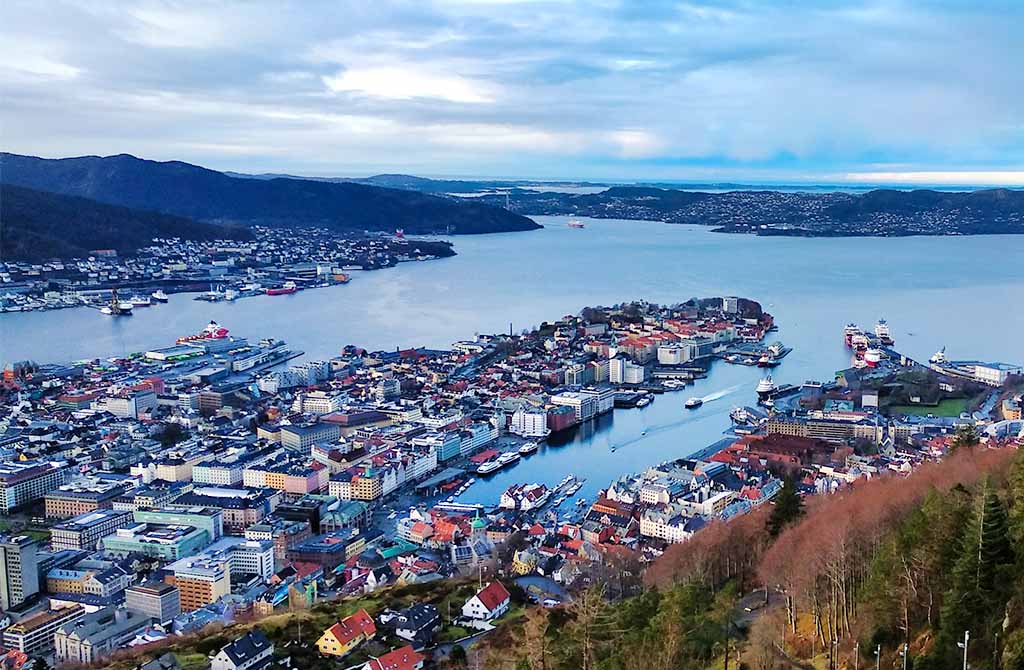 This morning commences with a ferry journey to Bergen. Upon arrival, the day is yours to explore this charming city at your own pace. This day offers the freedom to immerse yourself in Bergen's allure, creating your own unique memories amidst its rich culture and stunning landscapes.
Exploring Bergen: Culture, Music, and Scenic Beauty Await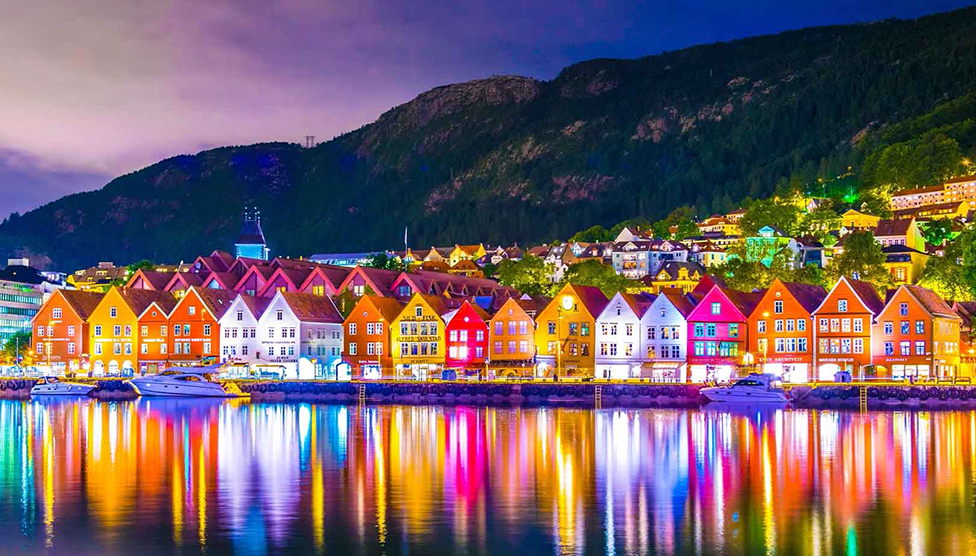 Today is dedicated to exploring Bergen's cultural treasures. Wander through the UNESCO-listed Bryggen Wharf, a testament to the city's Hanseatic heritage. Venture to a nearby stave church, witnessing the ancient craftsmanship of these unique wooden structures. The journey continues to Edvard Grieg's Troldhaugen, his former home turned museum, where his musical genius comes to life. This comprehensive journey encapsulates Bergen's cultural tapestry, from medieval architecture to artistic inspiration, leaving you enchanted by its multifaceted charm.
Norway in a Nutshell: Fjords, Rails, and Villages from Bergen to Oslo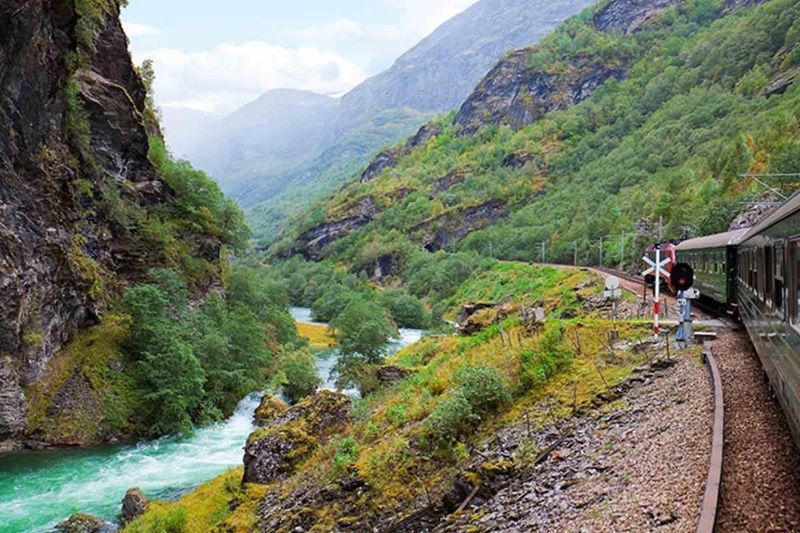 Day 13 unveils the Norway in a Nutshell tour, a mesmerizing journey from Bergen to Oslo. Traverse majestic fjords, cascading waterfalls, and serene villages, capturing the essence of Norway's natural beauty. Embark on the Flåm Railway, a masterpiece of engineering, and sail through the breathtaking Nærøyfjord. As you progress, discover the striking Stalheimskleiva hairpin road and the historic village of Voss. Culminate the day by reaching Oslo, having experienced the quintessence of Norway's landscapes, all in one extraordinary expedition.
Oslo Gifts: Icons, Art, and Culinary Farewell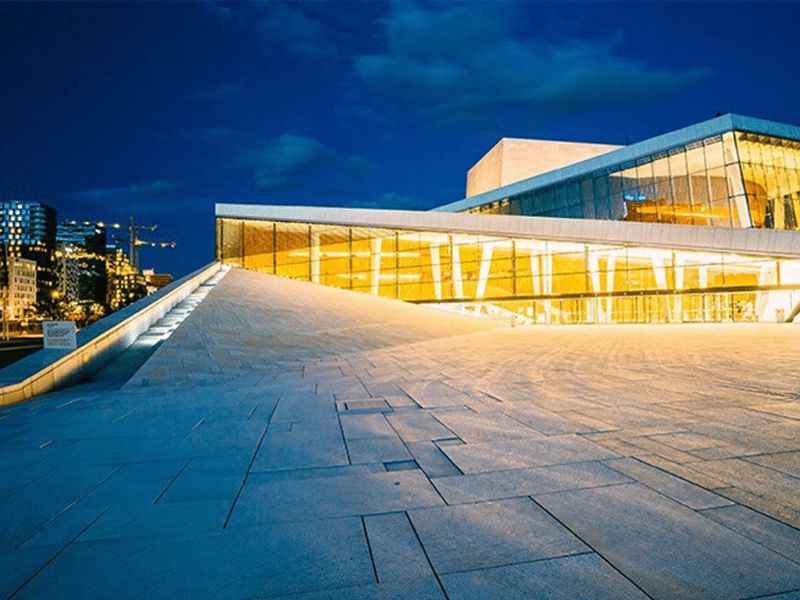 Your Norwegian discovery unfolds with a comprehensive exploration of Oslo's highlights. Embark on a captivating tour, visiting iconic landmarks such as the Royal Palace, the captivating Vigeland Park with its impressive sculptures, and the striking Oslo Opera House. Immerse yourself in the rich maritime history at the Viking Ship Museum and relish the cultural riches of the Munch Museum. As the day draws to a close, gather for the closing dinner, a delightful culmination of our green journey through Scandinavia. This day encapsulates Oslo's vibrant allure, combining history, art, and culinary delights.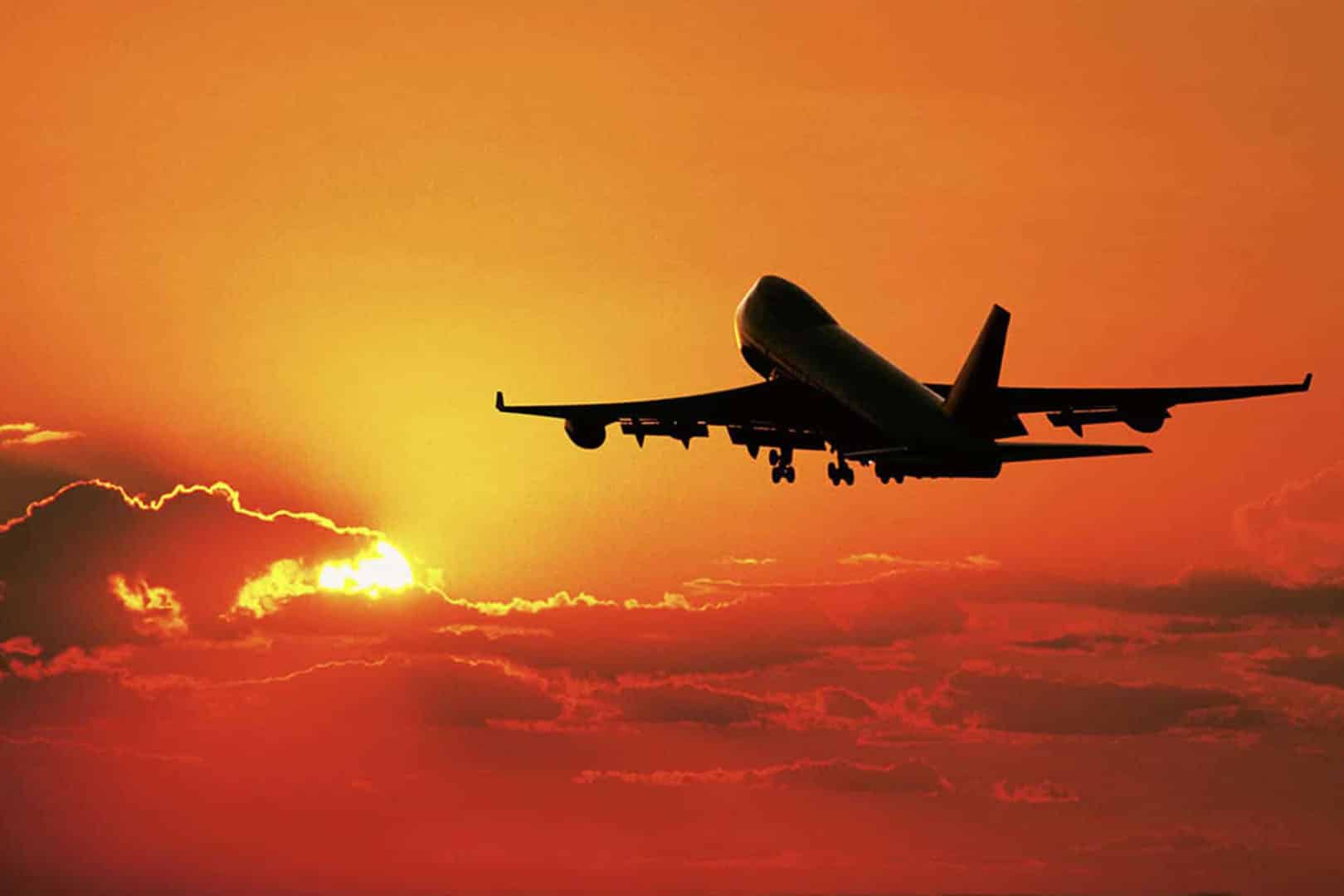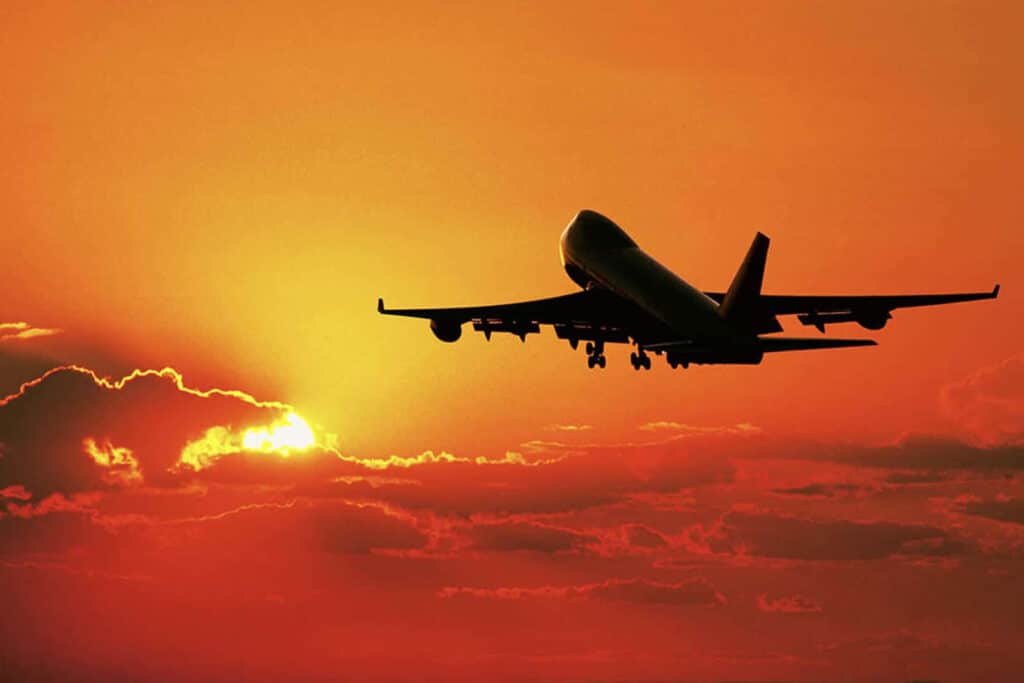 Our beautiful journey is concluded at the end of breakfast. Your memories and new friendships will far outlive it.
This is how our awesome clients described their experience on this vacation program.

Liz C.
(Ocean Isle Beach, NC)

This was a great introductory trip for someone who has never been to Scandinavia. The tour is not a large group tour, but for small groups, in our case, family, sometimes joined by other small groups for some activities. We visited Denmark, Norway and Sweden, did biking and walking tours of the cities, had several ferry rides to different places, mainly along the Songefjord, along with some scenic train rides. A lavish breakfast buffet was included and the logistics were impeccable. I highly recommend this to anyone who wants a 'land' (not cruise) tour of Scandinavia.



Norman L.
(Chapel Hill, NC)

Our trip to Scandinavia was a marvelous experience, thanks to the outstanding expertise and service provided by Discover Scandinavia Tours. We would like to highlight the following strengths of DST's plan for our trip: -- A masterful overall design for how best to experience Scandinavia in a two week period, characterized by an ideal pace and rhythm for the journey. -- Excellent specific choices of destinations, activities and providers along with ample free time to explore locations on our own. -- Perfect selection of hotels in terms of their locations, placing us within easy walking distance of most attractions and transportation hubs. -- Flawless implementation of plans, e.g., all reservations and vouchers were honored, private transfer drivers arrived on time, and all trains and boats departed as scheduled. -- Timely, thoughtful and responsive communications with us, in general and in response to our questions, both before and during the trip.


James D.
(Santa Barbara, CA)

My wife and I initially booked our Scandinavian tour for April of 2020, which was ... rough timing. Throughout all of the rapidly changing plans and COVID travel restrictions, Marcelo, Shawnna and crew were absolutely great. They communicated well, were flexible, and handled a ton of booking and rebooking, and really just took care of all the details. They were total lifesavers. We finally got to go on our trip in May of 2022, and it was decidedly worth the wait. We loved everywhere we visited, were impressed with all the thoughtful touches along the way, and absolutely would book with Discover Scandinavia again in a heartbeat.


Helen S.
(Salem, MA)

Our Scandinavia trip finally came to pass after waiting through the pandemic. Our DST trip was seamless. From being picked up at the airport in Copenhagen to being brought to the Stockholm airport 2 weeks later every hotel, ferry, train, flight, city pass, luggage transfer, and tour was perfectly selected, planned and paid ahead of time for us. 3 countries and never exchanged a cent of currency. Having posted so many of our sights on line I have several friends asking for our itinerary! One should still do one's homework to customize what you do with your ample free time. We did not continue to Finland but chose to stay in Stockholm longer. From Copenhagen, to Oslo and Norway's fiords and Balestrand, Bergen then Stockholm made us want to return for a further look at all 3 of these fabulous countries. Thank you Shawnna, Marcelo and the whole team at DST!


After landing at Keflavík Airport, you will travel to your hotel in Reykjavík. Located in the heart of Iceland's capital city, Hotel Borg offers the best in both style and comfort. Following check-in, connect with your Tour Director before a visit to the Sky Lagoon. Relax in the warm waters of the geothermal lagoon and soak off your jet lag as your gaze upon incredible views of the North Atlantic. End your day with a gourmet kickoff dinner where you will get to know your fellow travelers and taste delicious Icelandic dishes. Your group tour of Iceland has officially started!
After breakfast, join a driving tour of Iceland's capital. Notable sights include the famous Hallgrímskirkja Church, Harpa Concert Hall and the unique Sun Voyager sculpture. Following your tour, you will have free time to experience the city on your own. End your day with a delectable dinner and a drive to view the Northern Lights, if the skies are clear that night. If they are not, don't worry. We will have many other opportunities!
Day 3 is dedicated to Iceland's Golden Circle, which is made up of three must-see sights: Gullfoss waterfall, Geysir geothermal area and Thingvellir National Park. Nearby, at Fridheimar, you will enjoy a beautiful show with Icelanic horses and some organic, tomato-based delicacies as well. Following your guided tour of the Golden Circle, we will drive to Landeyjahöfn harbor and board a ferry to the Westman Islands. The short 45-minute boat ride will give you a new perspective of Iceland's south coast. When the ferry docks on the main island, Heimaey, you might even spot a brave sheep grazing on the rocky cliffs surrounding you! Enjoy a delectable dinner at Hotel Vestmannaeyjar, your cozy accommodation for the evening.
Our private tours allow travelers to explore Scandinavian destinations with programs offering a great balance between pre-arranged activities and free time to explore. When implementing one of our private programs for you, we handle all the logistics involved, including: hotels, airport transfers, transportation from city to city and all guided activities and excursions. You will not be with a Tour Director throughout the program, but you will enjoy a number of sightseeing experiences led by experienced local guides. We can work with your desired dates, provided that availability exists at the many services involved in your program.
This option is ideal for travelers who enjoy traveling independently and with a higher degree of flexibility to explore each location on their own.
Technically, Scandinavia refers primarily to Norway, Denmark and Sweden. When thinking of Nordic Countries, add to the list Finland and Iceland as well. Discover Scandinavia Tours can take you to any location in Norway, Sweden, Denmark, Finland and Iceland. Currently we also offer extensions in Estonia, which is of particularly convenient access when visiting Finland, given that Tallinn – Estonia's beautiful capital – can be reached by a short ferry ride from Helsinki.
If you are interested in a group tour, you can book any departure as long as there are seats available (but remember: we have a maximum of 12 seats per departure, so booking early is recommendable). If you want a private tour, you can book as far as 2 years in advance. For last-minute travelers, please keep in mind that we need a minimum of 30 days to implement a private program.
With our group tours of Scandinavia you can choose from a number of fixed departures throughout the year. If you need more flexible dates, our private tours allow us to work with any dates you have in mind, provided that we find adequate availability at all hotels and other services included in your particular program.
Yes, we do. For details regarding commissions, please visit our TRAVEL AGENT portal.
You will find our cancellation policy, along with all our terms and conditions, RIGHT HERE.
In short, you can typically view the Northern Lights between September and March. But if you really want a memorable Northern Lights vacation, we created an entire blog post dedicated to this question, which you can read RIGHT HERE.
You most certainly can! Just email us ([email protected]) or call us (800-936-2814) and we will start your dream Scandinavian vacation with a free consultation.