Duration: 8 Days
Season: April – September
Regions Featured: Reykjavik, Akureyri, Myvatn, South Coast
Does your bucket list include a vacation in Iceland to experience the fascinating natural wonders of the country? Have only a week? We have the perfect Iceland vacation for you! Our Deluxe Summer Iceland Vacation in 8 Days features the very best highlights of the country at a relaxed pace and no hectic, noisy, big bus tours to endure. Visit Iceland in style and comfort, with just the right amount of local, expert-led guided tours so the destination comes to life. This program is full of tastes, sights, and experiences you'll treasure for many years to come. It offers an efficient, yet leisurely way to travel to Iceland.
This vacation package reveals much of Iceland's majestic scenery, amazing wildlife, and epic history, including Viking adventures, traditional sagas, and tales of mysterious hidden folk that continue to inspire modern sagas, like Game of Thrones and the Star Wars franchise.
Iceland is full of wide-open and uncrowded spaces and exceptionally-high standards of living. Its citizens consistently rank in the top 5 happiest people on earth. In this trip to Iceland you will discover this safe, clean and green land filled with friendly locals, most of whom speak English, and welcome you to their beautiful country. Visit Iceland as if it were your home for a week.
Interactive Map/Virtual Tour
Included in this Deluxe Vacation in Iceland
A thrilling snowmobile ride on a glacier
A helicopter tour like no other, where you will experience Iceland's complex geology from the sky
Prices Per Person From: (USD)
| # of Travelers | LUXE Tour |
| --- | --- |
| 2 people | $6,068 |
| 4 people | $5,221 |
| 6 people | $4,693 |
| 8+ people | $4,597 |
Arrival In Iceland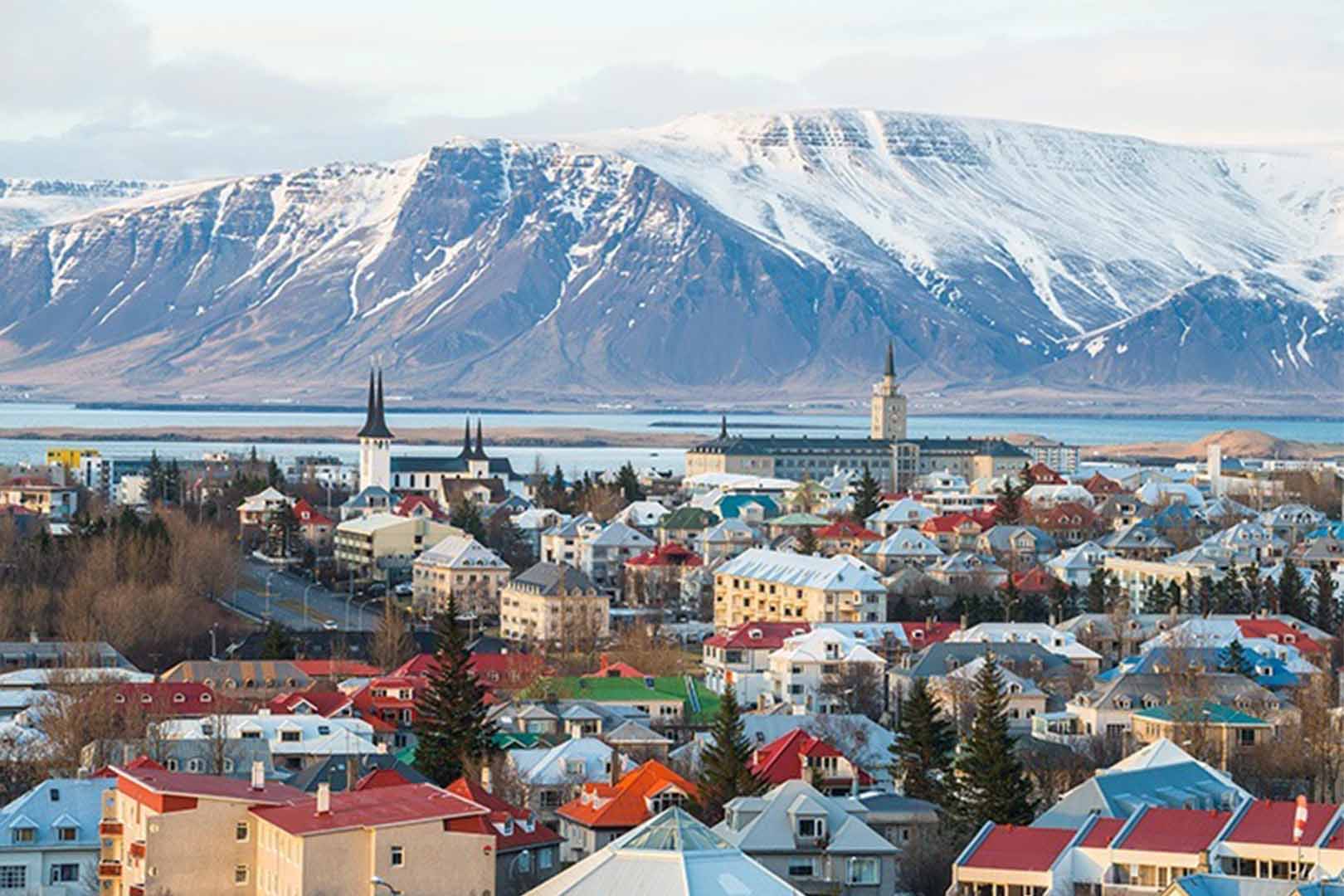 After arriving at Keflavik Airport you'll enjoy a private transfer to your hotel in Reykjavik. The afternoon is free to explore.
Main Attractions:
Sky Lagoon (optional add-on)
Accommodation: 
Hotel Borg
The Golden Circle Tour (Private)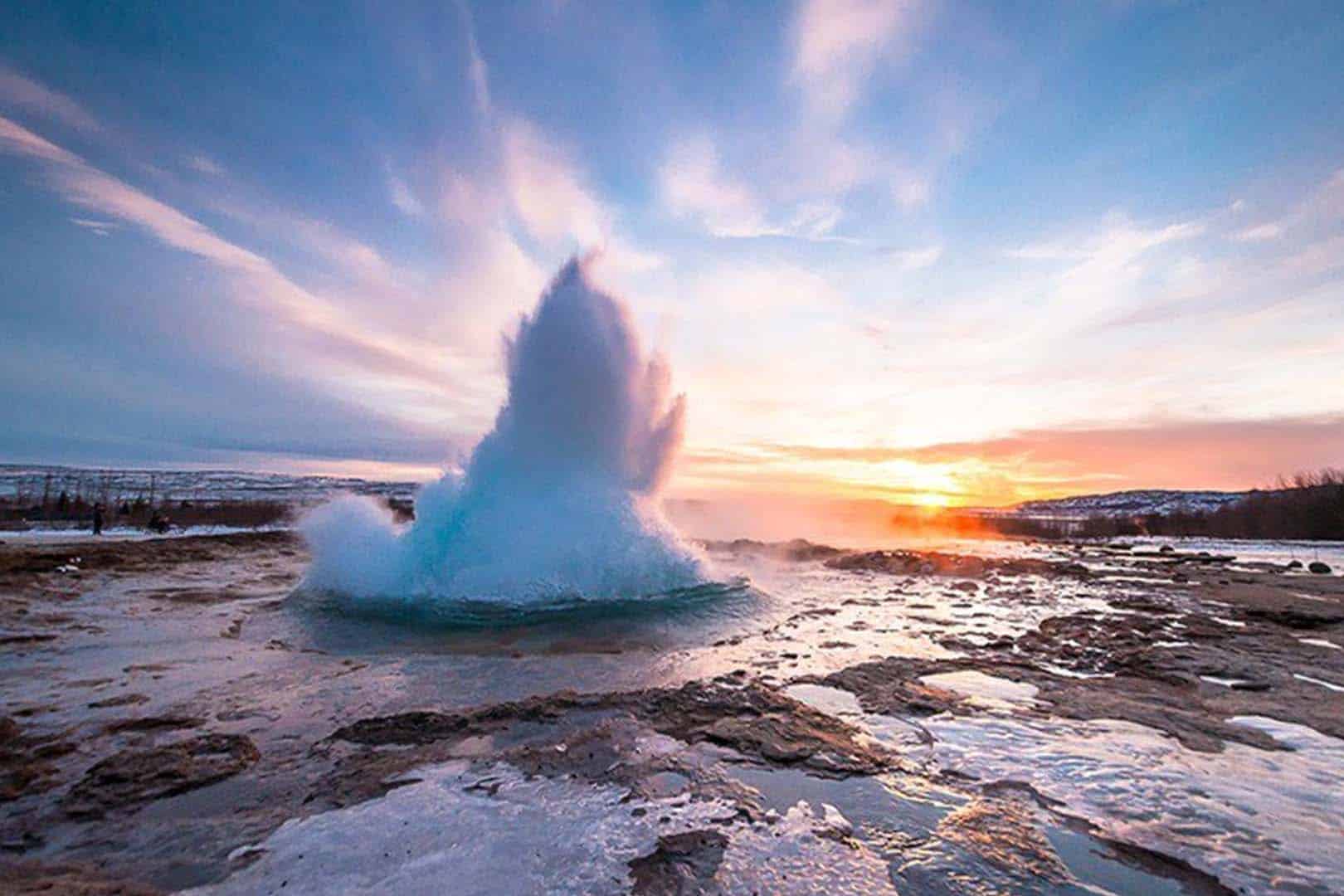 Enjoy a full day tour exploring the 200-mile scenic route known as the Golden Circle.
Main Attractions:
Thingvellir National Park
Geysir Hot Spring Area
Gullfoss Waterfall
Accommodation: 
Hotel Borg
Reykjavik Sightseeing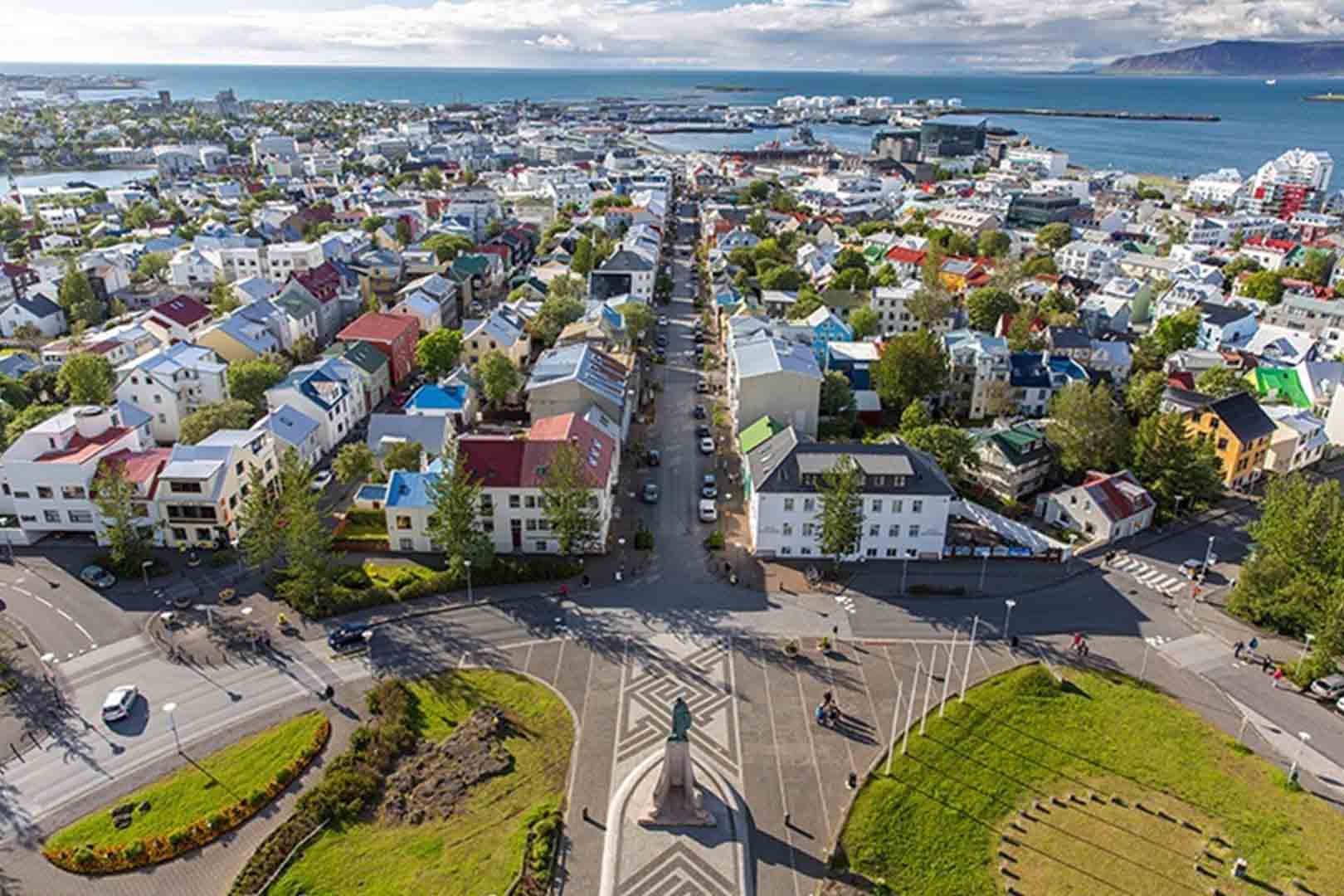 Today you will receive a morning tour of Reykjavik. Easily walkable, the city is colorful, compact and features striking architecture.
Main Attractions: 
Hallgrímskirkja Church
Harpa Concert Hall
Sun Voyager Sculpture
Laugavegur Street
Accommodation: 
Hotel Borg
The Wonders Of The South Coast
Discover what the south coast of Iceland has to offer, from breathtaking waterfalls to black-sand beaches, caves and villages.
Main Attractions:
Skogafoss Waterfall
Seljalandsfoss Waterfall
Dyrholaey Rock Formation
Reynisfjara Black Sand Beach
Accommodation:
Fosshotel Glacier Lagoon
Akureyri – Capital Of The North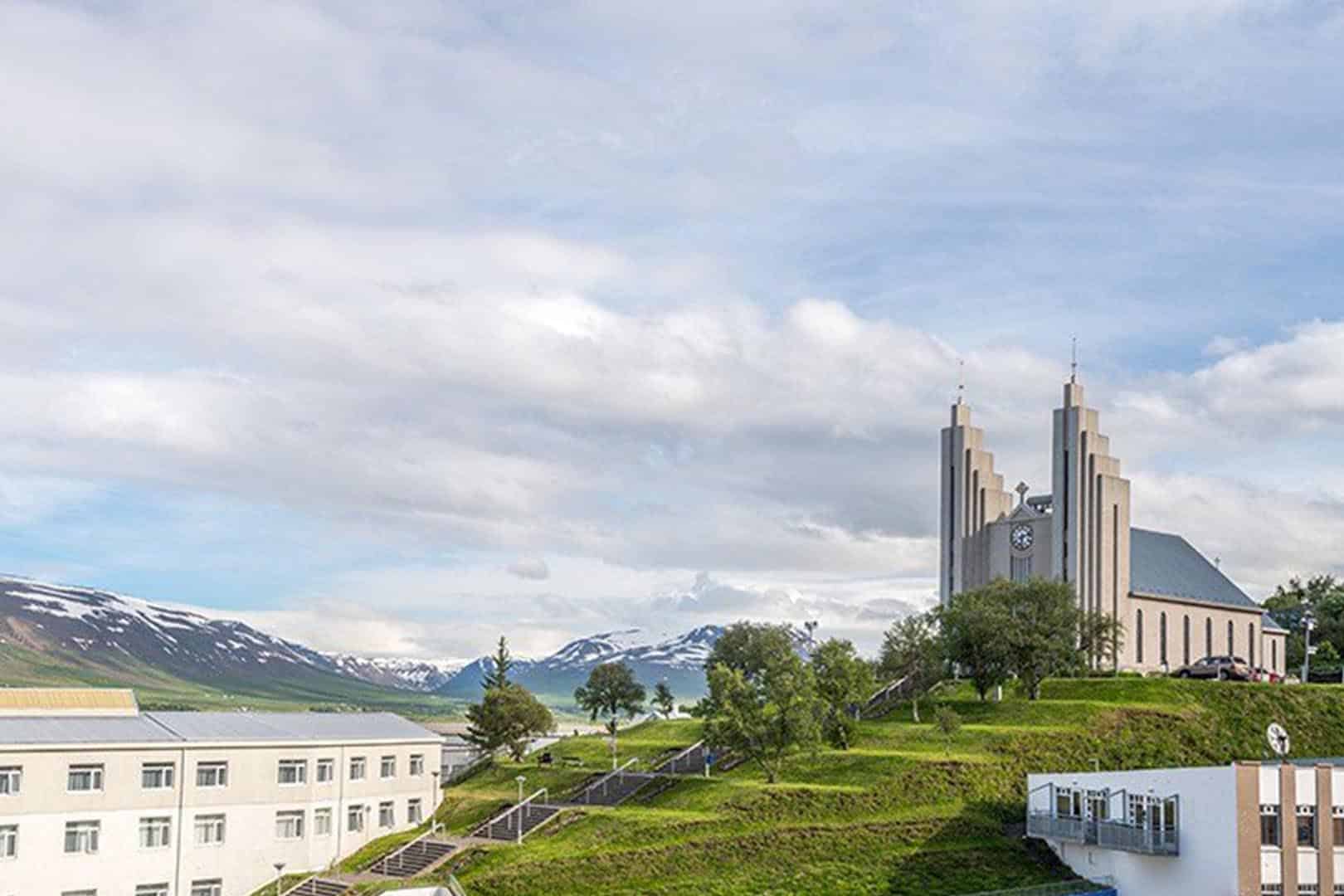 Take a quick 45-minute flight to Akureyi where you will spend the next 2 nights exploring Iceland's "Capital of the North".
Main Attractions:
Akureyri Whale Watching
Accommodation:
Hotel Kria

Lake Myvatn Region – Geological Extremes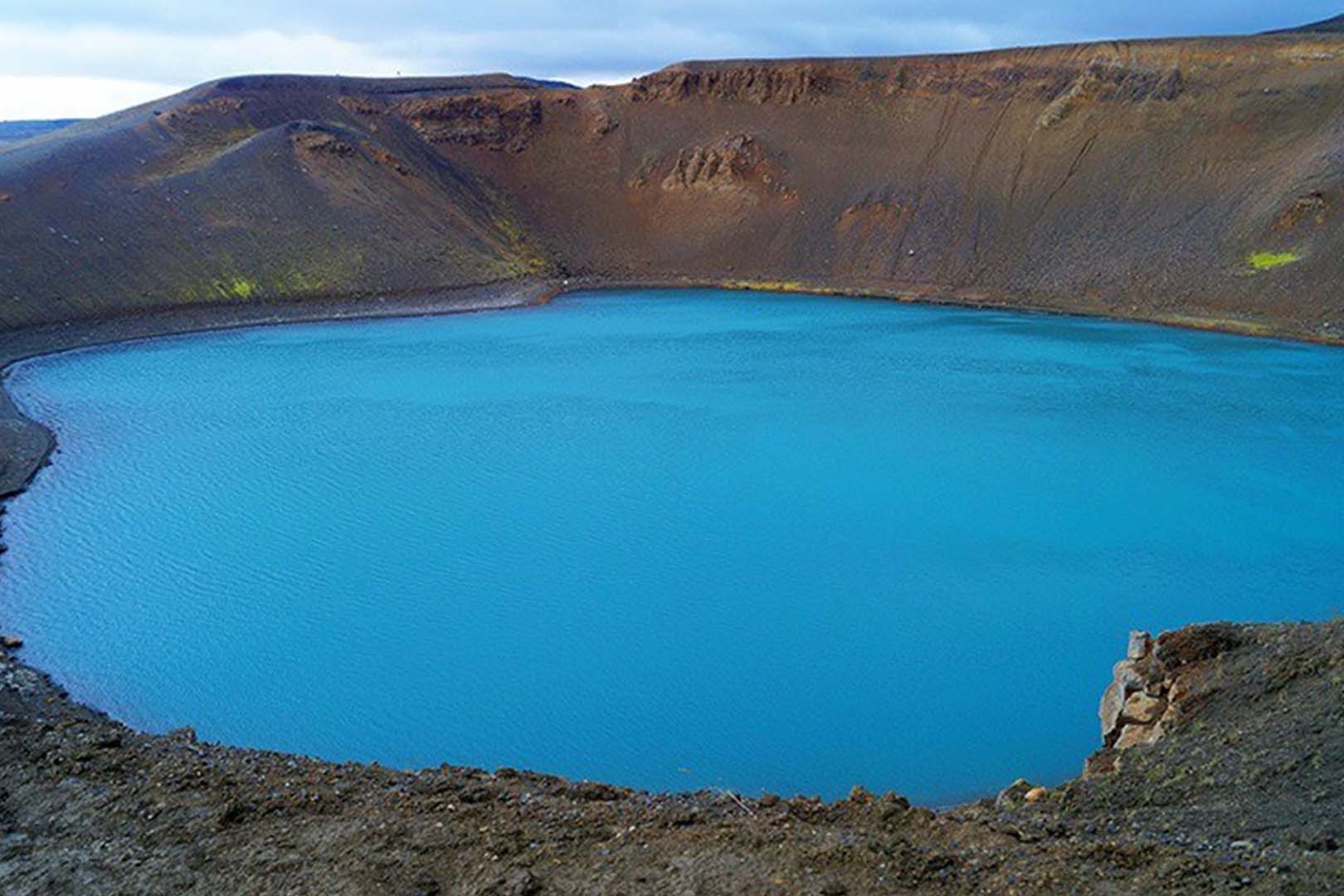 A full-day Lake Mytvan adventure is on the cards for today. An are with active volcano activity, boiling mud pools, hot springs and the Dettifoss Waterfall.
Main Attractions: 
Hverir Mud Pools
Goðafoss Waterfall
Dimmuborgir Lava Fields
Dettifoss Waterfall
Myvatn Nature Baths
Accommodation:
Hotel Kria

Return To Reykjavik & The Blue Lagoon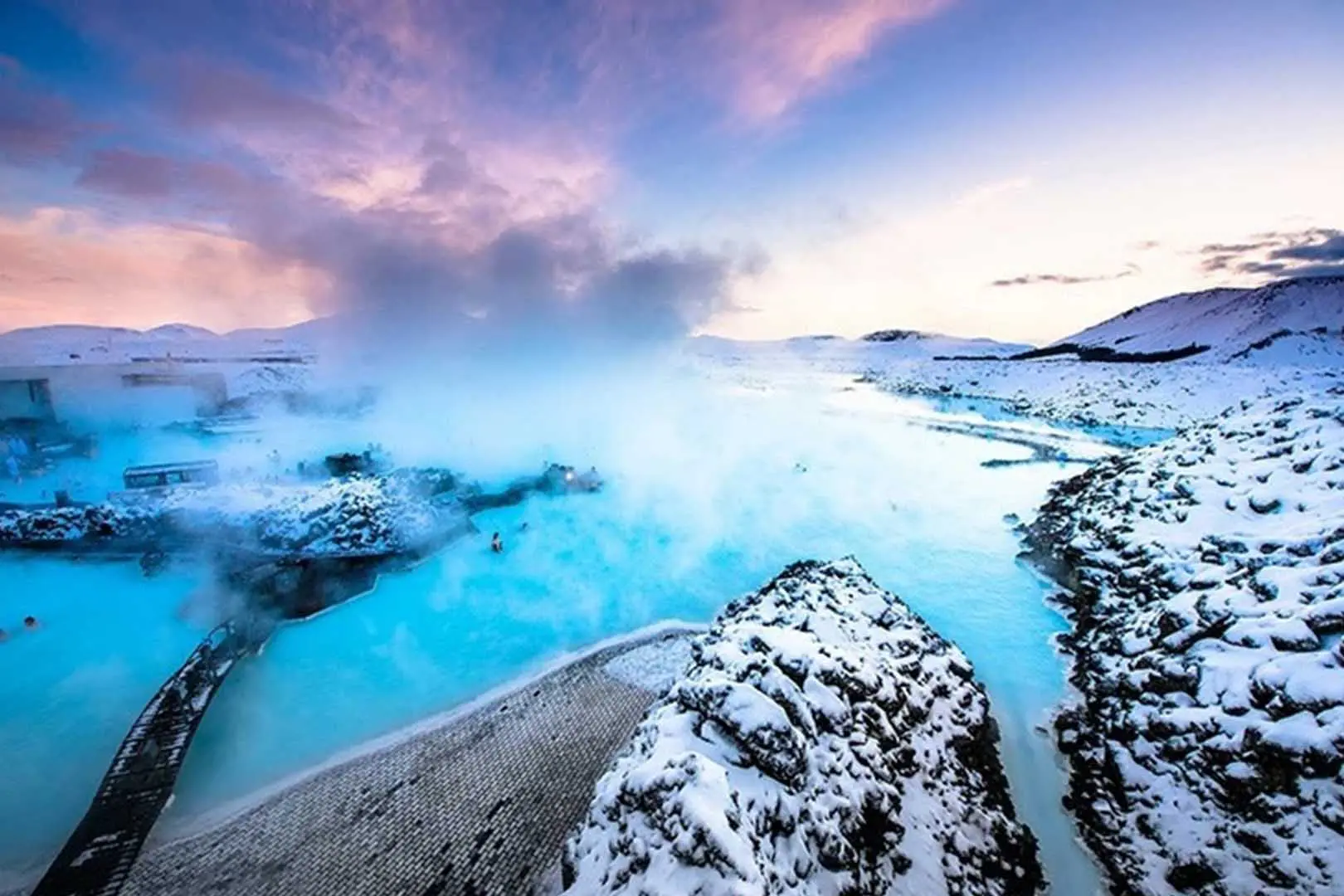 Return to Reykjavik for your last full day and a visit to The Blue Lagoon, Iceland's most popular geothermal spa.
Main Attractions: 
Blue Lagoon
Accommodation:
Hotel Kria

Return Home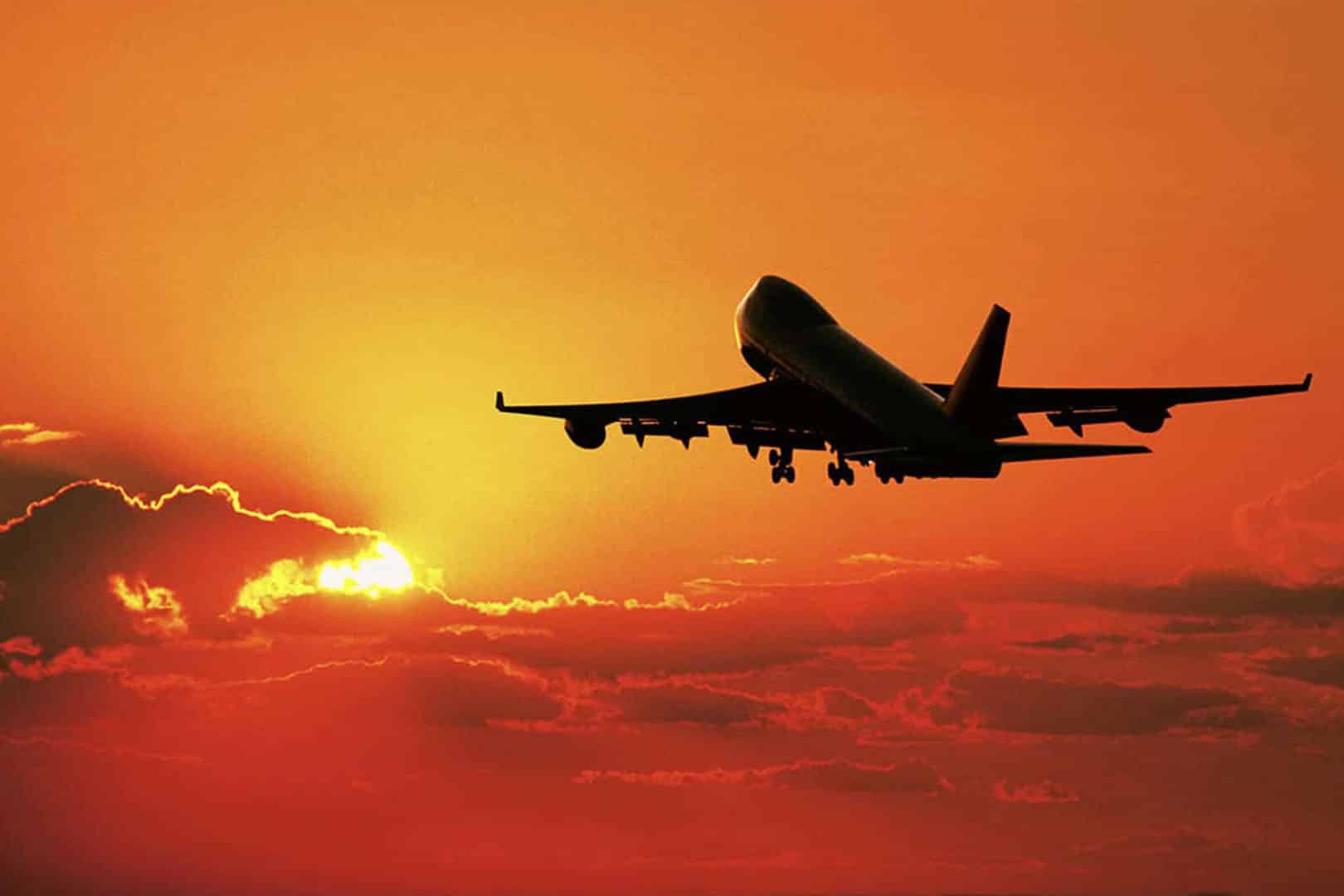 It's time to check out, and return to Keflavik airport for your flight home. When will you travel to Iceland again?
In this vacation package you'll soon come to realize why Iceland is called the Land of Fire and Ice. You will also discover why this is one of our best tours of Iceland. The country is home to volcanos as well as glaciers like Sólheimajökull, and well over a thousand waterfalls, like multi-tiered Gulfoss, or ones that can be viewed on both sides, like Skógafoss. Be amazed by its black sand beaches, like Reynisfjara, along with the charming villages like Vik along its South Coast. Strokkur & Geysir hot springs and other geothermal features like the Blue Lagoon are just some of the many natural wonders here. Explore its 200-mile scenic route, the Golden Circle, visit Thingvellir National Park, home to the world's oldest parliament, sitting atop the Eurasian and American tectonic plates, so you can stand on two continents while you visit. These are all musts, especially when you visit Iceland for the first time. Reykjavik is a compact and colorful city, the world's northernmost capital, featuring striking architecture like HARPA Concert Hall and Halgrimskirkja Church, which mirror the stark rock formations found along the island's coast. Easily walkable, this young city is filled with an array of charming shops, quirky museums, lively restaurants, and exciting bars waiting right outside your hotel. There will also be plenty of time for you to relax while you visit Iceland. It is a vacation, after all!
Dubbed the "Capital of the North," Akureyri is Iceland's 4th largest city and, despite being only 60 miles from the Arctic Circle, its temperature is relatively mild, owing to the surrounding mountains which protect the city from the country's blowing winds, so that this city can even feature botanical gardens. Here is what many consider a more authentic and hidden away area of Iceland, with small artisan workshops and farms as well as more wide-open spaces. A stop in Akureyri makes your Iceland vacation more authentic. Here you'll also find more of the fascinating geological features that add to Iceland's appeal. A full-day Lake Mývatn adventure through an area with active volcanic activity will reveal the undulating Skútustaðagígar, formed by gas explosions as boiling lava flowed over the wetlands and the boiling Hverir Mud Pools. But the earth isn't always raging, there's the lovely Grjótagjá Rift, a lava cave with hot springs tucked away inside, the Dimmuborgir Lava Fields like nature's own sculpture garden and the Dettifoss Waterfall. When you tour the area, you won't want to miss a soak in the Mývatn Nature Baths, offering thermal relaxation with amazing views. The best tours of Iceland expose you to geothermal wonders and we know that. Many travel to Iceland to see the Northern Lights, in the winter time, but there is much to be appreciated in the country year round. This vacation package is ideal for the months of April through September.
 Another quick flight will take you back to Reykjavik, where you will be picked up and driven to the south coast of Iceland, famous for hosting some of the countries most visited natural attractions. You will leave behind the amazing geological formations of Myvatn, in the north, to discover a collection of breathtaking waterfalls, black-sand beaches, caves and villages. From there we will take you further east, where you will see the Glacier Lagoon and the Diamond Beach, which gets its name from the large, gorgeous ice formations resting on its volcanic sand. There you will jump on a Zodiac boat and get up and close to deep-blue icebergs, an experience you are bound to treasure forever. Spend one last great night of sleep and we will pick you up and take you back to Keflavik airport, on Day 10, for your safe return home.
This is what other people who have been on the trip have to say
James M.
(Carmel, IN)
We had a wonderful time in Iceland. Marcelo and his professional and caring staff prepared travel itineraries to meet our desires by using verified and trusted local service providers. They did all the planning and booking for some really great experiences and very comfortable accommodations from the time we arrived at the destination until we departed for home.
Susan L.
(Star, ID)
We had a wonderful time in Iceland, and remember it as one of our top vacations! The highlight was hiking on Myrdalsjokull (a glacier), and the waterfalls are incredible! The excursion service was excellent. We especially appreciated the personalized transportation with friendly and knowledgeable guides. The hotels were ideally located and very nice. A huge thank you and kudos to Shawnna. She made excellent arrangements and documented them thoroughly. We knew exactly what to do and everything went smoothly!
Ellen H.
(Grand Island, NE)
My daughter and I had an amazing trip to Iceland. It was delayed 2 years due to Covid and they were great about keeping us informed about travel restrictions and working with us through the process of getting it rescheduled. They had every detail arranged perfectly for us so we could easily see all of the incredible sights and go on all of the adventures they had lined up for us. Iceland is a beautiful country with a wonderful culture and great food, and we thoroughly enjoyed ourselves!
Looking For A Longer Adventure?
Try out our 10 day Iceland Summer Adventure
STAY INFORMED ABOUT COVID & TRAVEL IN SCANDINAVIA