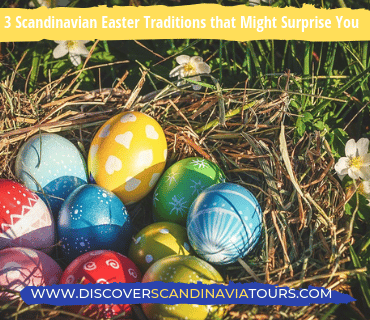 Easter or as we say in Sweden "Påsk" is a fun time of the year. People are enjoying spring, kids are off school and families are getting together. There are many Scandinavian Easter traditions, we will talk about 3 of them here.
3 Scandinavian Easter Traditions that Might Surprise You
Påskris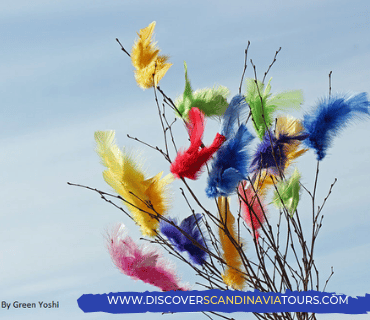 We put colorful feathers and Easter ornaments in branches, usually birch branches. It is a way to decorate for Easter and to bring a piece of nature into our homes to celebrate spring.
Påskkärringar and Påskgubbar
The kids dress up for Easter as little witches, and the story is that they fly off on their broomsticks to "blåkulla." This is an old tradition, and the idea of the witches is believed to go back to 1600 and 1700 when there was a witch hunt going on in Scandinavia.
The kids dress up in long skirts and headscarves. They might also wear a black hat, black jacket, and mustache. Their faces are often painted with red cheeks and freckles. They look adorable. The kids go door to door and wish people happy Easter "Glad Påsk" and leave an Easter drawing or painting. If they are lucky, they might get a piece of candy or a coin doing so.
Påskägg
Most kids get one big Easter egg filled with candy. Not a lot of small plastic eggs, like the ones here in the US. It is also getting more and more common with the big chocolate eggs and chocolate bunnies.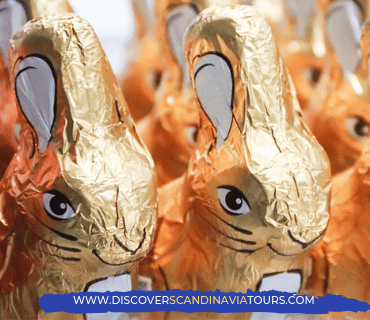 As always Scandinavians are all about the food, Easter is not an exception. Usually, a big Easter lunch or dinner is enjoyed within the family. Herring, salmon, egg are typical on the Easter table.
If you would like to go to Scandinavia and maybe experience some of these traditions, please contact us, and we will be happy to help you with your Scandinavian adventure.